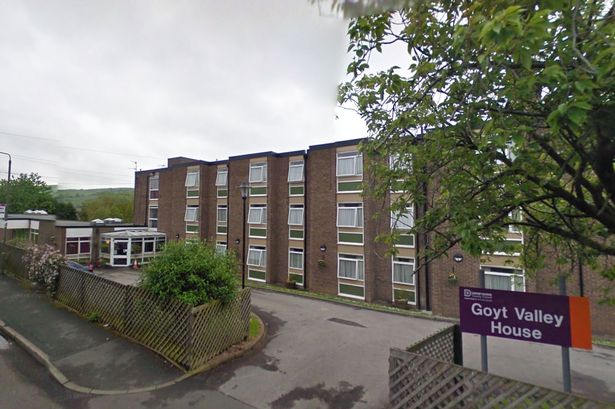 A High Peak old people's home is one of seven in Derbyshire facing possible closure because of the state of their buildings.
Goyt Valley House, on Jubilee Street in New Mills, and the other six are said to need 'significant improvement due to the deteriorating state'.
Derbyshire County Council says the proposals were drawn up following an independent survey of the council's older care homes and subsequent analysis which found defects in 10 - including the seven - which highlighted the need for extensive work to bring them up to modern care standards.
The council's Cabinet meets today (Thursday) to consult on proposals to close the seven homes and plans to refurbish the other three.
The report to be discussed says there is a pressing need to address significant refurbishment issues, including rewiring all the homes as a priority to ensure the ongoing safety of residents.
Councillors will hear that even if repairs are carried out, some of the homes are no longer fit for the purpose of providing high quality care for older people with increasingly complex needs.
The authority's Older People's Housing, Accommodation and Support Commissioning Strategy 2019-2035, projects there will be less need for residential care in the long term with emphasis on working with partners and developers to create community-based services, care-ready housing, extra care, or provide extra support to help older people remain independent at home for longer.
Taking this into account and considering the significant cost and extent of work required to bring the buildings up to standard, the council is planning to consult on the possible closure.
Helen Jones, Council Executive director of adult social care and health, said: "I understand that this will be an anxious time for everyone who may be affected but we have a duty to provide older people with the care and support they need in surroundings fit for the 21st century to help them lead dignified, fulfilled lives.
"We have many older buildings which no longer enable us to do this as they need extensive refurbishment in the near future, costing in excess of £34m to bring them up to modern care standards.
"Even if repairs were carried out, many of these buildings are no longer fit for purpose and do not have the room for essential equipment and residents have to share toilets rather than having their own en-suite.
"It means the council has to consider whether significant expenditure on these homes when there is a diminishing strategic need for them in the future, would be a good use of public money."
She added: "The council will do everything it can to support everyone affected at this difficult time and reassure them that their care will not be compromised in any way.
"If Cabinet agrees to consult on these proposals I'd like to reassure people that no decisions will be taken until we have heard everyone's views and taken these into account."