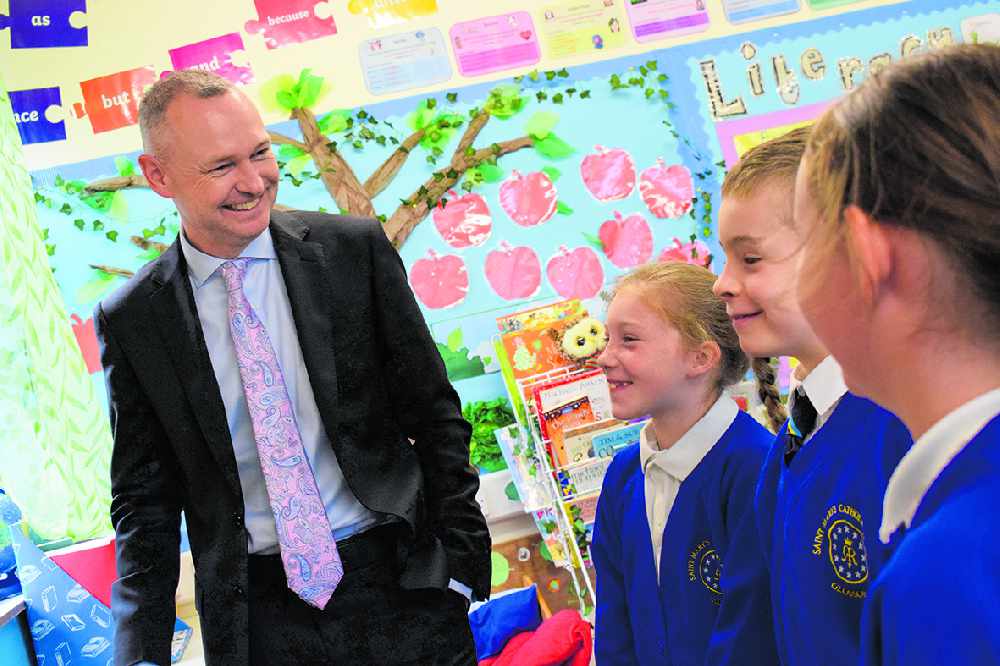 The new headteacher at Glossop's St Mary's Catholic Voluntary Academy has set out his vision for the school - and pupil wellbeing is at the top of the agenda.
Paul Ackers, was previously Executive headteacher at St Mary's and St John Fisher CVA in Derby for 18 months, before being appointed as head at Glossop at the start of the academic year.
Prior to that he was a headteacher at a school in Leigh, for four and-a-half years as well as holding roles previously as a deputy headteacher and assistant headteacher.
Mr Ackers says that since taking over he has been impressed by the pupils and the way they conduct themselves.
He said: "Our children are phenomenal. The school is so welcoming and the children's behaviour outstanding. They are just lovely, polite, well-mannered children and we really want them to believe in themselves and aim as high as they can.
"We want our children to be resilient and ambitious for their futures. For us, it's all about raising their aspirations and ensuring that they can be high achievers.
"We want our children to make a positive difference in society and to be able to set them up for the next stage in their lives."
He added: "The wellbeing of our pupils, staff and our community is our top priority.
"During the beginning of term children spent time exploring the text 'Here We Are' by Oliver Jeffers which afforded them the chance to reflect on all that is wonderful about our world.
"Children also spent time re-visiting the school mission statement and teachers built in lots of opportunities for discussion. Outdoor areas were also maximised and extra 'wellbeing and mindfulness' sessions actioned too.
"As a school we have constantly been reviewing our practices to ensure that the whole school community is kept safe.
"Risk Assessments and return to school Action Plans are regularly updated and we keep fully up to speed with any localised developments."
In terms of the next stage after primary school, St Mary's already has close links with St Philip Howard CVA as both schools are part of the St Ralph Sherwin Catholic Multi Academy Trust, a family of 20 primary schools and five secondaries.
Mr Ackers added: "Being part of the St Ralph Sherwin Trust along with St Philip Howard means that there is already a great relationship there and we want to build on that. We are also able to call on the experience and expertise of other schools in the Trust and the Central Team, which is invaluable.
"Along with Sarah Rudd, our deputy head, and the fabulous team we have in place, we want to build on the great work that's already been done here and take the school to the next level."
The school's relationship with the local community is also extremely important to Mr Ackers.
He said: "What we want is for our school to be the heartbeat of the community. We also want our parents to feel valued and fully informed and to have trust in us in terms of what's going on."
Sean McClafferty, CEO of the St Ralph Sherwin Trust, said Mr Ackers' appointment would ensure that the school goes from strength to strength.
He said: "Mr Ackers is an experienced leader and a fantastic appointment at St Mary's. He has a great team around him and as a Trust we will support them in any way we can to ensure that all children continue to receive the first class education that they deserve."
Main image:
HAPPY ARRIVAL: St. Mary's new headteacher Paul Ackers sharing smiles with some of his pupils.