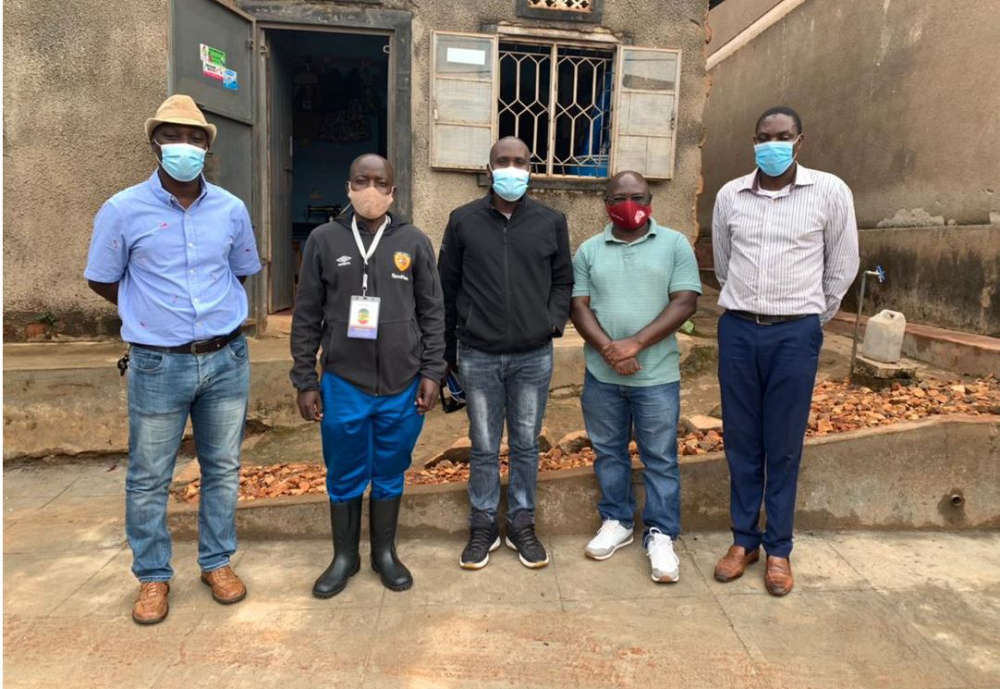 HELPING HAND: Ronald Kamoga with members of the Rubaga Rotary Club.
A Last Night of the Proms concert is taking place in Glossop to help people in Uganda.
Glossop Rotary Club want to raise money which will provide a water supply for the Kosovo slum in Rubaga, Uganda. It is a joint project with the Rotary Club of Rubaga who will be raising matching funds.
It's hoped the proms concert, on October 16 at The Place Theatre at Glossopdale School, will raise at least £2,500.
Helping Uganda Schools (HUGS) is working in partnership with a Ugandan non-governmental organisation called Community Empowerment for Village Development (CEFOVID) in order to improve the health and wellbeing of some of the poorest people who live in capital city of Kampala.
HUGS initially became involved to improve the education of children in the Kosovo slum, but the group became aware of extremely high level of illness which reduced school attendance by approximately 10 per cent.
In every school year a child from the Kosovo slum will miss a month of education due to illness. The most prevalent illness is gastroenteritis. This prompted HUGS to change their focus to improve sanitation and drinking water in order to create better educational opportunities.
The Kosovo slum is home to approximately 33,000 people of which 50 per cent are children.
A quarter live in female-headed households, and there are many refugees from neighbouring countries.
There has been inadequate investment in infrastructure in the area by state officials and water supplies are managed by private companies who charge connection fees and rent.
The slum is built on low-lying land and is prone to flooding which causes problems with leakage from open or shallow pit latrines, faecal contamination of surface water and spread of disease.
The International Chairman of Glossop Rotary Paul Scullion said: "Rotary exists to help people locally and internationally.
"CEFOVID have been working with the residents of the slum for the past six years with a range of projects, focused on creating opportunity and reducing the burden of disease.
"The director of CEFOVID, Ronald Kamoga, was born in the slum and obtained a university education. He acts as a broker and a go-between with private organisations and residents in order to negotiate water infrastructure improvements.
"Rotary got involved after a spokesman from HUGS came to talk to us. We negotiated with the Rubaga Rotary Club and both agreed to work together to help get a water supply to five thousand people in the slums."
Arnfield Brass will provide music for the Last Night of Glossop Proms.
The audience is being encouraged to wear red, white and blue and Union Jack flags will be provided.
Tickets are available from www.promconcert.co.uk
Read more from the Glossop Chronicle
Click here for more of the latest news
Click here to read the latest edition of the paper online
Click here to find out where you can pick up a copy of the paper