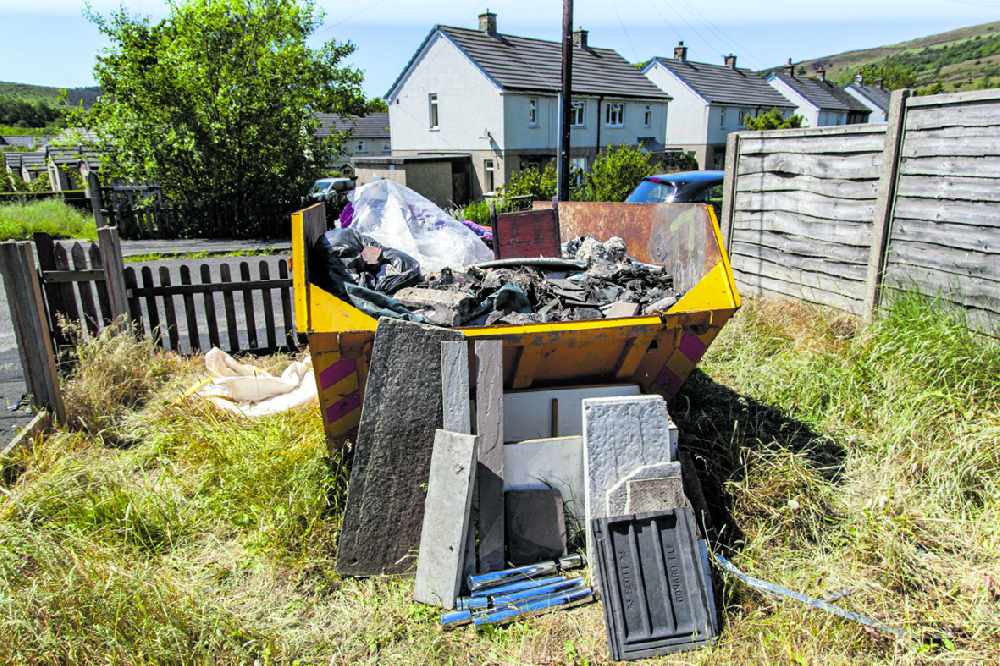 A Hayfield pensioner could hardly believe her eyes when she looked out of the window and saw her skip practically over-flowing with rubbish.
Before going to bed it was less than a quarter full - and it's a big skip.
But when she woke she discovered the skip was heaving with everything from bags of building rubble and old plastic plumbing pipes to toys and a coal scuttle.
It's left the unlucky lady having to foot the bill to have another person's refuse removed.
The pensioner - who asked not to be identified - said: "It was a complete waggon load.
"It was towering over the top of the skip.
"I paid £234 up-front to hire the skip and it now looks like I will have to pay the same for another one to put the rest of my rubbish in."
She added: "Whoever dumped the stuff in must have climbed on top of the skip, made a hole and put it in, it's heartbreaking."
It's also a mystery because the victim lives in a quiet residential area of Hayfield, well away from any main road.
From making a thorough check of the refuse she found paperwork linking it with an address in Hadfield - all of five miles away.
She discovered, documents/delivery notes and receipts with addresses on, confirming that the rubbish had come from a family there.
Of course she had no way of knowing if it was the family themselves who dumped the rubbish in the skip or whether a third party was involved or why anyone should chose her skip as a dumping ground.
A phone call to the police brought little joy as the pensioner does not have security cameras that could have recorded the tippers..
High Peak Borough Council told her they 'would come to see to it' but so far nothing has happened.
The fact that the skip is at the side of her house and not on a public road could make it a civil matter.
The rubbish was dumped in April 2, at a time when she was clearing out her house and shed. Other unwanted items in the skip include an old vacuum cleaner, a computer, a loft ladder, glass, Christmas cards and a large and sharp carving knife.
Main image:
FULL: The skip in Hayfield where the mystery tipper struck.