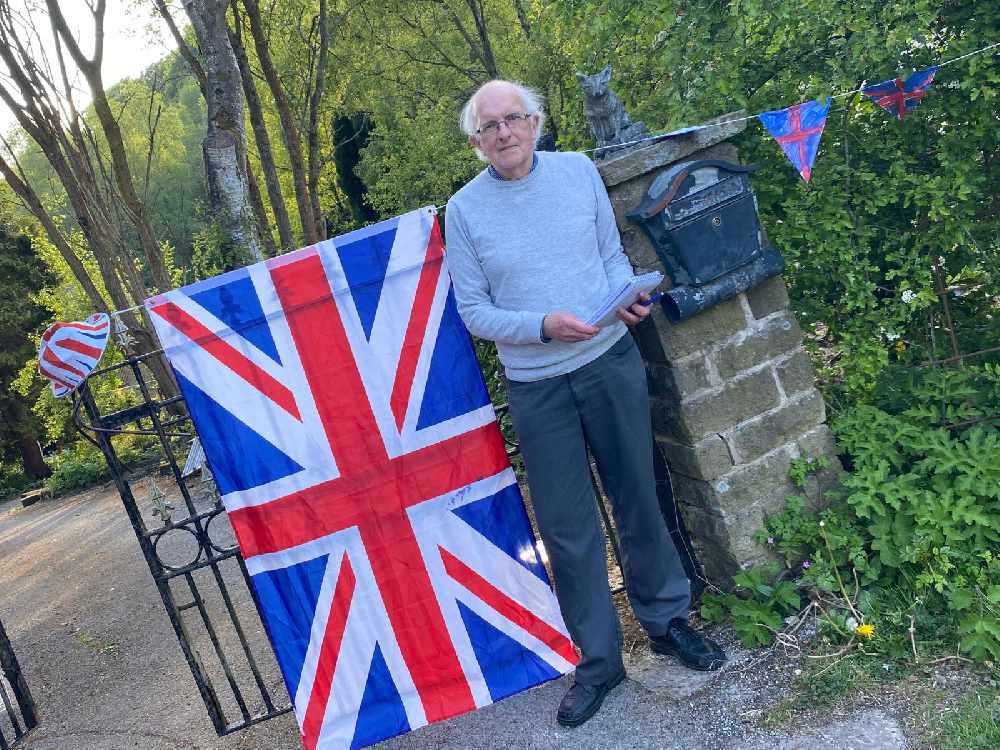 David covering VE Day celebrations for the Chronicle in May 2020.
As David Jones calls time on his distinguished career in local journalism, here are some lovely words from just some people who have been lucky enough to work with him throughout his many years of service...
Quest Media Network Executive Chairman Chris Bird said: "David Jones was my first experience of being interviewed by a journalist. I was 17 and had just completed a marathon, with a broken foot which occurred at mile 19! I had raised money for the Falklands heroes. When David heard, he was the first on my doorstep! Just two years later i joined the Reporter group of newspapers as a trainee and one of the first people I met was David Jones. David became a great friend, we had regular meetings in the Crown on Market Street in Hyde. 'Welcome to the newspaper business Chris, now let's have a pint!' At the age of 19, it was great to have such a well-respected and absolute gentleman as an early mentor and friend.
"Little did I know that my media career over the following 36 years would lead me back to where it all began, and that David would be there to greet me. All those years that had passed hadn't changed David one bit. He still loved the job, he remained Mr Glossop, he chased every story night and day, but most importantly he had remained a perfect gentleman and loved my all his colleagues. When I took over Quest Media Network there was a lot that needed to be done to save the business and the future of the newspapers that been around for 164 years. David has totally bought into change and modernisation. He wanted to see the business flourish and he became, not for the first time, a great source of inspiration to me. David Jones is the heartbeat of our business, his legacy is immense, he has inspired generations of young journalists and above all he has served his communities for over 58 years delivering great news stories, supporting local good causes, challenging politicians, covering heart-breaking stories with great care and compassion whilst ensuring the next generation of local journalists always had his support. David Jones is a true LOCAL HERO that thousands of people in Tameside and Glossop will want to wish him well on his next big story. Thank you David."
Quest Media Network Deputy Chair and CEO Emma Marsh said: "If you mention the Glossop Chronicle to anyone in the area, the first name you here is David Jones, usually followed by the story of the time that person met him, recalled with much admiration and many happy memories. David is our Mr Glossop, our true local hero - an inspiration to many, and a friend to all. I have never met anyone with such commitment and enthusiasm to a business after 58 years of service. He is genuinely supportive and welcoming to everyone he meets, and I could never thank him enough for the support he has given me since becoming involved with the business just a couple of years ago. David deserves a very happy and fulfilling retirement, and we wish him all the very best - though I know he will never be a stranger!"
Nigel Skinner, Tameside Reporter Editor, said: "David is a journalistic institution having dedicated his life - and the last 58 years - to telling the local news. He may be 'retiring' but it's also wonderful to know he will still be carrying on, sharing the headlines from yesteryear as he remembers them and even contributing the odd story here and there. I would like to thank him especially for his unwavering support and professionalism over the last 20 years I have had the privilege of working alongside him - not least when times - like now - haven't always been so easy or certain. I would also like to thank him for being a very good friend over the years and for his wonderful wisdom - and great sense of humour which we have certainly all missed in the office as he has been working from home during the pandemic. David is well-loved by the people of Glossop and it is testament to his professionalism that many have contacted us with good wishes on his retirement. So thank you Mr Glossop for all your hard work over the years and enjoy your retirement, you certainly deserve it."
Adam Higgins, a journalist at Quest Media Network, said: "I will always remember when I first met David in the Glossop Chronicle office on High Street West at the start of my first stint of work experience when I was in Year 10 at school - he could not have been more welcoming, reassuring and generous with his time to show me the ropes. I could not have hoped for a better mentor and colleague in the years that have followed. You could not help but be inspired by David's passion, dedication and enthusiasm for the job every single day, and his sense of humour has helped to get me through many a day. I quite simply would not be where I am today without David. He truly is one in a million. I will miss him greatly but will always stay in touch. Thank you for everything, David, and now is the time for you to put your feet up after a job well done!"
High Peak MP Robert Largan said: "David has been the voice of local news in Glossop for an amazing 56 years. He's a local institution and a journalist of the old school, with a commitment to integrity and balanced reporting. David has done a fantastic job, scrutinising and challenging MPs and councillors alike, but always done with courtesy and good humour. He will be greatly missed. I wish him a long and happy retirement!"
Councillor Anthony Mckeown, Leader of High Peak Borough Council, said: "When the Glossop Chronicle was relaunched in 2019, amongst the display in the Portland Basin Museum was a board featuring David with the word 'Legendary' on it, and after a period of service starting in 1963, David definitely deserve that title. Whatever the issue, cause or concern from the huge stories of national impact and importance to ultra-local and small scale if it has concerned Glossop and the surrounding towns David has had a willing ear to give it the coverage it needs through the pages of the Chronicle. His dedication to keeping the Chron going through some difficult times, and the local knowledge he has will be sorely missed and I offer my thanks for all his help over the years."
Councillor Damien Greenhalgh, Deputy Leader of High Peak Borough Council, said: "David is an editor of huge talent and a man who stands synonymous with the great local newspaper that he has edited for so many years. He is wonderful journalist whose warmth and love of all things Glossop has been appreciated, respected and admired by many in the community, not least by myself. Whoever follows in the editor's chair at the Glossop Chronicle will inherit a great legacy, and one that has been hard fought for. I wish him many happy years of retirement. It's a case of third time lucky, after having some out of retirement twice before when duty called. So Glossop thanks you sincerely for over half a century of service, and says it's time to put your feet up - you've certainly earned it!"
Whaley Bridge county councillor and former High Peak MP Ruth George said: "I'm both very sad to hear of David's impending retirement, as he has been such a stalwart of Glossop news for so long, but also very happy that I hope he will be able to enjoy some rest and relaxation.
"I've always found David to be everything that you'd want in a journalist – questioning, but also fair, kind and understanding. He would get his story but he always showed great empathy for the people he was reporting on, which is why he is such a much-loved figure in Glossop. He has been a great role model for local journalists and I wish him all the very best for well-deserved and happy retirement."
Charlesworth Parish Council said: "David has been a great supporter of Charlesworth Parish Council for many years - attending our meetings and writing about what we are doing in the Chronicle, which we really appreciate. On behalf of the Charlesworth parish councillors, have a fabulous retirement David - you deserve it after 56 years!!"
Charlesworth parish councillor Marcus Gill said: "As a Councillor, businessman and chairman of a local sports club, I have worked with David many times over the years. He is always a pleasure to talk to whether it's in a meeting room or chatting while he's out walking his dog. I have huge respect for David as a long-standing familiar figure at The Chronicle and also as a human being. Enjoy your well-earned retirement David and I look forward to that pint in The Commercial."
Tintwistle Parish Council said: "On behalf of Tintwistle Parish Council, our gratitude for all your support and for championing Tintwistle issues over the years. We shall miss you, and wish you a very happy retirement."
Tintwistle Allotment Gardeners Association said: "Tintwistle Allotment Gardeners Association thanks you for such excellent coverage of our annual Fruit Flower and Vegetable Show since its beginning in 2012. You are welcome to visit our 2022 Show!"
Hadfield South borough councillor Ed Siddall said: "David is an absolute legend. He is Mr Glossop. David is going to be missed by everyone who reads the Chron and all the councillors in the Glossop area. David has always supported all the causes I am involved in from Chapel Lane Park to the Crumball rally and all my Roundtable work and the Glossop Bonfire. I will personally miss him both as a friend and a respected journalist and editor. Have a great retirement David."
Hadfield South borough councillor Bob Mckeown said: "I have known David since the 1970s and he has done many stories about me – from writing poetry and running the London Marathon to council matters and my year as Mayor of the High Peak. We had a great day going to Wembley on that special train. Retirement, are you sure? His journalism has always been fair and he has been a great editor of the Glossop Chronicle. Thank you, David."
Glossop and District Round Table said: "Glossop Roundtable would like to wish David a happy retirement, David has been a real champion of the Glossop Bonfire and other events we have run doing fantastic write ups pf the event and promoting the event for us. He has helped us raise over 200,000 for local good causes over the years."
Blythe House Hospicecare and Helen's Trust said: "David, sincere thanks for your all support of Blythe House Hospicecare during your many years at the Glossop Chronicle. Wishing you all the very best for your retirement – relax and enjoy, you certainly deserve it! From everyone at the hospice."
Former High Peak MP Andrew Bingham said: "In all my time dealing with David he was a consummate professional, he was always interested in the issues as they affected Glossop people. Consequently the bypass was never very far from our conversations but no matter what the issue, large or small David was always to be found scribbling down copious notes and taking photos. The phrase 'gentlemen of the press' is often used with tongue in cheek but David was a true 'Gentleman of the Press'. Always polite courteous but incisive and pertinent in his questioning, but above all he remained scrupulously impartial and honest in his reporting. I wish him a long and happy retirement, its well deserved but if anyone could ever claim the title of Mr. Glossop, it's David and I am sure he will still be seen around the town enjoying his new found free time. Congratulations David and thank you on behalf of myself and also the people of Glossop for a lifetime of service."
Former High Peak MP Tom Levitt said: "David covered my first day in office as the MP for High Peak in 1997 and my last, in 2010. However, my 13 years of service pales into insignificance compared to David's 56! I always found him friendly, accurate and conscientious - a great servant to Glossopdale."
Former High Peak MP Charles Hendry said: "It was always a pleasure to deal with David. He was fair and balanced and was always most interested to get to the facts of a story rather than his own interpretation of it. 56 years is an incredible length of time to spend with one newspaper! No-one knew the town, community and its people better than David and his knowledge, interest and insight will be greatly missed. I wish him a very happy, long retirement."
Glossop Chronicle photographer John Parkins said: "Good luck in your retirement David, it's been great working with you for the last eight years. All the best, your good friend John."
Padfield borough councillor Ollie Cross said: "I would like to thank David Jones for his incredible service and selfless dedication to Glossopdale over the past 57 years. David has been a great servant to our local communities and always did his utmost to promote the best interests of Glossopdale. I have seen first hand his sterling work in highlighting and campaigning for local causes. Like many others across Glossopdale, I am eternally grateful for his all kind help and support. I fully support Councillor Ed Siddall's proposal to install David as an Honorary Freeman of the Borough at a future civic service and believe that David's commitment, dedication and service to Glossopdale ought to be recognised. I wish David a long, healthy and thoroughly enjoyable retirement. I hope it's filled with fun, joy & happiness, and I wish him the very best of luck as he enters this new chapter in his life."
Neil Williams, Chair of Friends of Glossop Station, said: "As Chair of Friends of Glossop Station I would like to thank David for his tremendous support of our work and projects over the last twelve years. He has covered every event we have held at the station often visiting in person to take photographs. It has been a pleasure to share our successes with him. David writes with insight and true local perspective. And his pride in Glossop, its people and community shines through his reporting. David has been at the helm at the Glossop Chronicle for as long as I can remember and for many local people David is the Glossop Chronicle! David is both approachable and unassuming. His kindnesses and good humour have made him a most personable and deservedly successful editor of the Glossop Chronicle. We shall miss David in post. We wish him a very happy healthy and fulfilling retirement."
If you would like to send your own tribute to David, please get in touch with us by clicking here and we will add them to this article. Thank you.
David Jones retires
Chronicle editor puts down his notebook after 58 years
When David stood out on the big stage
From junior reporter to 'Mr Glossop' in 58 years
LISTEN: When Ian Cheeseman interviewed David about his career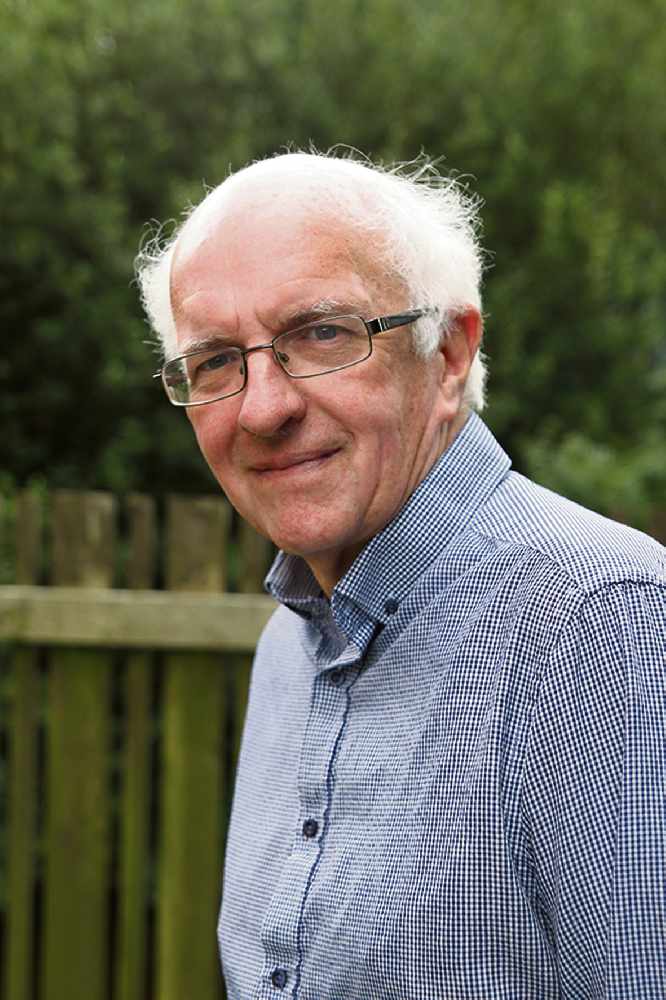 Read more from the Glossop Chronicle
Click here for more of the latest news
Click here to read the latest edition of the paper online
Click here to find out where you can pick up a copy of the paper