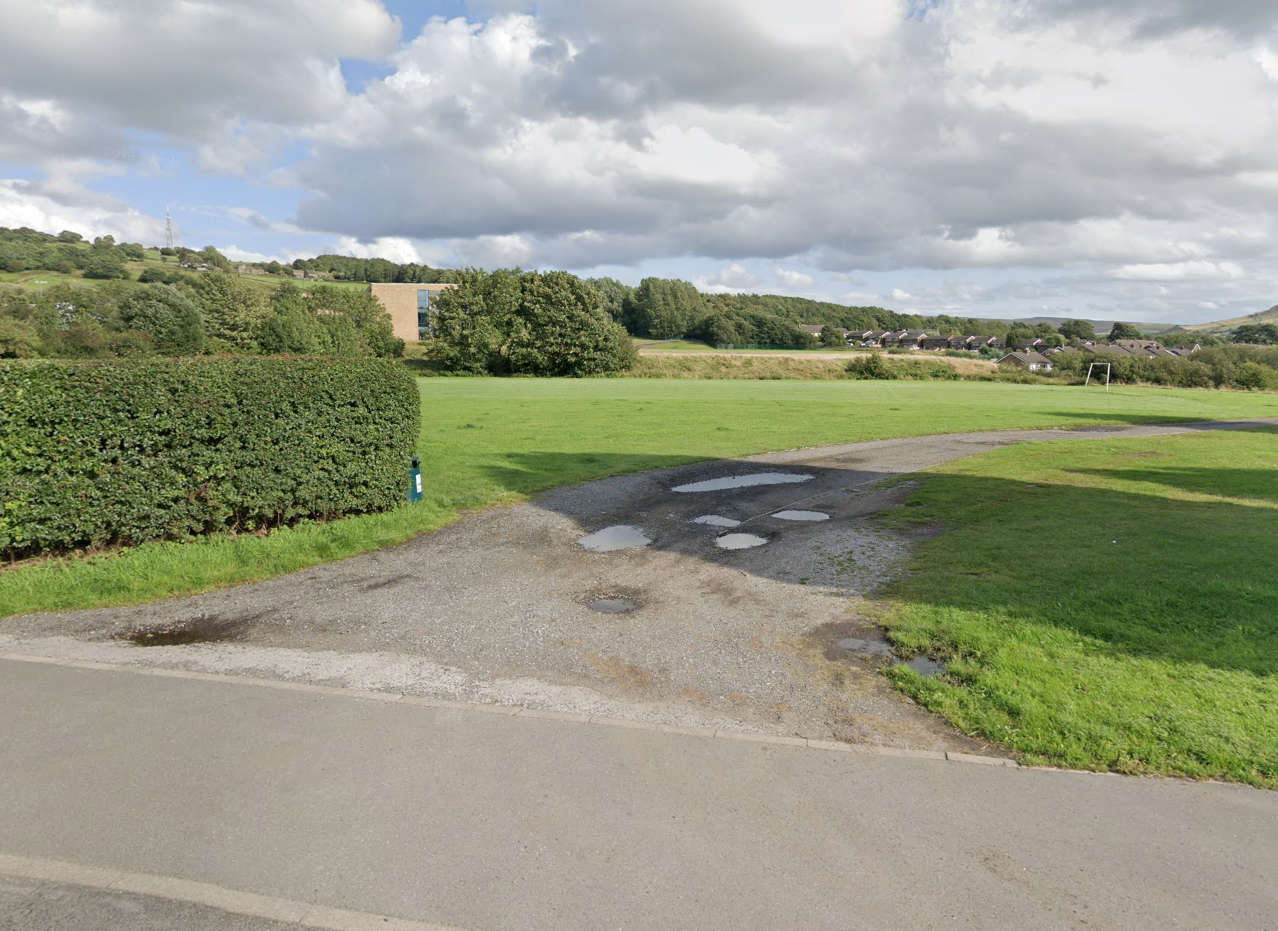 The fields just off Newshaw Lane in Hadfield. Image: Google Maps.
A mum-of-three who became a disciple of a YouTube psychic froze to death in a field after the mystic encouraged followers to meditate barefoot in the rain. 
Rikki Johnson from Hadfield went missing from her home as night fell and freezing rain and snow swept in on Boxing Day last year.
Her naked body was found in fields close to a school playing field the following morning by a dog walker. Her clothes had been removed and laid out neatly of the grass.
An inquest heard friends and family of the "intelligent, artistic and loving" 50-year-old had become increasingly worried about her state of mind in the weeks leading up to the tragedy.
Investigations found she had become a fan of Australian self-styled "spiritual warrior" J C Kay who days earlier had posted a YouTube video urging her 40,000 followers to "cleanse themselves".
"If that means standing in the rain and meditating with your feet in the grass at 11pm at night… you have permission," she told her followers.
Now a coroner has ruled her "sad death" was unintended and came about because of her decision to go outside to meditate despite the wintry weather conditions
Chesterfield Crown Court heard that Ms Johnson, whose real name was Mandy, had been interested in astronomy and numerology for many years and later turned to meditation to help her.
She had suffered "childhood trauma" including the deaths of two close relatives who had taken their own lives. The court heard she developed her own coping mechanism to deal with what life threw at her, including the use of cannabis.
Detective Constable Toby Maddock said just a few months before her death Rikki had told a friend that she would never take her own life.
"She said it was something that she would never do having lost loved ones to suicide," he said.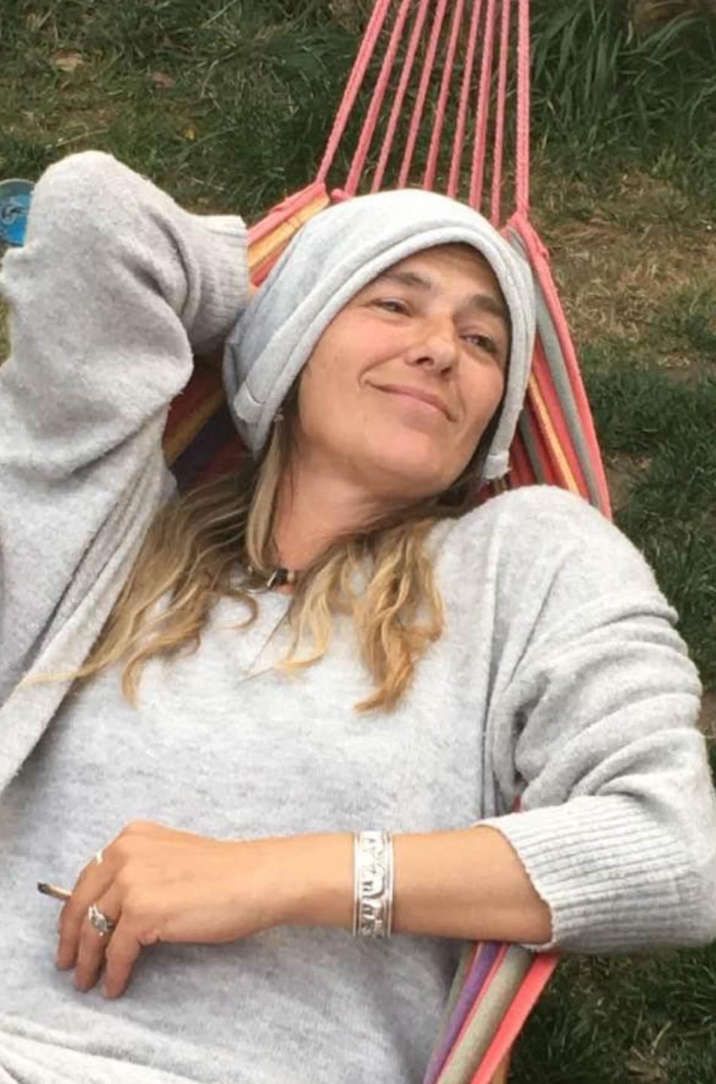 Rikki Johnson, 50, was found dead in a field after she went missing from home on a bitterly cold winter's night last December. Credit: Rikki Johnson/Eugene Henderson.
The court was told she had sought help from the NHS and had been offered counselling for Post-Traumatic Stress (PTSD) but she felt the time was not right for her to start therapy sessions. She had also been prescribed drugs to combat her mental health issues.
"She meditated daily and enjoyed meditating outdoors, furthermore she used cannabis as something to assist her meditation," DC Maddock said.
The officer said from her internet search history it was clear Mandy had "become increasingly more spiritual prior to her death". She had also stopped smoking cigarettes and eating meat.
She had begun following Sydney-based JC Kay, who styles herself as "Psychic-Medium, Artist, Spiritual Warrior, Truth Seeker, and Cosmic Traveller". She claims it is her mission to "speak her truth" in a world that is being silenced
On December 19 last year, a week before Ms Johnson's death, Kay posted a video entitled "Let Go and Let God" on her YouTube channel "Quantum Truths" which has on occasions has attracted more than 150,000 viewers.
In the eight minute 47 second clip she spoke about the significance of the upcoming date 21/12/20 while spinning a glass orb in her hand. Previously she had designated it as a "Day of Ascension" and asked people across the world to meditate outdoors.
She ended her video with the message: "I'm telling you this 21/12 energy is already here. We are a soul that is eternal."
DC Maddock said from handwritten notes found in Ms Johnson's home in Brosscroft Village, showed that the 21 December date had become something of significance to her.
He said this may have been linked to the video message and because of her long standing interest in numerology, which claims there is a divine or mystical relationship between numbers and coinciding events. It is often associated with the paranormal, alongside astrology.
The former charity shop manager was also fixated on the number 27 – possibly because it was her birthday – but no real reason for this was known.
On Christmas Day her daughter Sky had become concerned about her mother's behaviour. She had been heard talking to herself and shouting and her strange behaviour continued on Boxing Day.
Around 5.30pm her daughter went to her room for a lie down and when she woke at around 7pm her mother had gone along with the family's dog, which she often took for a walk in the early evening.
When she did not return the worried daughter contacted both her sisters, but they thought their mother may have gone to a friends, so they decided to wait until morning.
CCTV footage from outside her home showed someone leaving the house with a dog just after 6pm, other cameras then showed a figure walking towards the parkland at the side of Glossop Community College.
The officer told the court it was "bitterly cold" and the CCTV footage showed that from around 7pm conditions deteriorated as the freezing rain, sleet and snow showers intensified.
By the time she had been reported missing the following morning – December 27 - a dog walker had come across her naked body just after 8am.
All Ms Johnson's clothing had been laid out on the grass. She was covered in scratches suffered as she stumbled through nearby undergrowth.
DC Maddock said: "It is likely she went there to meditate. At the time of doing so her choices were being influenced by her mental health and the use of cannabis.
"She succumbed to the effects of the cold and became confused and removed her clothing. It's felt that following this she further succumbed to the cold."
A post-mortem ruled she died as a result of hypothermia. It's thought she took off her clothes as she became disorientated by the cold, as happens in many cases when a person's body temperature falls rapidly.
The court heard her use of cannabis also attributed to her death along with the fact she had not been taking the medication prescribed to her by doctors.
Derbyshire Assistant Coroner Sarah Huntbach said: "Rikki suffered with mental health issues for which she had sought treatment in addition to finding her own coping mechanisms, which included spiritual meditation and astrology.
"It was this spiritual meditation that led to her leaving home on the evening of 26 December 2020 to meditate in the rain. Rikki was found without her clothes on which were found nearby consistent with having been taken off in a methodical manner.
"On the evidence, and on the balance of probabilities, the deceased whilst meditating has suffered the effects of the inclement weather causing a hypothermic process."
The coroner said the most suitable conclusion she could come to was one of misadventure.
"Her sad death came about after she went to the park knowing the conditions, but the outcome was not one that she intended."
Read more from the Glossop Chronicle
Click here for more of the latest news
Click here to read the latest edition of the paper online
Click here to find out where you can pick up a copy of the paper