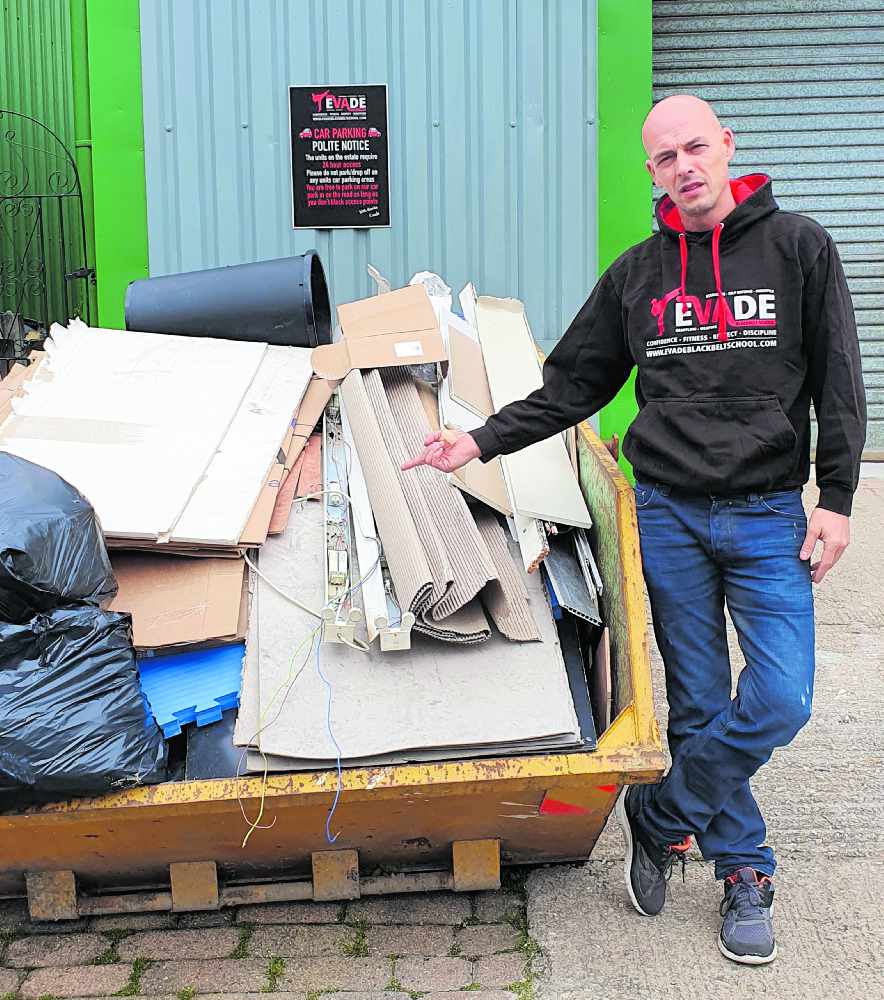 After 34 years of coaching, Dave Breed has had to close the brand new Evade Martial Arts studio in Dinting which he only opened in January.
The reason - a planning application that was turned down - has left him devastated and has cost him £25,000.
Dave - with two UK Hall of Fame awards to his name - was confident of re-locating his academy into a unit on Dinting Lane Industrial Estate.
So he moved in, built changing rooms, had a world famous street artist paint murals... then found that his change of use planning plea had been refused by High Peak Borough Council.
Speaking this week, Dave, 50, said: "With my partner we had a meeting with the borough council in Buxton in November last year.
"We were advised by a planning officer that the move to Dinting would be a viable move and could not see any grounds on which the application would be overturned. Assurances were also made by the landlord that the unit was suitable for the use required."
Such 'assurances' left him confident that the move to the new unit was viable and his planning consultants confident that the application would be successful.
The unit was completely renovated from being an empty shell to a bespoke training centre for Evade with new equipment, and walls painted by one of the world's best street artists Peter Sheriden, who is a close friend of Dave.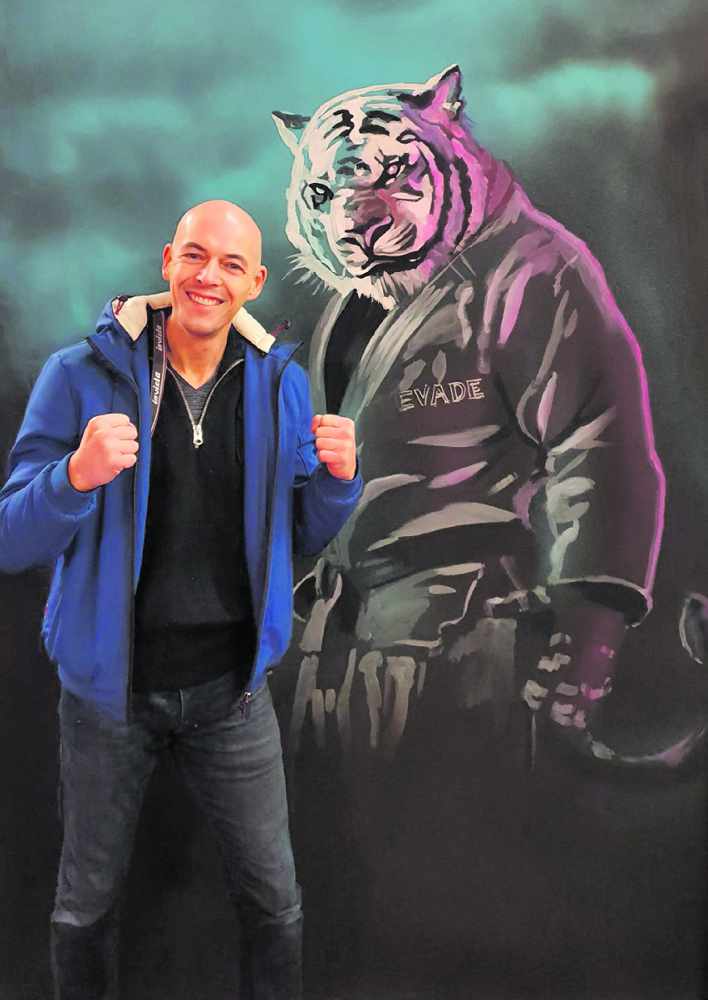 Dave with the Evade tiger
With Dave and his partner investing their savings, and loans, they were confident this was going to be a new start for all the students and members with a fully equipped new academy.
The new studio was to house Infused Raw Health which had just completed their set-up for a health food bar and nutritional therapy office. The partners say it would have been a great addition to what Glossop has to offer.
Then came the bombshell news that the change of use plea had been refused.
Dave said: "The planning officer informed us that we could move in first and apply for planning once we were in, he did say that the application couldn't be guaranteed but that we had what looked like a viable option and said we could potentially work around any possible objections.
"We didn't just lose the planning on parking, in the refusal it states the whole street is for 'industrial use' only, they said they enforced this a few years ago. There was a dance academy on the same street for years, also many other industrial units around these areas are used for gymnastics.
"If the whole street is only for industrial use, why not inform me in November as that meant the application could never have been successful?
"The whole street went quiet from 4.30pm and I purposely started my sessions from 5pm to avoid congestion."
Dave has achieved international acclaim and is widely considered one of the top instructors in the world today.
Evade has produced numerous world champions, blackbelts and instructors over the years, it also runs self defence classes for all ages.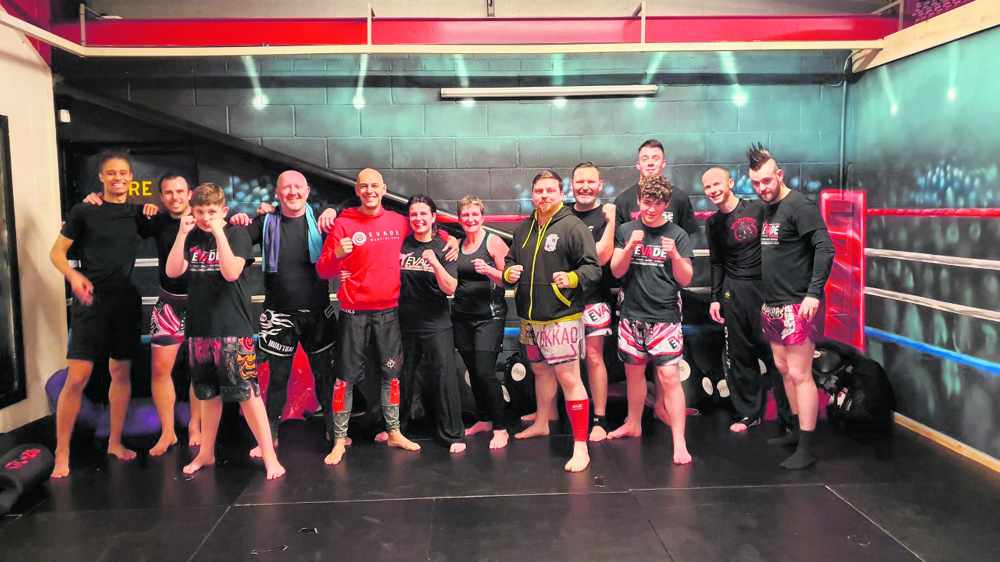 Dave Breed with some of his students (taken before lockdown)
Dave says he is devastated at the news, after investing so much time, money and effort.
He said: "The whole thing has been soul destroying, not just for myself and my family, but for all our students who do a lot, the studio is a second home, so many are heartbroken and there's nothing I can do about it.
"I had so many young students preparing for blackbelt exams and it's pulled the world from under them.
"My future is unclear, we invested everything we had into this so the financial means aren't there to re-start a new studio.
"I am optimistic however that something good will come from it all, I have produced so many champions over the years for a reason.
"You won't be a champ without self belief, a Phoenix rises from the ashes."
He added: "I've had an overwhelming number of messages, the members are very hurt and upset over it all, plus I had hundreds off people who over the years have trained with me, telling me my academy actually saved their lives, so many struggling with mental health and my schools gave them direction."
A spokesperson for High Peak Borough Council said: "All pre-application advice is given with the caveat that it is an informal opinion based on the information provided at that time and does not constitute a formal determination under the Planning Acts.
"It is given without the benefit of going through the application process which includes consultation with other interested parties and general public."
Main image:
Evade Martial Arts Centre owner Dave Breed standing by the skip filled with the remnants of all that remains of his hopes of re-locating Dinting Lane Industrial Estate.