A National Day of Reflection will be held on Tuesday (23 March) to mark the first anniversary of lockdown in England as a result of the pandemic.
Since that date across the UK more than 126,000 people have lost their lives to the virus, while globally the figure stands at more than 2.6m.
In the UK more than 4.25m people are understood to have had the virus, while countless numbers have been left bereaved or helping those who have been left seriously ill and are still battling to recover from Covid.
The National Day of Reflection was initially spearheaded by Marie Curie, with the charity initiative adopted nationally and being welcomed by all political leaders.
There will be a one-minute silence at 12 noon - which will also be marked on Tameside Radio - and a national doorstep vigil.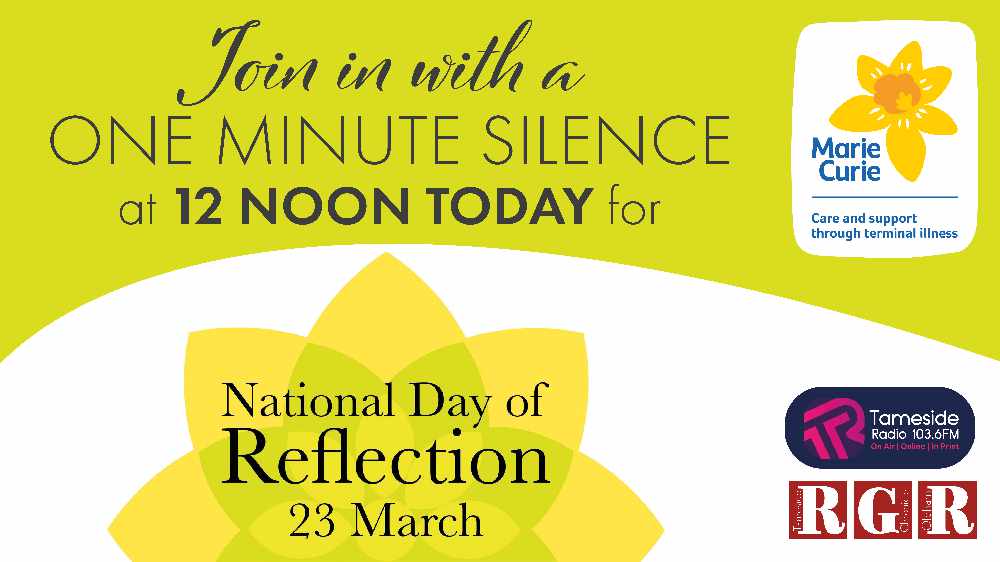 Prominent buildings and landmarks will also be illuminated across the UK from 8pm.
Locally Tameside and Glossop will be playing their part.
Dukinfield Town Hall and Oldham Civic Hall will be lit in yellow – the colour of Marie Curie and also the colour of grief - as a small gesture to those who are sadly no longer with us.
The flag will be lowered to half-mast at the town hall and also at Tameside Hospital to remember all those who have sadly lost their lives to Covid.
On social media the council will keep its posts free from other messages.
Short videos posting the responses to the pandemic will be posted by both the council and NHS Trust.
Mayor of Greater Manchester Andy Burnham will join with faith and community leaders in marking the National Day of Reflection.
The Mayor will be taking part in Manchester Cathedral's special memorial service through a pre-recorded video which will be live streamed on its Facebook page from around 11.35am, in time to finish for the minute's silence at 12pm, midday.
As well as this, Greater Manchester Fire and Rescue Service firefighters will also be taking part by lowering the flags outside their stations for the day, as a mark of respect and condolence to those who have died.
Then at 8pm, there will be a 'beacon of remembrance' where people are being encouraged to join together by beaming phones, candles and torches into the night sky from their doorsteps.
Greater Manchester has put support in place to help people who have been bereaved, through the Greater Manchester Bereavement Service.
Those who have lost loved ones are also reminded of Greater Manchester's online book of remembrance, which honours those in our city-region who have lost their life as a result of the Covid-19 pandemic.
Marie Curie says that since the pandemic began, many have been unable to say goodbye or grieve properly.
People have been unable to visit the sick and dying in hospital, hug or hold the elderly or vulnerable and triple lockdowns have seriously limited the numbers who can attend funerals.
The day is aimed at allowing everyone to remember those who have died, and bring people together to pause, reflect and support each other this month and in the years to come.
The charity invites everyone to join together to hold a minute's silence at noon and take a moment to reach out to someone they know is grieving.
Leader of the Opposition, Keir Starmer, said: "The National Day of Reflection is a moment to remember the 125,000 people lost to coronavirus over the last year. We must never forget what that number represents: mothers, fathers, grandparents and partners. Behind every death are bereaved families and friends, many of whom have been unable to grieve normally.
"Despite the terrible impact of this pandemic, the past year has also brought communities closer together.
"Moments like this can send a powerful message that, as a society, we are there for each other. We must ensure this spirit of national solidarity lives on, as a tribute to those we have lost."
Marie Curie's Chief Executive, Matthew Reed, said: "The last year has been one of the most traumatic and uniting in modern history.
"With so many of us losing someone close, our shared sense of loss is incomparable to anything felt by this generation. Many of us have been unable to say a real goodbye or comfort our family, friends, and colleagues in their grief. We need to acknowledge that and recognise we are not alone.
"That's why on March 23, it is important that we all come together to reflect on our collective loss, celebrate the lives of the special people no longer here, support those who've been bereaved and look towards a much brighter future."
The British Red Cross is one of a number of new organisations supporting the national day.
Mike Adamson, chief executive of the British Red Cross, said: "We support this day to mark our collective loss. This year has left so many people dealing with the painful experience of grief. Too many have lost loved ones – friends, colleagues, precious family members – at a time when we are unable to connect and mourn in person.
"Bereavement can be isolating so we also encourage people to reach out to friends, families and others in their support network. The more connected we are, the more resilient we are, and kindness can help get us through this crisis."
Sir Simon Stevens, NHS Chief Executive said: "Coming out of the toughest year in the Health Service's entire history, we need to reflect on the pandemic's deep toll, mourn those we've lost, and mark the service and sacrifice of staff throughout the NHS.
"It's also a moment to acknowledge how in adversity we saw strength, as friends, neighbours and communities have come together to help each other through the nation's worst ordeal since the Second World War."
Main image:
REFLECTION: A time to remember the last year and all who have done so much.
Watch a video at the top of the page, captured by Nigel Wood, as we look back on the past year and the community spirit which has shone through locally.