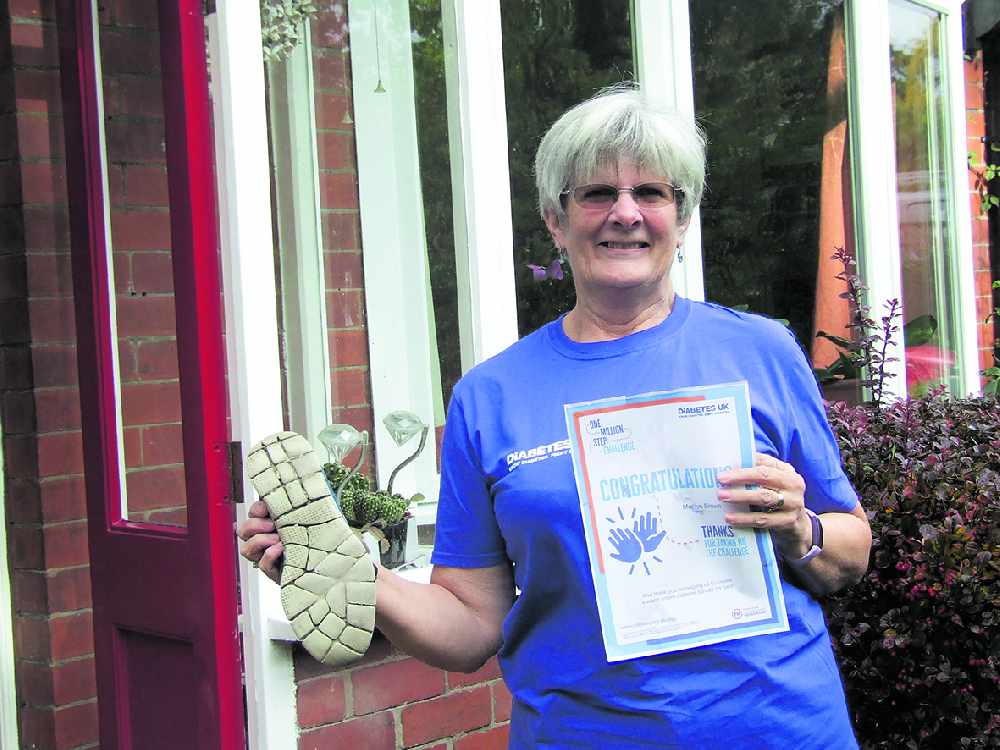 Marilyn Brown is a woman in a million after completing a 500 mile fundraising walk.
To celebrate she bought herself a brand new pair of trainers.
"I had too," said Marilyn, 70, from Fauvel Road, Glossop, after finishing her Diabetes UK One Million Step Challenge.
"I wore my other pair out doing the walk."
Marilyn, who suffers from diabetes, set herself a target of 10,000 steps a day and she achieved it without setting foot outside Glossop - in 92 days.
Some days were tougher than others, but Marilyn kept going and despite living in Glossop with husband Mike for 40 years, discovered part of the town she never even knew existed.
Marilyn, who admitted that her stepping out was 'nicer when the weather was nice', said she never took a short cut.
"I would always choose to go the long way around," she said with a smile.
"Sometimes I arrived at a place I had never seen before which was nice," she added.
Marilyn has raised £230 so far, but is keen to get as much money as she can for a charity close to her heart.
To donate, go to the Diabetes UK One Step Challenge Every Day Hero web page and type in Marilyn Brown, where a link will take you to her donation page.
Just in case there's more than one, there's an image of Marilyn so you can't go wrong.
Marilyn's million step challenge earned her a certificate from Diabetes UK, which she almost lost.
Seconds after the picture (top) was taken it blew out of her hand! But Marilyn managed to catch it after a chase around her garden.
The national challenge raised £1.62m, with participants allowed to walk, jog, run, or dance, a long as they did it in a million steps.
Main image:
WELL DONE: Marilyn Brown with a worn-out training shoe and her certificate.