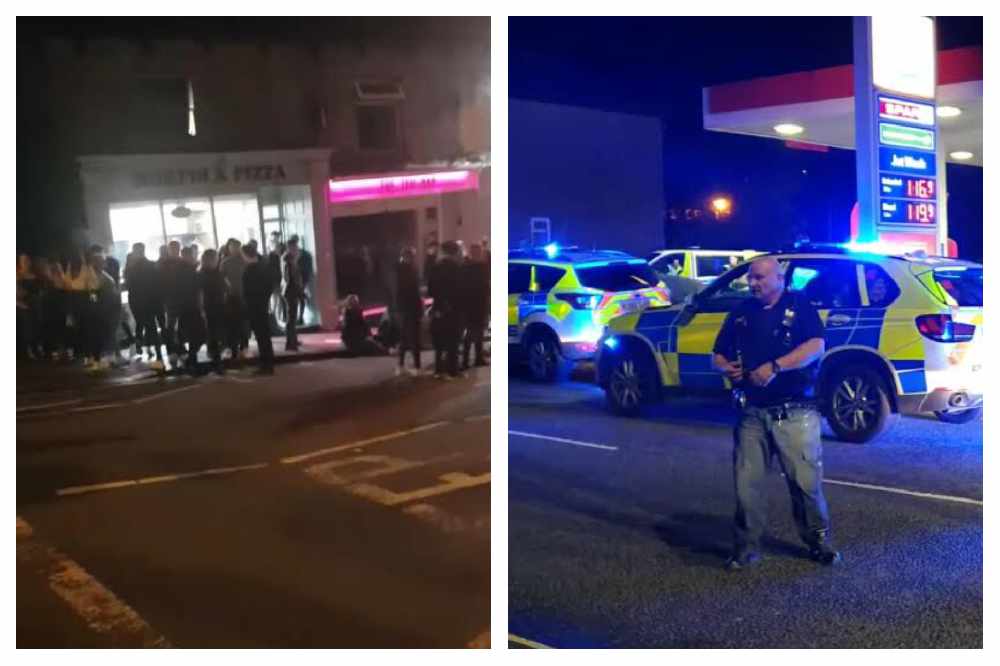 A teenager was arrested, a man was allegedly assaulted and several police officers were injured as disorder broke out in Glossop town centre on Saturday evening. 
There was a substantial police presence in the town centre just before midnight, with videos on social media showing a large number of young people on the pavement and in the road on Norfolk Street.
In one video, a man who asked police officers to do something about the groups of youths gathering was allegedly told to "write to your MP". There were also a number of comments that young people weren't social distancing and should have been moved on.
Police say they were called just after 11.40pm to reports of a large group of youths gathered on High Street East, near the Prince of Wales pub, after the caller's husband had been allegedly assaulted and she had been prevented from accessing her drive.
The group, understood to be made up of teenage girls and boys, were also reportedly seen jumping on cars in the nearby car park and drinking alcohol.
Police say officers couldn't find the woman and her husband on arrival but disorder broke out amongst the group and several officers were injured, but their injuries are not described as serious.
A heavy police presence, including several vehicles, was witnessed on High Street East close to the Esso garage. There have also been some reports that the Armed Response Unit was seen.
A 17-year-old boy was arrested on suspicion of being drunk and disorderly, resisting arrest and assault. He has since been released on police bail.
Police say enquiries into the initial assault reported in the call are ongoing.
They are appealing for anyone who has information, or who witnessed the incident in which police officers were injured, to get in touch.
Anyone with private CCTV, mobile phone or dash cam footage is also urged to download it to a separate, secure device ready for officers to review.
Information should be passed on to PC Jordan Weakley, quoting reference number 2*369798 in any correspondence, via the following methods:
You can also anonymously contact the independent charity Crimestoppers on 0800 555 111 or by visiting www.crimestoppers-uk.org.
Main image:
Groups of youths gathering on Norfolk Street and police activity on High Street East near the Esso garage.