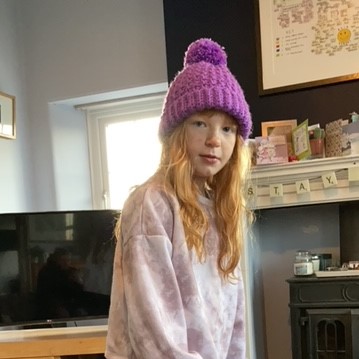 Nine-year-old Nell is going the distance to raise money for Comic Relief.
On Saturday (20 March), Nell Dixson will be setting off from her home in Longdendale, completing a circular 21-kilometre walk around her local Longdendale ward. This is going to be a big challenge and the furthest Nell has ever hiked in one day.
Her inspiration for the fundraiser began a couple of years ago, after her brother, Seb, completed a long-distance walk to raise money for the environment.
This year, under lockdown restrictions, Nell is having to exercise closer to home, but is looking forward to having a hot chocolate from Bee's Coffee Pot in Mottram and a play on the rope swing in Hollingworth's Swallow's Wood.
Nell (pictured) said: "This is the furthest I have ever walked in one go and I will try and do it in the one day."
Her proud father Richard added: "Comic Relief is her charity of choice because she recognises that the last year has been hard for all of us, so she wanted to support people who might have found it tougher than her.
"She also associates Comic Relief with fun and realises there will be less activities going on this year to raise money, so she's keen to do her bit.
"Her whole family are very proud of her. She has a big heart and always thinks of others before herself. Making others happy makes her happy!"
To sponsor Nell, go to www.justgiving.com/fundraising/NellLongWalk