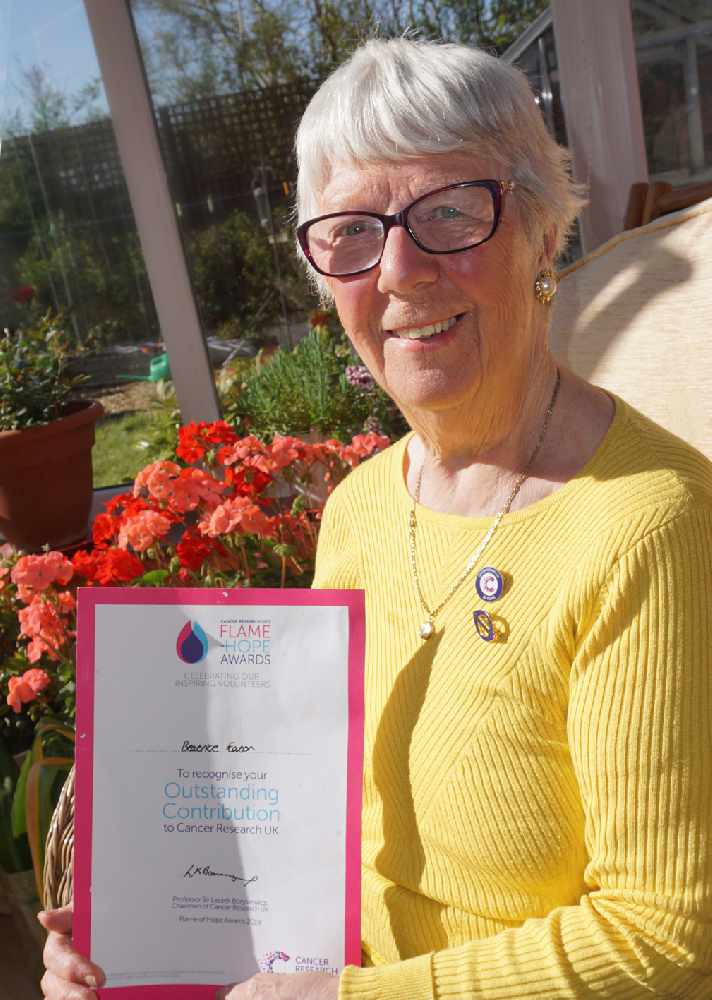 A long-serving volunteer from Glossop has been recognised for her outstanding service to one of the town's oldest charity shops.
Beatrice Eaton (pictured) has received a medal to mark 30 years of supporting Cancer Research UK - where she has been working almost since the shop first opened on High Street West.
The 85-year-old unfortunately couldn't be formally presented with her accolade at a ceremony due to Covid-19, but it now has pride of place in her Glossop Road home.
"I'm very proud to have received this award and I have always loved working in the shop," said the mother-of-four, who also has a number of grandchildren and great-grandchildren.
"I would definitely recommend anyone to volunteer there. It's important to support charities especially right now. The quality of products we have in the shop is great, you can get some real bargains and nothing gets wasted."
Beatrice and her husband John, 90, both grew up in Denton and used to have a business in Ashton, before moving to Glossop in the mid-1960s.
They are widely known for owning a popular newsagents on High Street East for around 15 years during the 1970s and 80s, before running a convenience store on Long Lane in Chapel-en-le-Frith.
She later decided to volunteer at the Cancer Research shop in Glossop town centre and, aside from a few months of globetrotting, has been there ever since.
"When it first opened, it was called Imperial Cancer Research and it was one of only two charity shops in Glossop along with Oxfam," she said.
"When I first started, I said to them that me and John hoped to go travelling in a few months. The manager said 'come and join us anyway' so I did and stayed around six months because when I got the five-year award, the rep joked 'some of us have only been here four-and-a-half years!'
"They said that had I not been going away, they would have asked me to be the manageress at that time. We did go off travelling for around six months to Australia, America and Canada. When we returned to England, I went back to the shop and I have been there ever since."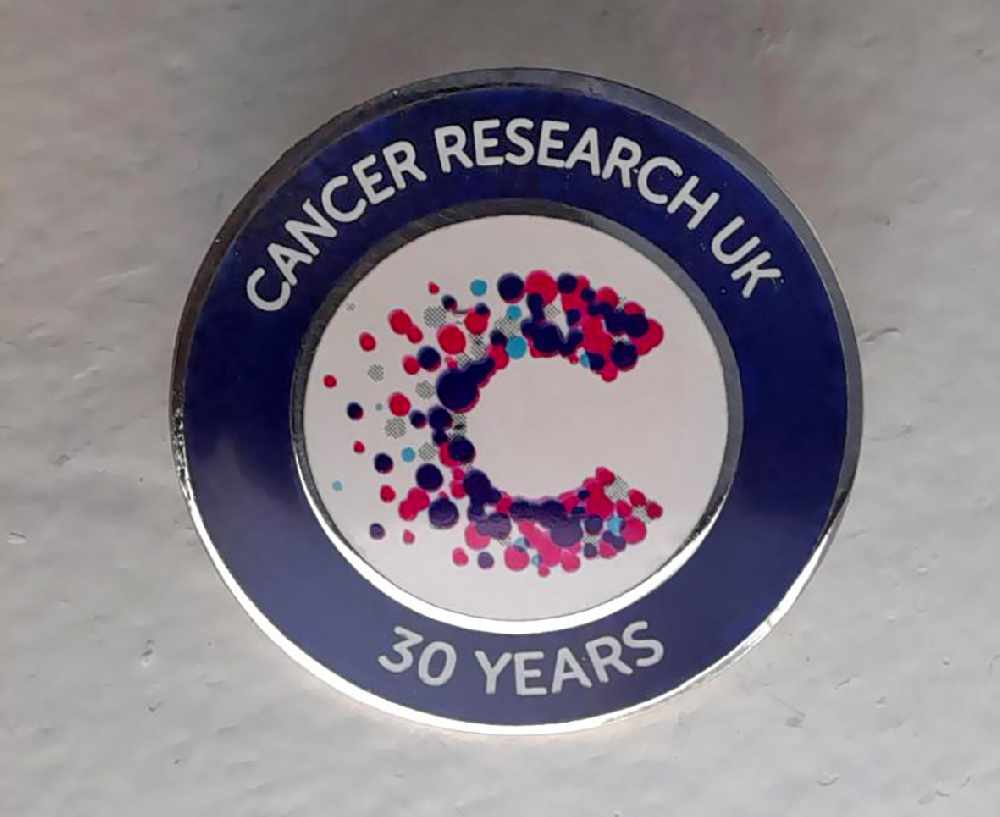 A closer look at Beatrice's medal for 30 years of service to Cancer Research UK
Beatrice also received medals after five and 10 years of service to the charity, but they were stolen sometime ago when her old house was broken into.
"We had a burglary at our house on Woodhead Road many years ago and they were in my jewellery box - it was very upsetting."
A lot has changed during Beatrice's time at the shop and she is grateful to everyone who she has worked with.
"At the start, you could do 9am-1pm or 1pm-5pm. I worked on Monday afternoons for a bit - I did two hours downstairs on the till and two hours sorting stock upstairs. I used to iron some of the clothes too.
"We used to go to meetings as well but it has changed a lot since then and of course nowadays it's called Cancer Research UK.
"A lot of recognised me from running the newsagents, we had four sons at school and we've been going to the catholic churches All Saints and St Mary's for years, so you got to know a lot of people. Some of the women I worked with in the shop I also knew from these places.
"The staff and managers I have worked with have been great and very good to me. You don't know people when they arrive but you make good friends and we've been on great nights out together too. It's a nice shop, it's well ran and has been well supported by customers."
Beatrice hasn't worked in the shop at all throughout the coronavirus pandemic but, having had both doses of her coronavirus vaccine, she is considering her return.
"I will think about returning because I love working there and I've missed it," she added. "The last few years I've been on the till on Tuesdays when I've been in, which suits me fine, so we'll see."
Read more from the Glossop Chronicle
Click here for more of the latest news
Click here to read the latest edition of the paper online
Click here to find out where you can pick up a copy of the paper