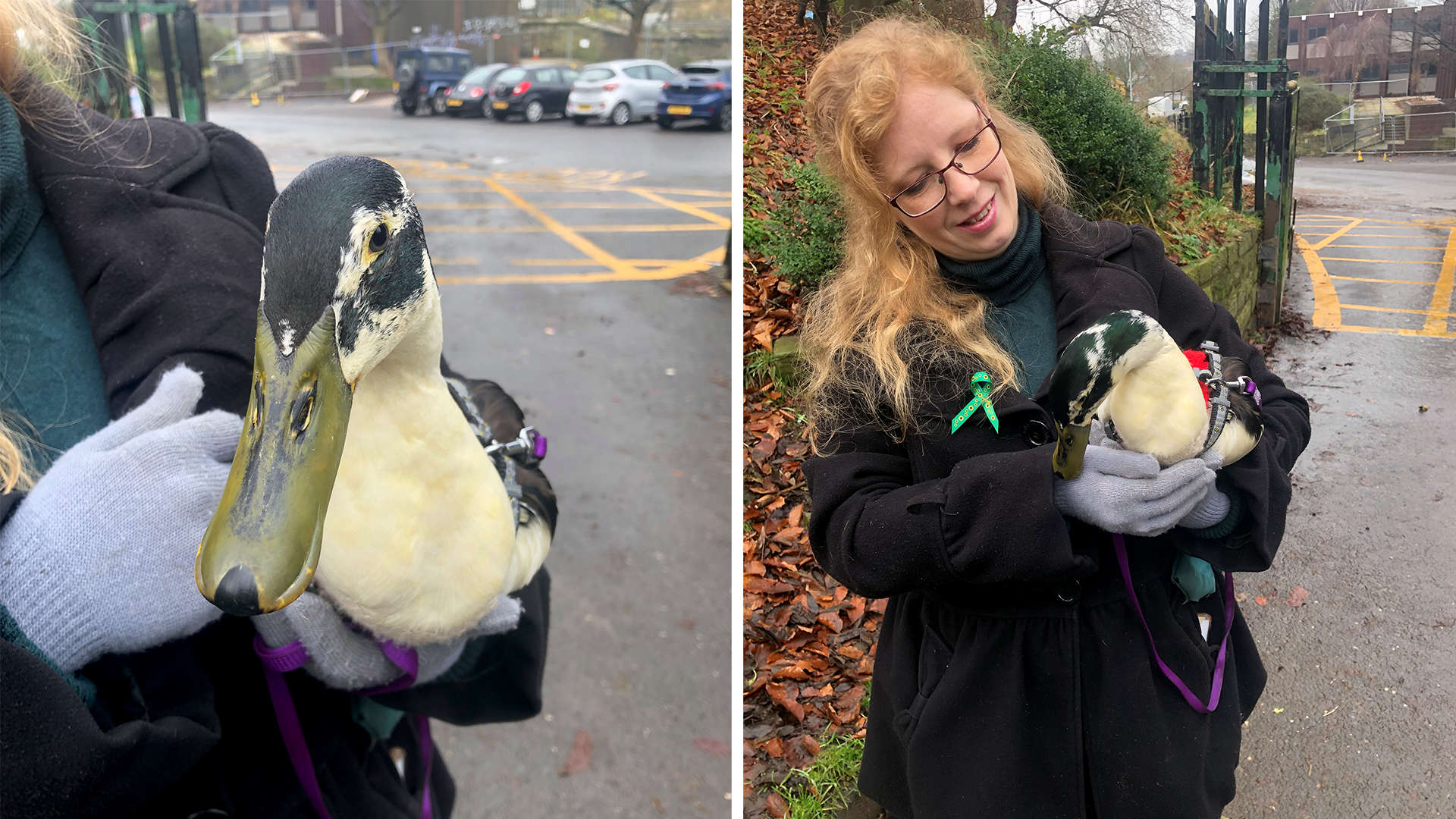 Lettuce with Alison McGowan.
You've heard of sponsored walks, but a sponsored waddle?
We've told you about Lettuce the duck before. His mum laid an egg at Haywill Animal Rescue and Therapy Centre in Glossop but refused to incubate it.
So, Lettuce was adopted by volunteer Alison McGowan and he now lives with his human family in Stalybridge.
But Lettuce still takes part in fundraising events for Haywill.
This weekend, he's taking part in a sponsored waddle to raise money for the sanctuary. He's walking from Norfolk Square to Wren's Nest, along with other Haywill animals on Sunday.
Alison told the Chronicle: "Lettuce is a running duck. He runs and walks. He can't fly. He can swim but he doesn't really like it. He's a mucky duck!
"We named him when he was still in the egg. I kept him warm in my bra until I got hold of an incubator. But he had real trouble hatching and in the end we had to drill holes in the shell to help him. We could hear him tapping from the inside but there was a real danger he would run out of oxygen and wouldn't have the strength to hatch.
"Eventually he managed to escape to freedom but as I was the first thing he saw, he is now bonded to me for life. Lettuce loves running and walking but sometimes his feet get sore. It was a real problem trying to find some duck shoes for him! But eventually I found a lady in America makes them, so I had to get them imported which cost a fortune."
So what is it like living with a duck?
Alison said: "It's just the same as having a dog or a cat really. He is spoilt rotten and he is so affectionate. He sleeps on my bed at night, but he has to wear a nappy! His favourite food is courgettes but he likes to eat anything green really.
"He comes everywhere me, but if I have to leave him at home, he sits by the back door screaming as he suffers separation anxiety. He comes on the school run with me and the kids all shout out to him."
"I've knitted him a Santa sweater for his sponsored walk on Sunday. I think he'll walk most of the way, but I may have to carry him if he gets tired."
If you want to sponsor Lettuce, visit https://www.justgiving.com/crowdfunding/lettucessponsoredchristmaswalk
Read more from the Glossop Chronicle
Click here for more of the latest news
Click here to read the latest edition of the paper online
Click here to find out where you can pick up a copy of the paper