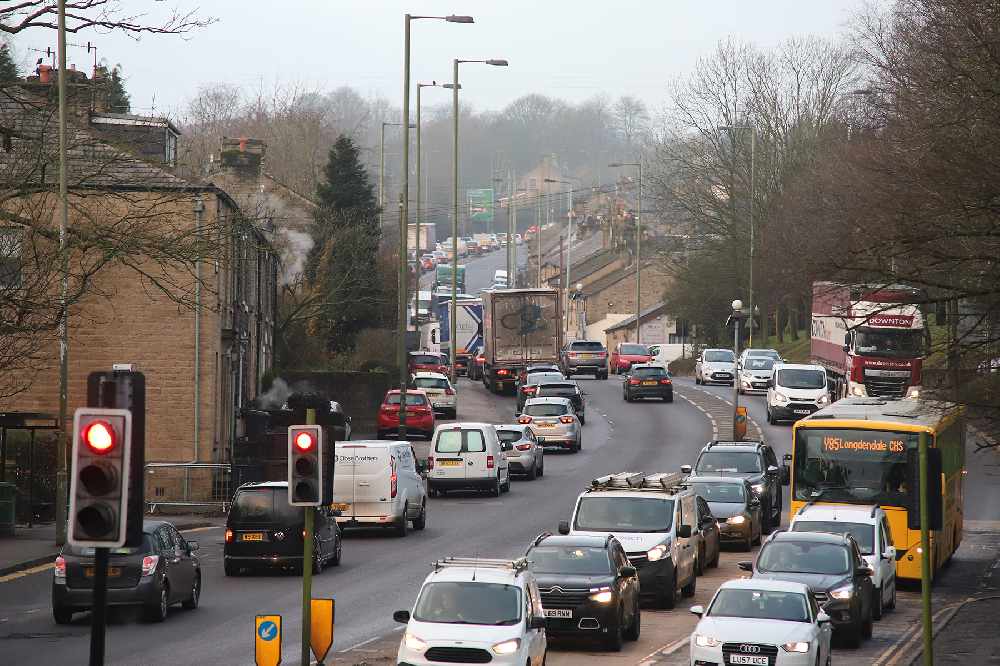 A number of vehicles on Mottram Moor. Image: Nigel Wood.
High Peak's Conservative MP Robert Largan calls on local residents to 'make their voices heard and express their support' for the long-awaited Mottram Bypass as part of the planning process.
As the first MP to actually live in Glossop since 1929 and given that I live on the main road, I have a strong personal stake in getting the Mottram Bypass built. That's why it has been one of my top priorities ever since I was elected over 18 months ago.
I've repeatedly raised the bypass in Parliament (the first High Peak MP to do so since 2016), worked on a cross-party basis with Mottram MP Jonathan Reynolds, regularly meeting both Ministers and Highways England and even raised the matter at Prime Minister's Questions, where I secured the support of Boris Johnson for the scheme.
As a result, a contract has been signed to build the bypass and a construction company has been appointed. We're now closer than we've ever been before to getting the bypass finally built after decades of promises from governments of all parties.
As you may have seen, the Planning Inspectorate recently accepted Highways England's application for a Development Consent Order (DCO) to build the Mottram Bypass & Glossop Spur Road. This is a crucial part of the legal process required before construction can begin.
As part of this process, the Planning Inspectorate is required to carry out a 'Planning Examination' into the application to build the £228 million bypass.
I know that we've had lots of consultations on this before and that lots of people will be really frustrated by how this keeps dragging on. After decades of waiting, and getting so close to construction starting, it is important we do not let this slip now.
Disappointingly, professional campaigners from outside the High Peak are attempting to hijack the planning examination process in an attempt to block the bypass. Astonishingly, some High Peak Labour councillors have actually welcomed objections to the bypass too.
It is essential that the silent majority of local people make their voices heard and express their support for the bypass as part of the planning examination process.
I would strongly encourage you to take a couple of minutes to take part in the process and briefly put in your own words why you support the Mottram Bypass & Glossop Spur Road being built.
You have until 16 September 2021 to register your views. Please use this link to enter your details and share your thoughts in the 'Your representation' text box: https://infrastructure.planninginspectorate.gov.uk/projects/north-west/a57-link-roads-previously-known-as-trans-pennine-upgrade-programme/?ipcsection=relreps
I am keenly aware that the current plan is only the first phase of the bypass. That is why I am still fighting for phase two of the bypass to be built around Hollingworth and Tintwistle too. But getting the first phase of the bypass built is crucial.
The studies show that it would make it significantly easier and quicker to get out of Hadfield and Glossop and onto the M67. It would also improve local air quality and reduce rat running through Gamesley and Charlesworth.
Clearly, the bypass is only part of the solution. We also need to improve our local public transport infrastructure and encourage active travel to help reduce the number of cars on the road.
Let's work together to make the High Peak even better!
Read more from the Glossop Chronicle
Click here for more of the latest news
Click here to read the latest edition of the paper online
Click here to find out where you can pick up a copy of the paper