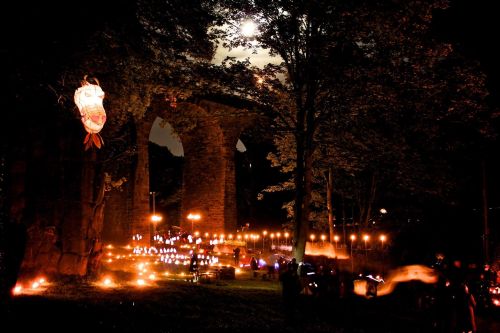 New Mills Festival's Lantern Procession and Street Party is on Saturday and the town promises to be packed.
This year the parade is a ticketed event with a suggested minimum donation of £1 each.
Tickets are on sale via www.newmillsfestival.co.uk; New Mills Post Office on Saturday, 10am to 12.30pm and then from 5pm at the Lantern Procession box office on the corner of Union Road and Albion Road.
The box office will also be selling lanterns on the night for £4.
Tickets are available for four separate time slots: 6.30pm and 7pm - twilight walks for younger children and people with reduced mobility participants; and 8pm and 8.30pm.
The procession starts at The Rock Tavern on Wirksmoor Road (access Wirksmoor Road from Jodrell Street).
It lasts approximately 30 minutes going through the Torrs Riverside Park, an impressive gorge and over the Millennium Walkway.
The procession ends with a free street party in Market Street and Union Road which starts at 5pm and goes on until late.
Delicious foods from all over the world will be on offer.
There's live music, fire eaters, jugglers, stilt-walkers and other performers.
Music from the Street Party Stage starts at 6pm and goes on for more than four and a half hours.
If you've made your own lantern take it along.
Visitors are advised to walk or take public transport. No parking will be available within the town centre as the two main car parks will close.
If you do travel by car, there are four temporary festival car parks at Grove Street (SK22 3AA, at Swizzels); Woodside Street (SK22 3HF, next to the Bee Hive Public House); Ensor Way (SK22 4NQ, behind the Co-op) and Church Lane (SK22 4NP, next to New Mills AFC).
Various roads within the centre of New Mills will be closed to allow the event to take place.