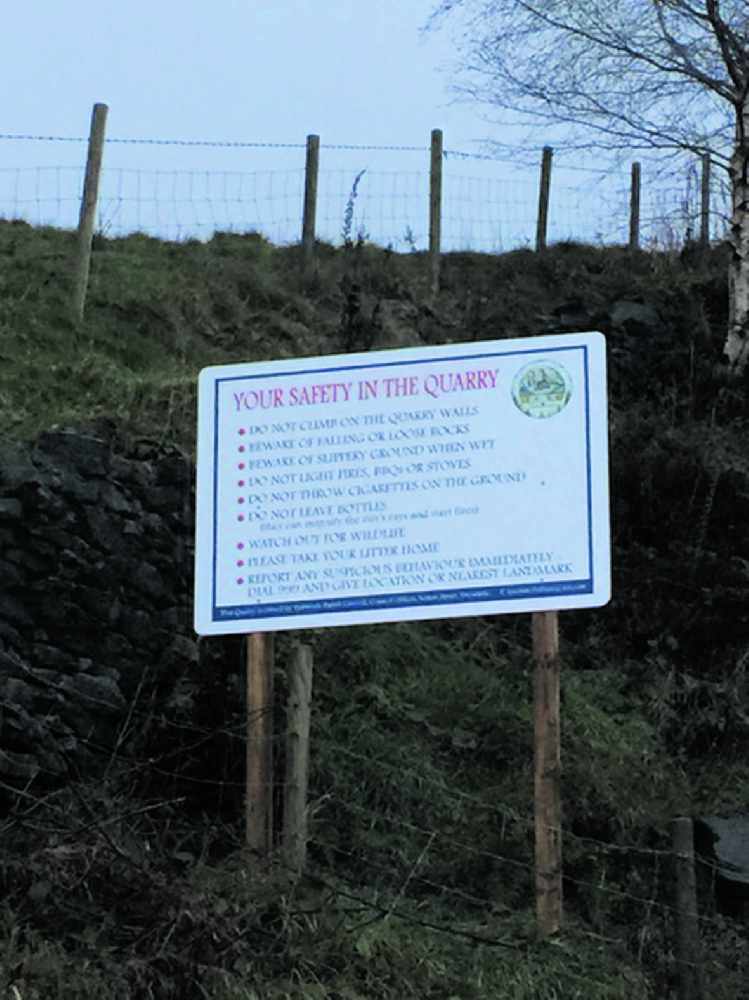 Tintwistle Parish Council has got its own logo and it depicts village locations and activities.
Designed by Nina Scriven and Karl Harrison, it shows the location of Tintwistle, the water in the reservoirs and recognises the village's football, cricket and bowling clubs and its allotments.
The logo will appear on signs and notices around Tintwistle that the council will be positioning next year.
One is already on the safety sign that's gone up in the old quarry the which council owns at the top of Old Road (pictured).
To comply with health and safety laws, the council has had to erect a sign at the entrance reminding visitors 'to take care'.
But what's not on the sign is the quarry's name. No one knows for certain what it is called.
Cllr Allan Dyer said: "I have actually asked that question in our newsletter as we are not sure.
"I've had one reply from a lifelong resident, whose grandparents were born in Tintwistle in 1900 and lived on Old Road in the vicinity and they knew it as 'Irvine Millers Quarry'.
"Irvine Miller was a stonemason who worked in the quarry. More recently it became known as 'Box Canyon' or 'Boxy's' for short, which was the name used by the Boys Brigade in the 1950s/60s apparently."
If you've heard different, call the Chronicle and we will tell Allan.
This is the council's new logo: