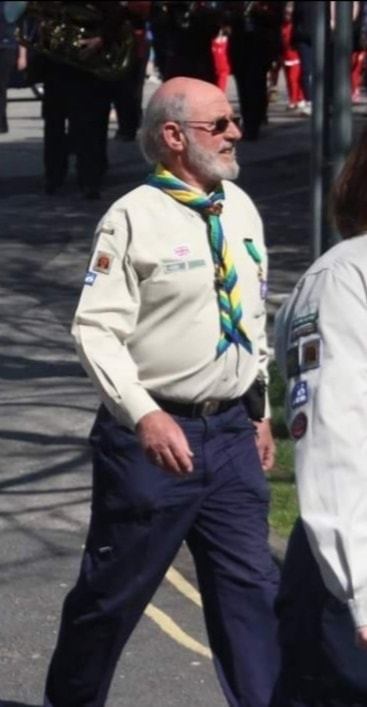 Tributes continue to pour in for Chris Harbut, whose death we reported last week.
Chris (pictured), who was 66 years old and from Charlesworth, had an outstanding record of service with 1st Dinting Scouts and was well liked in Manchester East Division Scouting circles.
Last week, Charlesworth and Chisworth Carnival committee paid tribute to his years of dedication.
A former member and chairman of Charlesworth Parish Council, family man Chris's offers of help spread far and wide.
Glossop and District Round Table said: "Chris was one of the people in charge of building the Glossop Bonfire for us (in Manor Park) for over 30 years.
"All the members of Round Table would like to thank Chris for his hard work and dedication to the bonfire and pass our condolences onto Chris's friends and family and 1st Dinting Scouts."
A tribute from Tameside and Glossop Scouts said: "As a lifelong Scout Chris has been a shining example of what a Scout should be with everyone he met.
"He used the skills he learnt as a wolf cub, scout and rover scout to good use. Not only in scouting but in the wider community."
In 1987 Chris set up a Venture Scout Unit at 1st Dinting and since then more than 300 young people have benefited from his 'commitment, patience, care and guidance'.
Chris led kayak expeditions down the River Wye most years between 1990 and 2011 and in 2000 he travelled the full 92 navigable miles of the river.
He provided back up to and walked more than 1,800 miles behind venture scouts and explorers on 14 long distance walks.
Chris was part of the 'County Explorer Belt team', completing 12 expeditions in eight countries round Europe.
He was keen Scouts gain their Duke of Edinburgh Awards, which led to 74 bronzes, 48 silvers and six golds.
At the 2007 21st World Scout Jamboree in Chelmsford he helped give 40,000 Scouts from around the world a brief canoeing experience.
Chris was awarded his 30-year badge for Service to Scouting in 2018 and last year received the Silver Acorn for distinguished and appreciably better than outstanding service to Scouting.