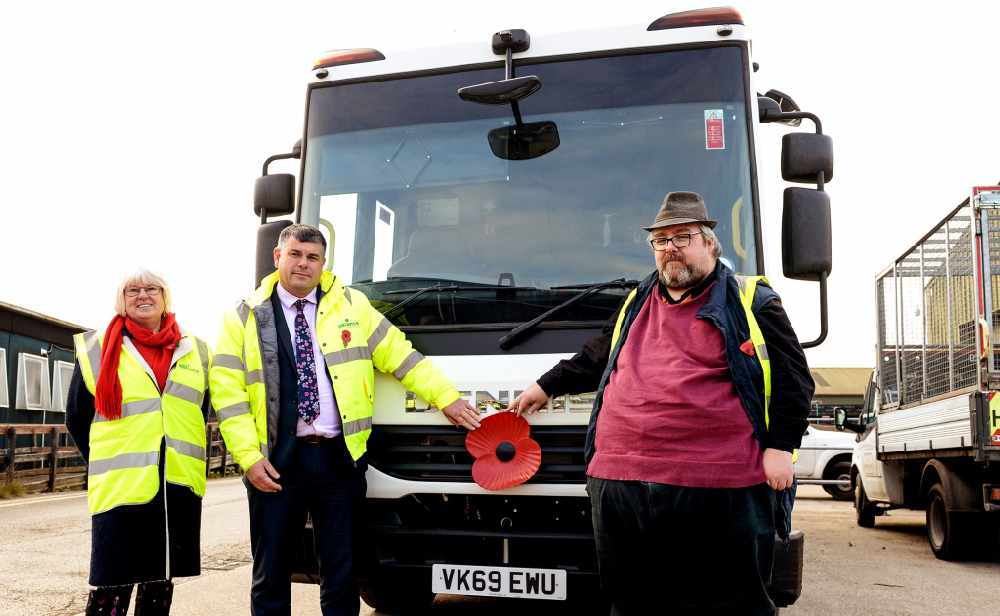 Whilst remembrance events this year will be different due to Covid, High Peak Borough Council is still showing its support for the annual Poppy appeal. 
The council say it - along with waste collection partner AES - has made a 'significant' donation to the appeal and poppies are being displayed on fleet vehicles.
Remembrance this year is reflecting on the service and sacrifice of the Second World War generation and how that echoes with today's generation as we help each other through the coronavirus pandemic.
Councillor Jean Todd, Executive Councillor for Climate Change and the Environment, said: "We're proud to show our support the poppy appeal once again this November.
"Our Armed Forces past and present embody selfless service – something which will resonate more strongly than ever with our communities this year as we've all felt the impact of the Covid health emergency.
"I hope that people who see our vehicles displaying poppies will take a moment to remember the brave service men and women of all generations and to consider donating to the poppy appeal.
"This year we're asking people across the High Peak to help keep everyone safe by staying at home to mark Remembrance Sunday. However, there are still plenty of ways to get involved such as displaying poppies in your windows and taking part in the national two-minute silence from your doorstep. Let's all do what we can to honour our heroes and remember safely."
The Royal British Legion has developed a range of new ways for people to show their support remotely from donating poppies through the post for your neighbours and local community to undertaking a virtual poppy run. Find out more at https://www.britishlegion.org.uk/get-involved/poppy-appeal.
Glossopdale communities will remember their heroes in silence on Remembrance Sunday (8 November), with services at cenotaphs either cut in size or cancelled altogether.
There will be no parade from Market Street to the war memorial on Norfolk Square. There will be no band, no communal laying of wreaths, no mass gathering of war veterans, Army cadets, Scouts and Guides or representatives from local organisations.
The borough council is asking people across the High Peak to mark Remembrance Sunday safely from their homes this year as efforts to control the spread of coronavirus continue.
Main image:
Councillor Jean Todd, Martin Sollis from AES, and Leader of the Council, Councillor Anthony Mckeown, with one of the vehicles displaying a poppy in support of the Royal British Legion's annual poppy appeal. The photograph was taken last year before the Covid restrictions were in place.