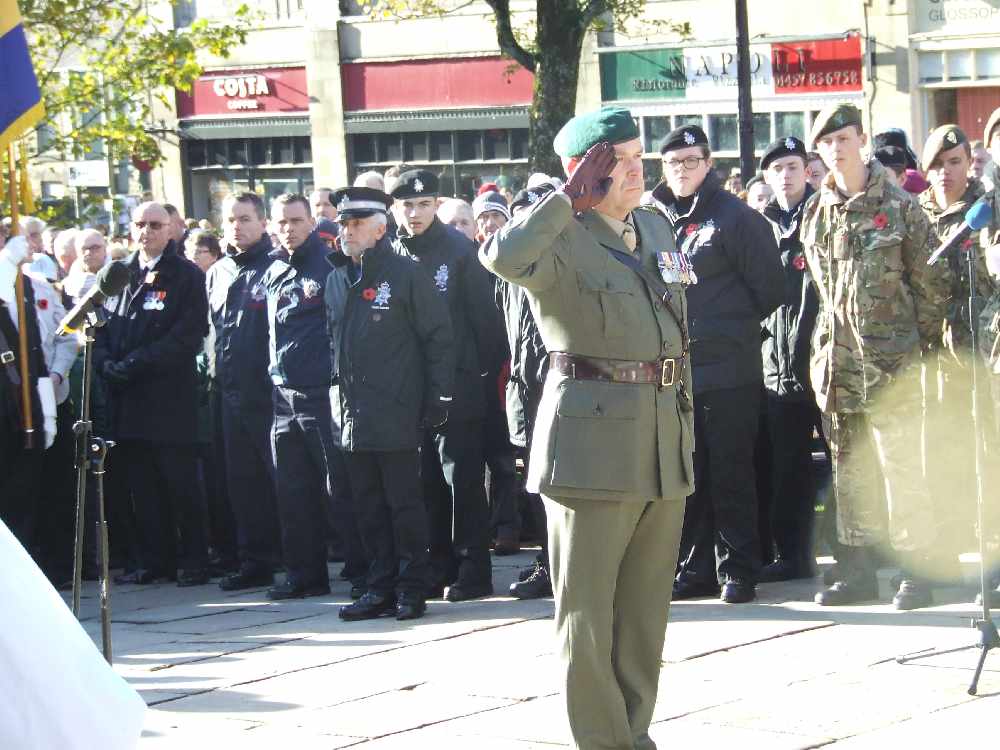 Glossopdale communities will remember their heroes in silence on Sunday with services at cenotaphs either cut in size or cancelled altogether.
As we revealed last week, there will be no parade from Market Street to the war memorial on Norfolk Square.
There will be no band, no communal laying of wreaths, no mass gathering of war veterans, Army cadets, Scouts and Guides or representatives from local organisations.
The borough council is asking people across the High Peak to mark Remembrance Sunday safely from their homes this year as efforts to control the spread of coronavirus continue.
Glossop Royal British Legion chairman David Halligan said: "We will be having a small service on Sunday and the legion and councillors will attend.
"All social distancing must be observed to prevent the spread of the virus.
"It is only a short service and not the usual parade that we have."
The Last Post will be played and a wreath laid by a representative of the borough council.
People who ordered wreaths from Sandra's florists were being asked to pick them up this week.
Members of the public who want to lay wreaths are asked not to do so during Sunday's short service, but during the days up to Remembrance Day (November 11).
In Hadfield there will be what's described as a 'short, but scaled back ceremony' at Hadfield cenotaph, but neither the Rev Felicity Walters or the borough council are encouraging people to attend.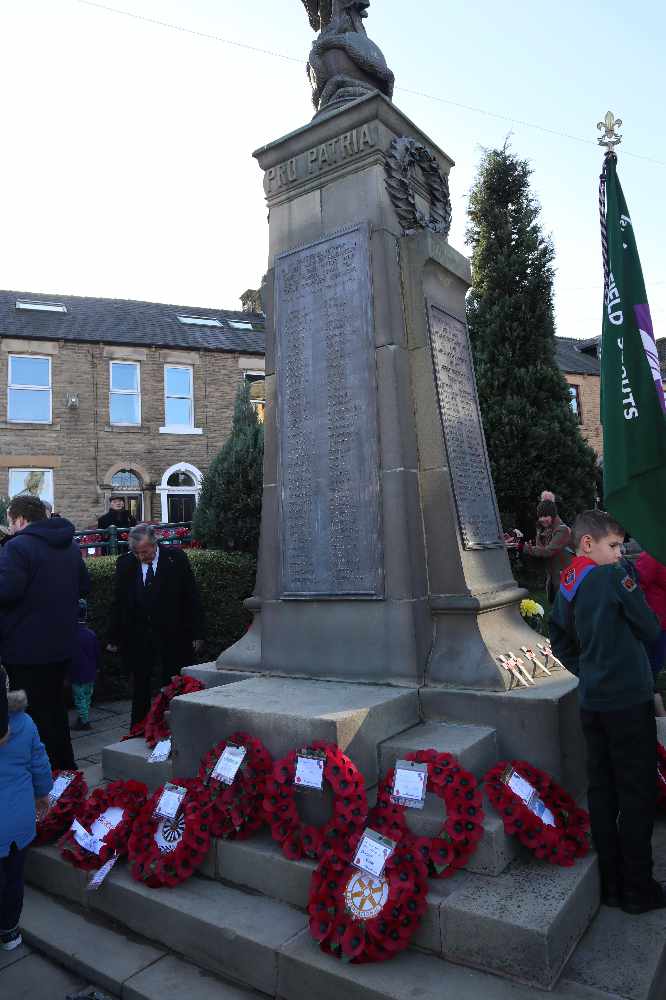 Hadfield War Memorial commemorations last year
Rev Walters said: "We will honour the fallen but from our own homes this year rather than gathering together."
Mayor Cllr Ed Kelly is expected to lay a wreath at the war memorial at 11am.
Communal wreaths can be laid at any other time next week at 'uncrowded points'.
There will also be no united service around the village centre war memorial in Charlesworth.
The parish council, which organises the tribute, said: "The parish council has discussed the difficulties in holding the normal Remembrance service in the current conditions and, with a very heavy heart, have concluded that it would not be possible to arrange one in a suitable manner.
"We have had to bear in mind wider government guidance, all the restrictions in place, the specific geography of the cenotaph and the priority of not increasing the risk to the parishioners.
"The parish council, the vicar, the Rev Felicity Walters and Jim Solomon, minister at Top Chapel, are in agreement that this year Remembrance needs to be observed within our own homes at 11am on November 8, rather than as the traditional gathering at the cenotaph.
"Those who have wreathes to place are encouraged to come to the cenotaph at some point during the week which follows to lay them.
"We reach this conclusion reluctantly, and wanting to honour the fallen yet not put anyone at the risk of infection."
At 11am people are being encouraged to observe the two minute silence at home, with the national commemorations on TV.
Tintwistle will be commemorating Remembrance Sunday, but in common with other places in the borough, without a parade up to the Old Road cenotaph or a collective laying of wreaths.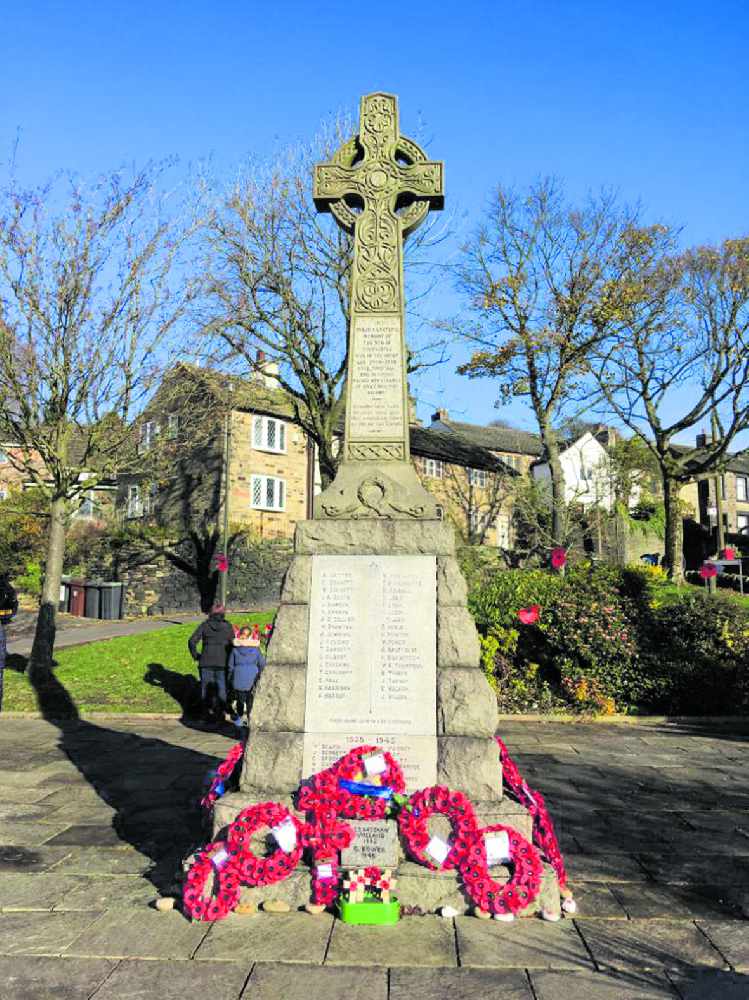 Wreaths placed at Tintwistle's war memorial in 2019
Christ Church is no longer having a service with a bugler.
However, residents are now allowed to the cenotaph outside the paved area under strict Covid guidelines.
There will be a marshal to ensure everyone socially distances appropriately.
Parish council chair Marianne Stevenson said: "We want to demonstrate our respect for those who gave their lives in the service of their country while at the same time complying with Covid guidance.
"William Clarke will do the roll call of those service people who died.
"There will be a standard bearer, a representative for the armed services, a member of the Cenotaph Association and the British Legion and myself representing the Parish Council.
"We shall all be socially distanced.
"Those who are laying wreaths have been asked to lay them solitary at some time between November 8 and 11."
Main image:
Commemorations in Norfolk Square in Glossop on Remembrance Sunday in 2019.