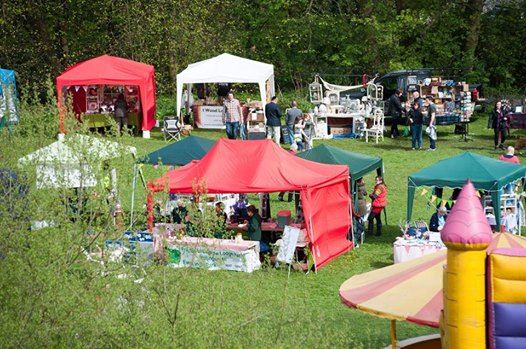 The Friends of Hollingworth group is six years old this year and was formed with the aim to 'bring together and foster friendship and understanding within the community of Hollingworth'. 
It was created back in 2015, when some of the locals decided to raise some money for a Christmas tree to be placed in the village as the council said they were no longer able to provide one.
Over the years, the groups has put together many events such as the Teddy Bear's Picnic and the heART Exhibition. In the winter period, the group put on the annual Christmas Markets and people gather for the Christmas tree switch-on.
One thing that the group is proud of is the Heritage Lottery Fund bid that was approved in 2018, that enabled them to carry out work on the War Memorial and the production of the Lest We Forget book.
But like all groups, it has been adversely affected by the coronavirus pandemic.
Mark Jessop, chairperson for The Friends of Hollingworth, said: "We have been badly affected by Covid-19 as the group is very much a social thing with meetings and events which we had to put a hold on.
"There hasn't been a proper meeting in over a year and events such as litter picking days and walking group had to be postponed. The very successful Festival on the Green had to be cancelled all together."
He went on: "There is normally a two-day art exhibition in February which we couldn't do this year, so we created an online one for local artists to participate in.
"During lockdown, we created a scarecrow competition for families to take part of which was a great success. There was an Easter treasure hunt around the village that small groups could participate in and we held online bingo through Zoom".
With the lifting of the restrictions, the group is planning on hosting the Picnic on the Green, which will have summer music and lots of games for youngsters to take part in, and taking a group of children to the pantomime in the winter.
Mr Jessop continued: "The Hollingworth community are very generous and make consistent contributions to The Friends of Hollingworth, especially during events. The group has created a better sense of community within the village that wasn't really there before. People are able to make new friends through the group, creating a closer community.
"We are always looking for new members for the committee or for people to just get involved. We would love to see more younger people participate to get their ideas across and really get involved."
Anyone wanting to find out more about the group or get involved can visit friendsofhollingworth.co.uk/ or join The Friends of Hollingworth group on Facebook.
Main image:
The Festival on the Green in Hollingworth in a previous year.