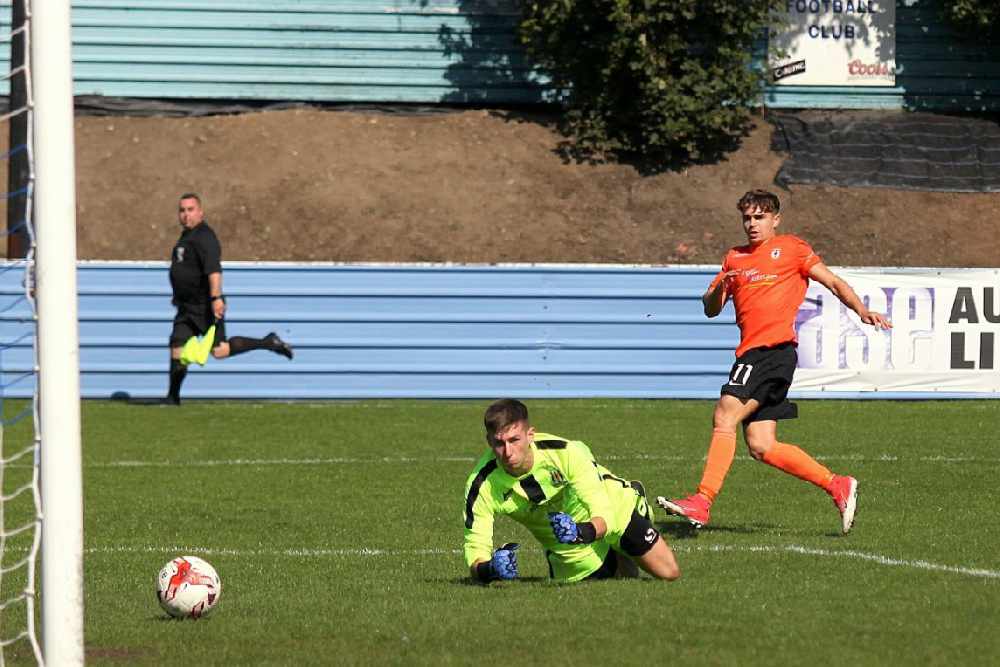 Following their excellent 2-0 away win at Newcastle Town on Tuesday, Glossop began this game with confidence high.
he game kicked off in heat more suited to cricket. Glossop attacked up the slope and made a blistering start. In the second minute a shot hit the post and was cleared. Five minutes later, Glossop went ahead with an excellent goal. Coppin passed to Limpishi who controlled the ball well and laid it into the path of Joel Mills. He took it in his stride and finished calmly. Glossop looked in full control but Eccleshill started to get into the game with a couple of penetrating runs. The Glossop defence was up for the challenge.
Glossop continued to make chances. Bakari's run to the edge of the box ended with a free kick which Limpishi hit through the wall but the keeper saved comfortably. Limpishi then showed good control to create a good chance but he delayed his shot and the ball was cleared. The heat resulted in a drinks break and the game became scrappy as half time approached.
Eccleshill came out strongly after the break. They are a very big side and are a danger from set pieces. In the first half Glossop had restricted their opportunities in the area but as the players tired in the heat, the number of corners and free kicks conceded started to increase. Glossop still looked dangerous going forward with Tuohy prominent. He challenged the goalkeeper for a through ball and was unlucky not to score.
The Eccleshill goal came on 64 minutes from one of those free kicks. The ball was nodded down at the far post and swept into the net by Omolokun before Glossop could clear. Glossop still threatened – a great Tuohy cross eluded Limpishi who should have done better. Both sides came close in the final stages of the game. Glossop substitute Rose had a shot tipped round the post. The game finished level at 1-1 and the replay will take place at the Amdec Forklift Stadium on Tuesday 3rd September.
Matchday Report by Jim Joyce
Photograph by Steve Dyson