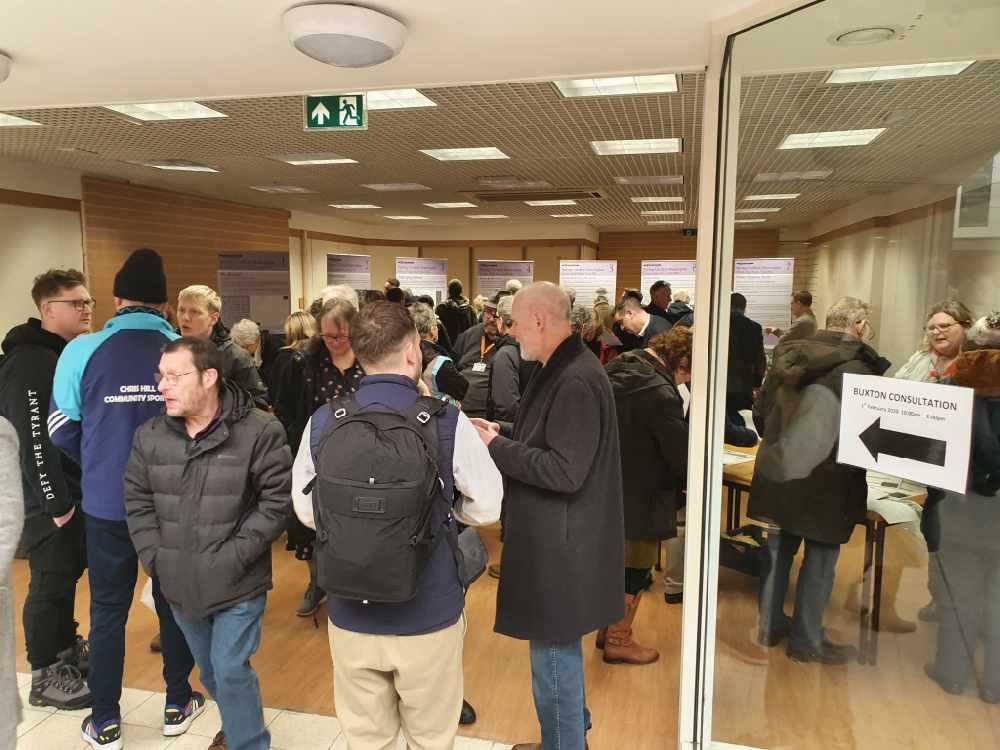 Hundreds of people visited the Future High Street Fund exhibition last Saturday, where plans for the transformation of Buxton town centre were unveiled.
In July last year, High Peak Borough Council (HPBC) was one of the first 50 areas, out of an anticipated 150 towns in total, to receive funding from the Government's £1 billion Future High Street Fund (FHSF).
The borough council has since been working with partners to develop initial proposals to transform the Spring Gardens area, as part of a national initiative to create town centres fit for the 21st century.
The initial ideas are now available for people to view and comment on.
The proposals include:
· Creating a new pedestrian street from the train station, and the health hub and retirement apartments being developed on the site next door, to The Springs shopping centre and Spring Gardens
· Creating a new multi-level car park behind The Springs, reusing surface-level car parking to create a new public square, making a feature of the revealed River Wye, and introducing a new leisure attractions such as a cinema, gym and family restaurants
· Introducing a limited number of apartment buildings along Station Approach as well as new office space
· Improving Spring Gardens by removing street clutter, refreshing the public space and helping owners bring buildings back into use including rear yards and upper floors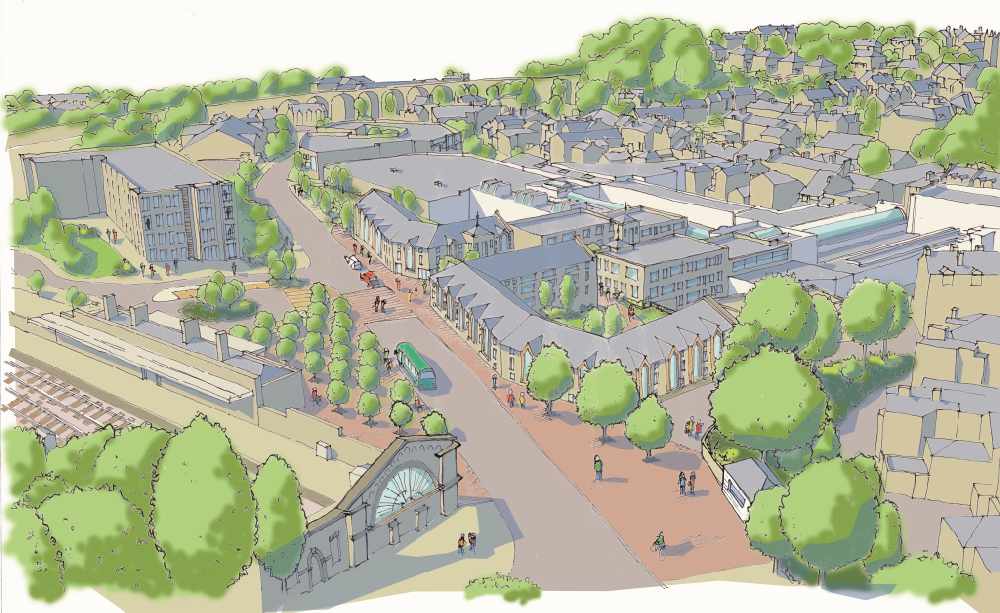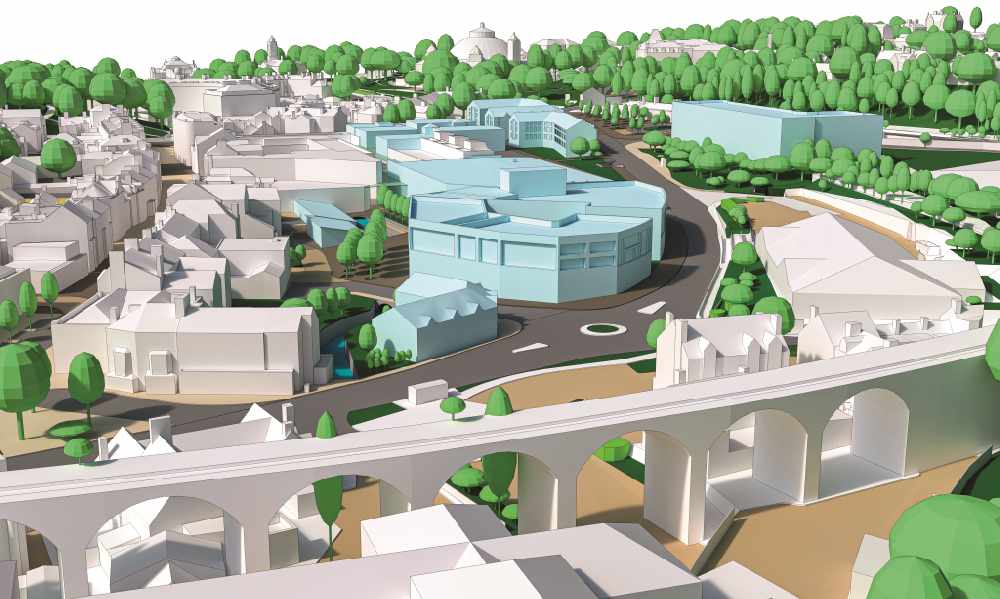 Artist impressions of some of the proposals
Councillor Damien Greenhalgh, Deputy Leader and Executive Councillor for Regeneration, Tourism and Leisure, said: "We're excited to share these ambitious ideas which will transform Buxton town centre. It was great to see so many people at the exhibition in the unit opposite the Vodafone store in The Springs on Saturday and I'd like to thank everyone who took the time to come along and give us their feedback. It's really heartening that there is so much interest in improving Buxton!
"I think we can all agree that town centres need to adapt to the changes in our lifestyles, how we shop and how we spend our leisure time so, if we're to have a town centre fit for the future, it's important that the views of local people and businesses play a key part in shaping that future.
"If you didn't get the chance to pop down on Saturday, don't forget we'll be back in The Springs between 1pm and 4pm on Monday 10 February. All the proposals are also now available to view on our website too so please get involved and tell us what you think."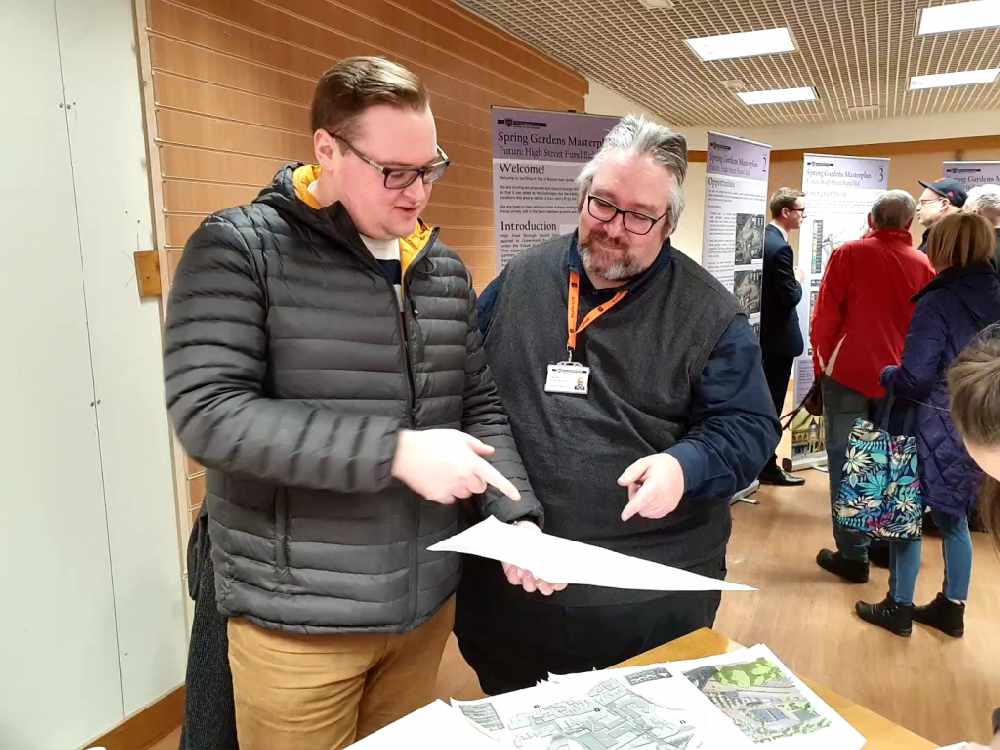 Cllr Damien Greenhalgh viewing the proposals with High Peak Borough Council Leader Cllr Anthony Mckeown
To view the proposals for yourself, visit www.highpeak.gov.uk You can comment online by completing a short survey or you can email regeneration@highpeak.gov.uk.
The deadline for comments is Monday 17 February.
The FHSF is made up of two stages – an initial grant for the selected areas to develop proposals and a second, very competitive stage for those areas to apply for funding to implement their proposals which have to focus on how space can be converted for new uses to transform the town centre and cannot be used for retail development.
No guarantee has been given that Buxton will secure this funding and the proposals will also require substantial investment from the private sector and the Councils themselves.
Buxton's bid will be submitted at the end of April and a decision is expected in the Autumn.
An additional £1m of Heritage Action Zone funding has already been secured to help restore historic shop fronts and heritage features.
Main image:
Visitors to the exhibition at The Springs last Saturday (1 February).