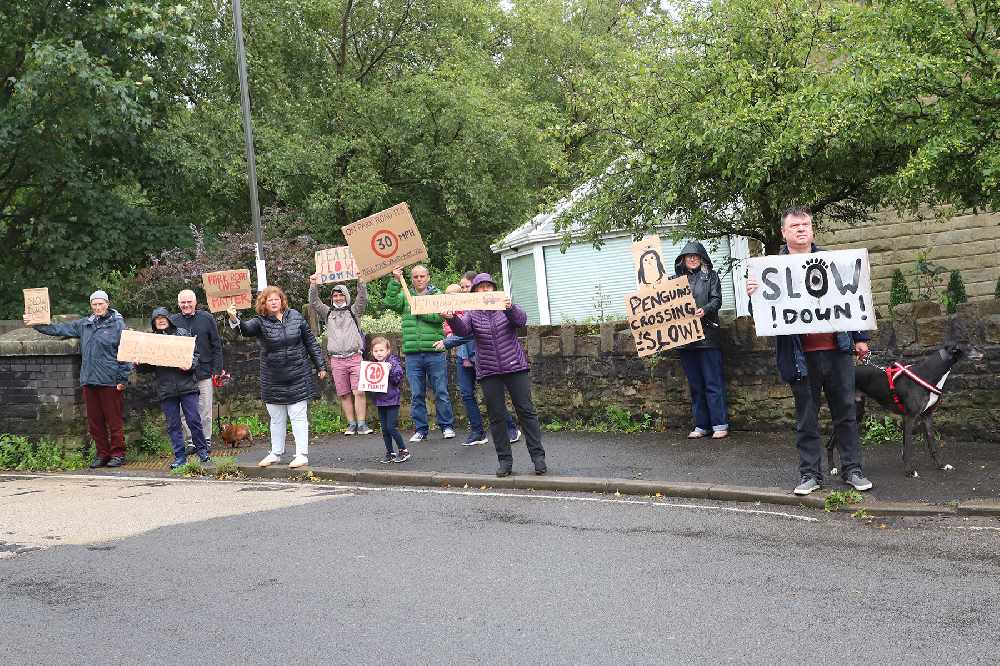 Residents of a busy road in Hadfield have held a peaceful rush-hour protest to highlight traffic and speeding issues following a spate of incidents.  
Around 15 residents of all ages braved the wet weather last Friday afternoon (28 August) to turn out on Park Road, where they were joined by Padfield borough councillor Ollie Cross.
They stood at the side of the pavement between 4.30pm and 5.30pm, holding 'please slow down' signs and other placards requesting that drivers observe the speed limit. Such was how well it went, they will now be holding another protest this Friday (4 September).
The Park Road residents' association has been campaigning for speed enforcement and management levels due to excessive speed which has led to residents almost being run over, vehicles and properties being damaged, and a number of pet deaths.
In the last 15 years, residents have recorded 12 parked cars being written off by other vehicles, 43 vehicles being damaged from broken mirrors through to significant bodywork damage, and 11 pet cats being killed.
Councillors are aware of the issues and Derbyshire County Council's Highways team has finally agreed to visit the street for a meeting next week.
'The message can never be repeated enough'
Explaining the misery that residents have had to endure, Richard Grundy, chairman of the residents' association, told the Chronicle: "We've had a number of issues over the years with damaged vehicles. I know it's a bit more trivial but a number of pets have also been killed.
"I had my car written off three years ago. My wife put together the list of incidents over the years and it's substantial.
"We decided to hold the protest on a Friday afternoon during rush hour as it's one of the busiest times and a number of the residents were able to attend. It was great to see the support we got. We didn't want to cause any problems ourselves but we just wanted to raise awareness and the message can never be repeated enough.
"We've been in touch with Derbyshire County Council's Highways department and we have a meeting with them on the street next Monday to look at it. They have not been very enthusiastic in the past but it's good to see they're taking interest now.
"The county councillor Jean Wharmby has been very proactive lately and our local councillor Ollie Cross has been great – he suggested for us to create the residents' association in the first place."
Check out some more images from the protest in our photo album:
'We just want drivers to take more care'
Richard said speeding on the road increased during lockdown and the signage on the road is "a big contributory factor" to the problems generally.
He said: "The road is a key through route between Hadfield and Glossop but the signage at the top of the road is very confusing. Coming from the Glossop side, there's a 40mph sign which quickly turns into 30mph, and some drivers are still doing 40mph, or close to it, when they come down Park Road.
"We've been calling for the signage to be altered for a while. Other parts of the area have also seen traffic calming measures which is something we've asked for too, but we appreciate that council budgets with everything that's going on may not be able to cover such things at the moment.
"Other roads have seen a reduction in speed limits to 20 miles per hour although a lot of drivers don't observe it. We are a residential street and there's no reason why we shouldn't have it in place too.
"Speeding became a bigger problem during lockdown and a number of neighbours' cars were hit. We just want drivers to take more care and think about what they are doing – for their own safety as much as ours.
"My son who is 13 goes to school and other residents have young children so there are lots of concerns for their safety too.
"There's a T junction near Markovitz who have put in a planning application for the enlargement of their operation, which will mean more deliveries and more vehicles coming up and down the road."
'Councils should be proactive rather than reactive'
Councillor Cross said he's been lobbying the county council to listen to residents' concerns and introduce sensible traffic calming measures for over a year.
He said: "A number of Park Road residents have been in touch since I was elected to let me know about their vehicles being badly damaged, irresponsible driving and residents nearly being run over. It's particularly concerning as there are quite a few elderly folk and young families who live on the road.
"I firmly believe that councils should always look to be proactive rather than reactive where possible. I'm grateful that county councillors George and Jean Wharmby have now offered their support and flagged this issue up at a recent Highways meeting."
On the protest, he added: "It was very well attended and I was chuffed as chutney to see Park Road residents of all ages out. Thanks to all the motorists who beeped their horns in solidarity and the passers-by for their kind words of support too."
Images by Nigel Wood