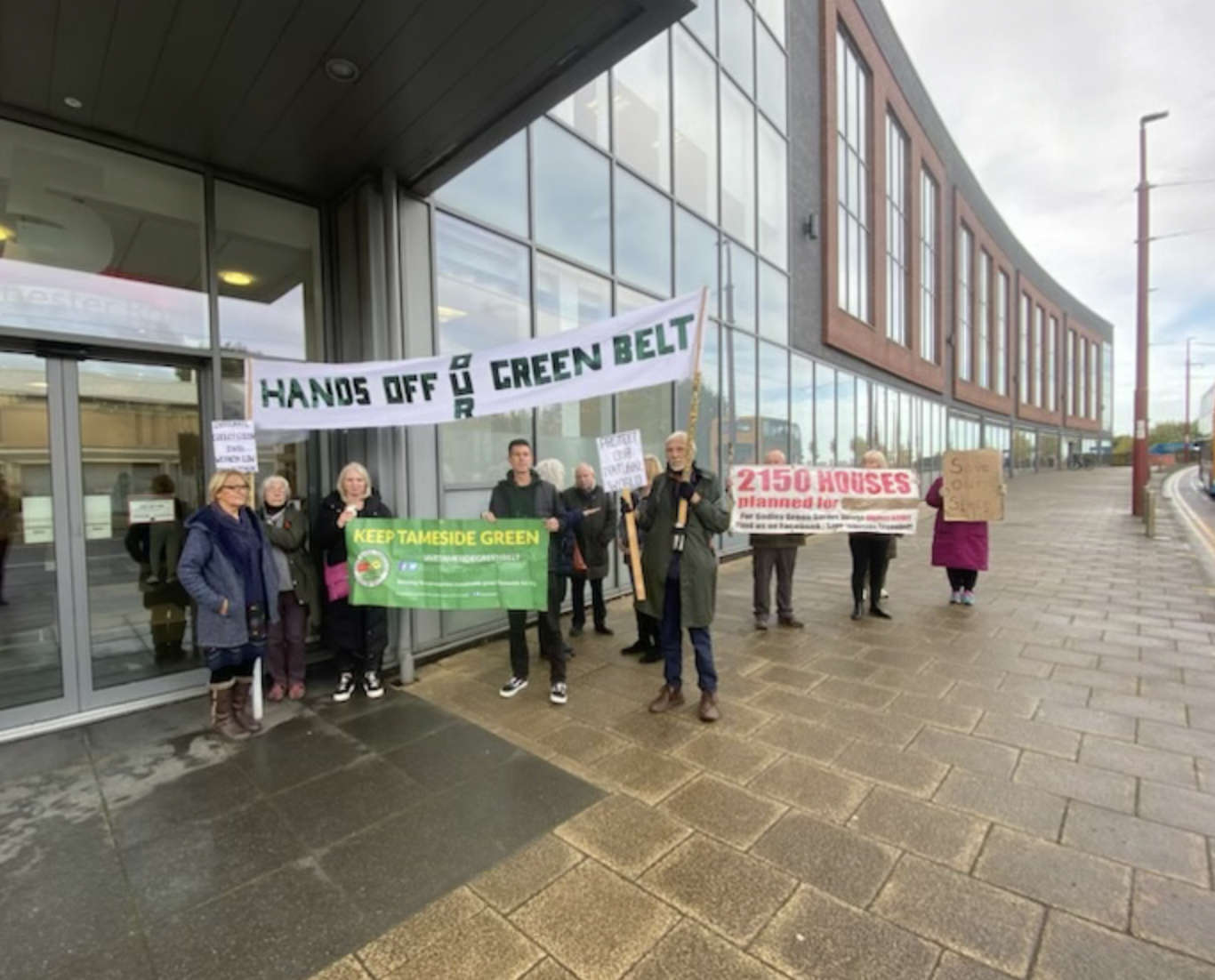 Controversial plans to build more than 2000 homes and create a 'garden village' in Tameside have been given a landmark green light. 
A handful of protesters gathered ahead of a planning meeting in Droylsden today to voice their objections to the plans.
Tameside Council have proposed the new village development off the A560 within the next 15 years.
It would mean a total of 2,150 homes being built in total, with 143 being built each year and 15 per cent being 'affordable' housing.
The plans include provision for shops, restaurants, indoor sport and recreation facilities, medical and health services, nurseries and offices which the council say will create 500 new jobs for residents.
After three rounds of consultation on the plan, it was revealed that the council had received 33 letters of support and 4,205 letters of objection.
Planners say that 'where possible' demolition of existing buildings already in the Hyde countryside has been avoided, but it would be necessary for several buildings to be knocked down to facilitate the development.
The Speaker's Panel Planning committee met at Guardsman Tony Downes House in Droylsden today to decide if the scheme should go forward for consideration by the Secretary of State.
An objection panel (which consisted of councillors and local residents) addressed the meeting and officers from the council.
One member of that panel was Conservative councillor for Hyde Godley ward, Cllr Andrea Colbourne, who has tirelessly campaigned against the plans.
She stated: "These are going to be the wrong houses in the wrong place. There is no infrastructure at present for this proposal to go ahead. This will not be a village but an overspill housing estate."
But Cllr Jim Fitzpatrick, Labour councillor for Hyde Werneth, supported the plans and told the meeting: "This development will deliver the housing Tameside desperately needs. It's not just about Godley, it's about Tameside. This development will develop the houses for the children of the future."
Following the arguments, the plans were passed on a vote of 9-1. Nine Labour councillors voted for the plans while the one Conservative councillor on the panel, Cllr Doreen Dickinson, voted against the plans.
After hearing the decision, Hyde MP Johnathan Reynolds said: "The local planning committee's decision means this will now be referred to the Government for the ultimate decision.
"This has been a long process and I know that has been frustrating for everyone involved. There are lessons for local and national government on how this could be done better.
"In terms of the development itself the homes that will be delivered if it goes ahead will be a major boost for Hyde and Tameside, giving hundreds of families a great place to live.
"In addition, developing a village in this way means we will be able to provide the infrastructure, including sufficient education and health services, alongside the new houses.
"Whilst I know some people are opposed to new homes entirely, there is a bigger group of people who just want to know new homes won't put undue strain on existing public services. This will let us meet our housing needs whilst addressing those concerns.
"In many parts of the UK, we've already got a housing market which is completely inaccessible to young people unless their parents are able to give them the means to access it.
"We don't want that here. This development meets those needs whilst providing much better build quality, services and affordable housing provision than we would get from a series of smaller developments."
If approved by the Secretary of State, Michael Gove, construction would take place in eight phases. Phase zero would see the delivery of the access junction.
Phase one would see essential infrastructure for roads, drainage, flood basins and public open space installed and the delivery of houses, as well as 'key community meeting facilities' and public realm works.
The remaining phases would deliver a mix of homes, as well as additional infrastructure not put in place earlier on.
Planning officers admit that the scheme would be 'inappropriate development' in the green belt, and is 'harmful by definition', and would also have 'minor adverse impacts' on the highway network.
Councillor Gerald Cooney, Tameside Council Executive Leader stated: "We will await the outcome of the Secretary of State as to whether he agrees to this much needed housing being built in Tameside.
"We want Godley Green to provide much-needed, quality homes that Tameside really needs. But it is not just about housing, it is about developing a sustainable community where people can work, raise families, travel easily, and enjoy green spaces.
"A garden community gives us the opportunity to do something different, with people at the very heart of the development.
"Their views have been invaluable throughout the application process, and we have listened to their feedback to shape the plans."