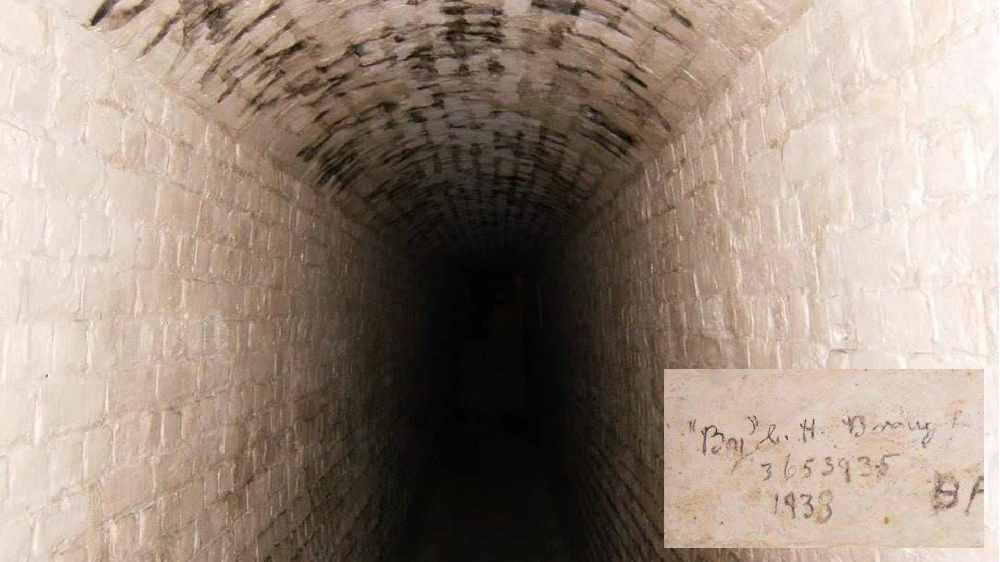 On top of Dover's cliffs stands a huge and abandoned fortress known as The Citadel. In its hidden gunrooms and tunnels a local historian has discovered a soldier's wartime graffiti which led him all the way to Glossop.
Phil Eyden managed to make out the inscription carved amongst many others as 3653935 'Boy' CH Brough. It was dated 1938 when the garrison of the Citadel was occupied by the 1st South Lancashire Regiment.
Through genealogy research Phil identified him as Charles Henry Brough (1921-2005) who came from Glossop.
It was the start of some painstaking detective work by Phil whose story is packed with wartime escapes, secret missions and intrigue.
The Citadel was a major barracks for soldiers from Victorian times to World War Two, and latterly an Immigration Removal Centre that closed in 2015. Beneath the Citadel are gunrooms and tunnels packed with graffiti left by the soldiers who were garrisoned there.
Shortly before the Citadel shut, Phil and other volunteers of the Dover Western Heights Preservation Society were invited into the tunnels. On the tour, the guide photographed some bits of graffiti going back to Victorian times, and a few months ago Phil decided to research some of them.
To his amazement he then found CH Brough listed in a 1943 'missing report' as being in the Signal Troop of the Long-Range Desert Group – a famous band of elite soldiers in North Africa who raided behind Rommel's supply lines in heavily armed lorries and Jeeps.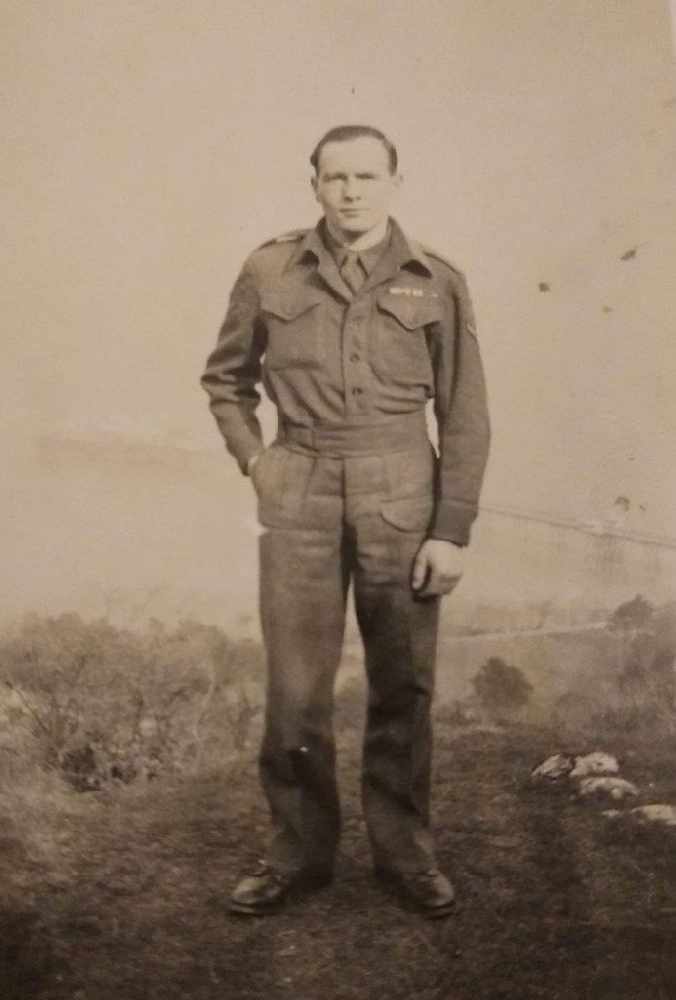 IN UNIFORM: Charles Brough.
A second document, a casualty report from Libya dated February 1943, confirmed Charles was with XXX (Thirtieth) Corps.
A 1945 Mention in a Despatches citation, which Phil discovered in the National Archives, stated Charles handed himself in to the German authorities on the Greek island of Leros on November 21, 1943, having evaded capture for a few days following the capitulation of the island and the total destruction of his unit.
Charles had only surrendered himself as he was starving and was then transferred to Athens.
On December 8, 1943, he was then put onboard a Prisoner of War train for Germany. However, using a pair of wire-cutters he had concealed from the guards, he and one other, cut their way out of a ventilator in the roof. He jumped onto a grassy embankment at Kiourka and went into hiding.
Charles was soon found by local inhabitants and guided to the British Military Mission.
He then spent seven months in Greece with Force 133 (Special Operations Executive) working as a wireless operator liaising and co-ordinating attacks with the various Greek Partisan groups before some of the Force members were evacuated to Italy in the summer of 1944.
He returned to England at the end of the year and posted back to the Royal Signals Depot at Thirsk in Yorkshire.
After the discovery of his amazing war history, Phil put an appeal online on a Glossop social media page to try to find a relative so he could tell the family of his discovery.
Within a couple of days and with the help of local resident Jon Baldry, his grandson Paul Brough, living in Glossop, spotted the post and got in contact.
Paul had possession of Charles' medals, his photographs and some fascinating documents. One was a forged Greek identity card that would have been issued by SOE containing a false identity.
Phil said: "A friend's cousin, who is Greek, has just had Charles' false identity card translated. It seems he was masquerading as a gardener from Athens."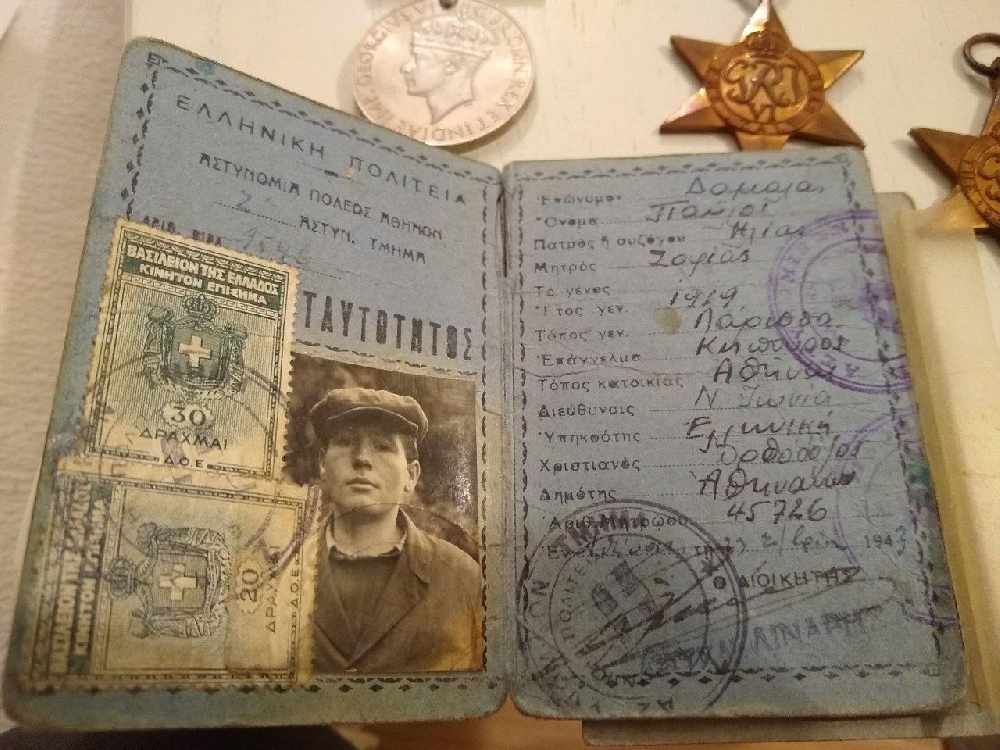 FORGED ID CARD: Charles' false identity.
Another told how in late 1944 Charles, Australian Colonel Alex Sheppard, Captain Harry McIntyre, two other British soldiers and five Greek guerrillas, were in disguise onboard a truck which arrived at a village near Thebes with 200 gold sovereigns and secret papers concealed on them.
The lorry was driven by a young Greek lady named 'Olga' and her brother.
The vehicle was stopped by a German party who thought it was suspicious and took them all to a hall for questioning.
Without the guards noticing, Olga took the secret papers and hid them under her blouse. She then managed to sweet talk the guards that they were all black marketeers working for German officers and charmed them into releasing them.
Thanks to brave Olga, the entire secret British Mission had slipped through their fingers and she had saved their lives.
Post-war, Charles settled at Turnlee Road in Glossop with his new wife, Sarah Shaw, and became a joiner and later a property developer. He died, aged 84, in the town in 2005 - a forgotten hero found by his name inscribed on the wall 83 years ago!
Phil told the Chronicle: "I am still amazed how this one has come together. Normally when researching graffiti you get very little information, or, more often, nothing at all.
"But because Charles left his service number on the wall way back in 1938, it opened the door on him and his career.
"The information was found via Ancestry, Find My Past and the National Archives, and Paul was tracked down via Facebook (it does have its uses).
"I have also been trying to find out what the British Mission was doing in Greece and it is a fascinating, and complex story. The two officers named in the 'Olga' document both have their own amazing careers, and I have my suspicions that Captain McIntyre's wife-to-be, Niky McIntyre, may well have been 'Olga', but that's a story for another time.

HAPPY DAYS: Charles and his wife Sarah
Main image:
THE PAST REVEALED: The Citadel in Dover and (inset) Charles Brough's name in the tunnel.
Read more from the Glossop Chronicle
Click here for more of the latest news
Click here to read the latest edition of the paper online
Click here to find out where you can pick up a copy of the paper