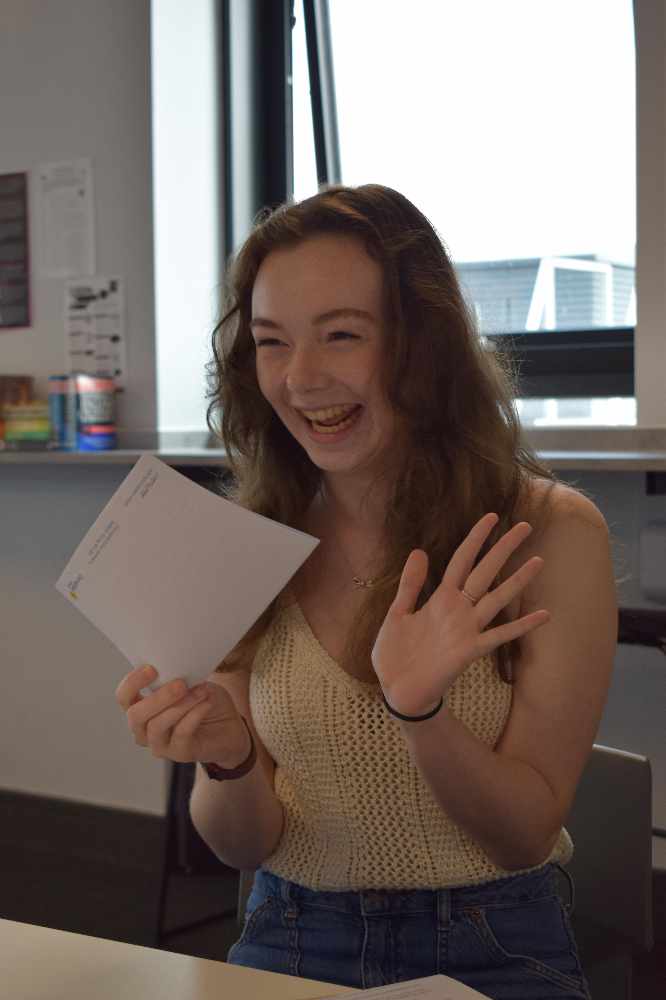 Glossopdale Sixth Form is celebrating another "amazing" set of A-Level results at the end of what has been the strangest of academic years, with the vast majority of students getting the grades they needed for their next steps. 
The Sixth Form based in Hadfield say it is "very proud" of its students and their exam results, as well as the "resilience" they have shown during their time at the college.
In a statement, they said: "In these very strange times it is important for us to remember that the students who have received their A Level results this year have worked exceptionally hard and deserve to be recognised for their achievements. At Glossopdale Sixth Form we are very proud of our students, their exam results and the resilience they have shown throughout their time with us."
Head teacher Debbie McGloin also congratulated the achievements of the students - particularly during these "most extraordinary and difficult circumstances" amid the coronavirus pandemic, which prompted the cancellation of exams this year.
She said: "Well done to all of our students for whom the long wait for results is over, they should feel proud of everything they have achieved in the most extraordinary and difficult circumstances and I couldn't be more proud of them.
"The vast majority of our students have the grades they need for the next stage in their life and I wish them all the best for their future."
Fionula Flaherty, Assistant Headteacher at Glossopdale Sixth Form, added: "Of course we are delighted with the academic achievements of our students this year but this is just a small part of a bigger picture. Our students leave us with many wonderful memories.
"They have been a fabulous year group, characterised by their fun and sense of humour and a real generosity of spirit, shown in their charity work and the time they have given to support younger children with their reading, extra curricula clubs and progress in lessons. We wish them well in achieving their aspirations for the future."
There were a number of success stories, with students moving on to a variety of future pathways - including:
Nassi Frank is heading to Cambridge University to study Engineering
Elizabeth Aldridge is off to Leeds University to study Sociology
Andrew Brooks, Jack Clegg, Nathan Jackson and Mark Knight are all going to study Sports Science at Liverpool Hope University
Charlotte Marchington Lyons is moving on to De Montford University, Leicester to study Contour Fashion
Alex Oliver's next stop is the Royal Holloway University, London to study History and Music
Emily Moore is bound for Leeds University to study Medicinal Chemistry
Christopher Robinson is heading to Lancashire University to study Computer Game Development
Demi Sale is off to Leeds Beckett University to study Fine Art
Sophie Higgins is going to Salford University to study Counselling and Psychotherapy
Faye Singleton is heading to The Northern School of Contemporary Dance
Elizabeth Bateman is moving to Catering College Openshaw
Maddie Szita is going to Sheffield Hallam University to study Social Work
Dylan Wilkinson is bound for Durham University to study Psychology
Florence Woolley is off to Leeds University to study Comic and Concept Art
Jianhao Xu is off to the University of Manchester to study Computer Science
Faye Singleton (pictured in main image) said she is very grateful to Glossopdale Sixth Form and feels ready for the next step in her life.
She said: "My choice to continue my academic journey at Glossopdale Sixth Form is one that I'll never regret! Memories such as Mr Pete dressing up as a rabbit and creating an Easter egg hunt for the students will always be fun to look back on.
"However spending full days in the Textiles room, having resources and materials at my fingertips to explore and experiment as much as I wanted, allowed me to unlock my full potential in a subject I'm really passionate about and for that I'm very grateful. I feel I am well prepared for the next stage in my education and I have Glossopdale to thank!"