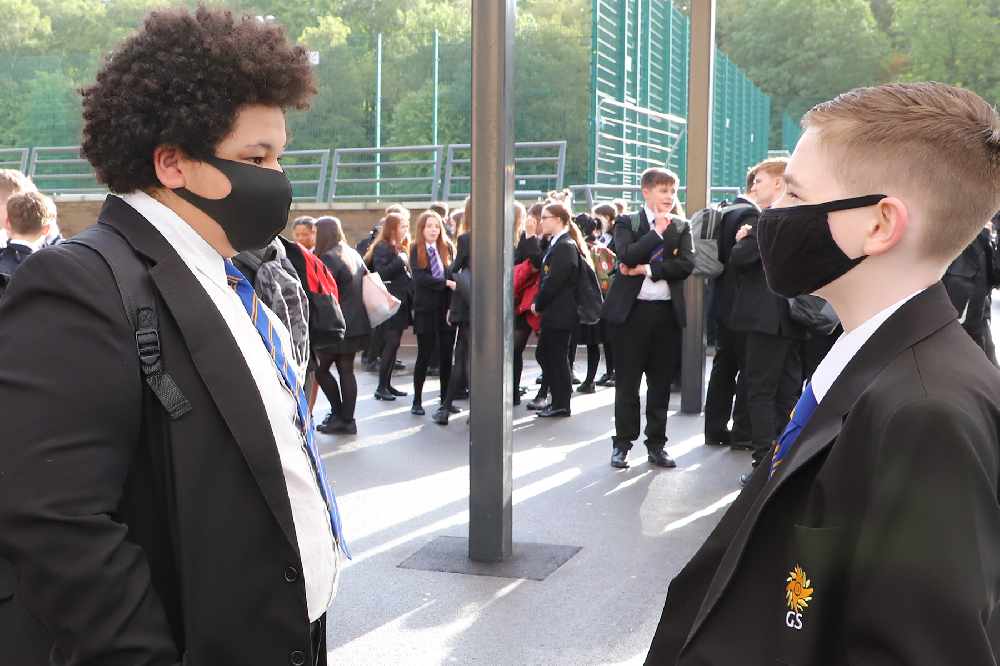 Face coverings will be compulsory for students and staff in all internal communal spaces at Glossopdale School from next week.
Head teacher Debbie McGloin has confirmed the changes from Monday (21 September) in a detailed letter to parents and carers.
Wearing face coverings will be mandatory:
In all internal communal spaces, e.g. corridors and when students and staff are moving between rooms
When queuing at food service points
On public transport
In the case of a fire alarm
They will also be optional in external social spaces.
The Hadfield-based secondary school, which has over 1,000 pupils, say face coverings must be plain black in design if reusable, or plain blue disposable masks. If students don't bring their own mask into school or bring in a face covering deemed inappropriate, the school will supply them with an alternative covering.
They also say that safe wearing of face coverings requires cleaning hands before and after touching – including to remove or put them on – and safely storing them in individual sealable plastic bags between use. If a face covering becomes damp, it shouldn't be worn and replaced carefully.
Wearing face coverings is already compulsory for pupils and staff in communal areas in secondary schools in areas currently under local lockdown restrictions, but all head teachers have the "flexibility" to introduce face coverings if they want to.
Although the High Peak doesn't currently have any additional coronavirus measures, the school is on the border of Tameside – which is subject to further restrictions.
Mrs McGloin says the decision has been made with that in mind and having observed how students have been operating since returning to the Newshaw Lane school for a term unlike any other.
She said: "Although Glossopdale School is not situated in a 'local lockdown' it is on the border of an area which has recently been subject to additional restrictions. In addition to this, we have now had all students on site for a week and had the opportunity to observe the movement of students when they transition from one lesson to another and in communal areas.
"It has become apparent that it is very difficult to guarantee at least one-metre distance from both their peers and staff as they move between lessons and during social times within their bubble."
The head teacher added that the rules will be applied "in order to further support our extensive measures to keep our students and staff safe to keep students in school and to avoid having to send students home in the event of an outbreak".
'Students have returned full of enthusiasm'
Mrs McGloin told us earlier this week that things have been "going well" since returning and students have been "really good" at adjusting to the new way of school life.
In the letter to parents and carers, she also thanks students who have returned "full of enthusiasm" and says attendance has been "excellent" with 96 per cent of students returning to school.
Mrs McGloin added: "For some students, we are carefully unpicking the implications of such an extended period of time away from school but you will not be surprised to hear that most students simply want to get back on with the process of learning and this has been reflected in the attitudes and behaviours we are seeing."
She also said that she cannot thank staff enough for the "immense efforts they are making to ensure things work so well"
'If they are meeting friends, they must follow the social distancing rules'
The head teacher tells parents and carers to remind pupils to stick to the designated staggered start times for different year groups and not wait on nearby streets to avoid "unnecessary congestion for the local community".
She also stressed the importance of pupils "behaving responsibly in the community", explaining that the school has received a small number of complaints about groups of students congregating in the parks, boarding public transport and going into local shops without wearing face coverings.
Mrs McGloin added: "If they are meeting friends, they must follow the social distancing rules. I know they will have missed seeing each other and want to catch up but they must stay aware of their surroundings and the people in the area.
"Thank you for your support, we will continue to work hard to keep both staff and students safe whilst still having an enjoyable and effective experience in school."
Images by Nigel Wood