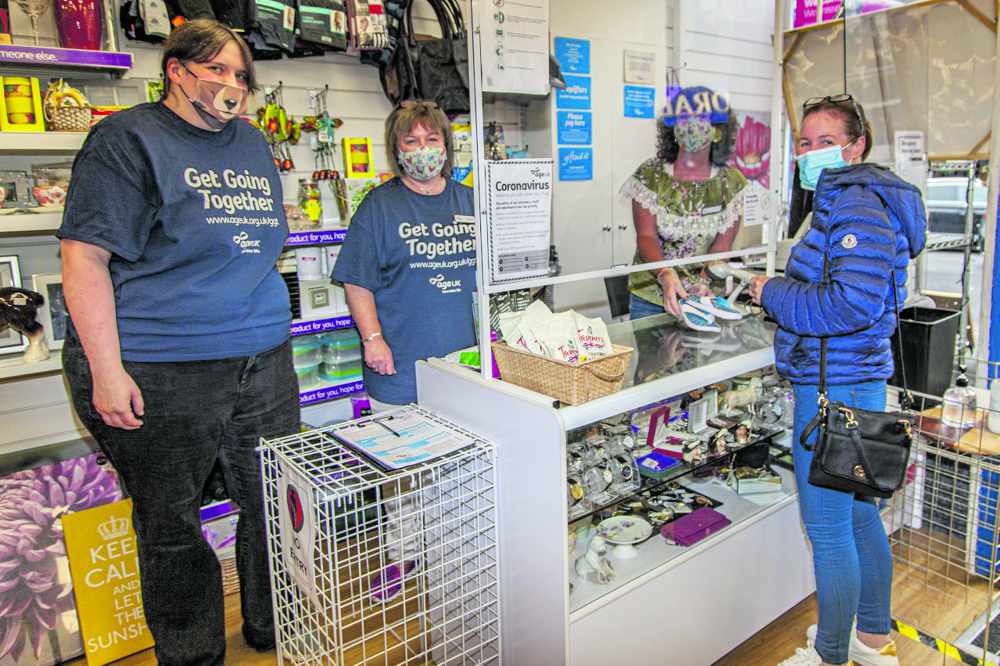 Glossopdale's charity shops are  back in business and supporting good causes after many months in lockdown.
Volunteers and staff had met up before the official re-opening to get ready for the expected flood of customers.
As as in other retail outlets there was a whole raft of coronavirus pandemic safety restrictions to put in place.
Most of the shops that are so vital to charities big and small, are up and running and welcoming customers and supporters who they are happy to look on as friends.
They are grateful for the flood of donations they have received and thank the big-hearted people of Glossopdale for their continued generosity.
Here how they are continuing to operate.
For opening times and other information contact the individual shops.
At Glossop Oxfam shop on Henry Street, manager John White was talking of preparation that included 'hoovering, mopping and dusting' to make everything ready for opening day.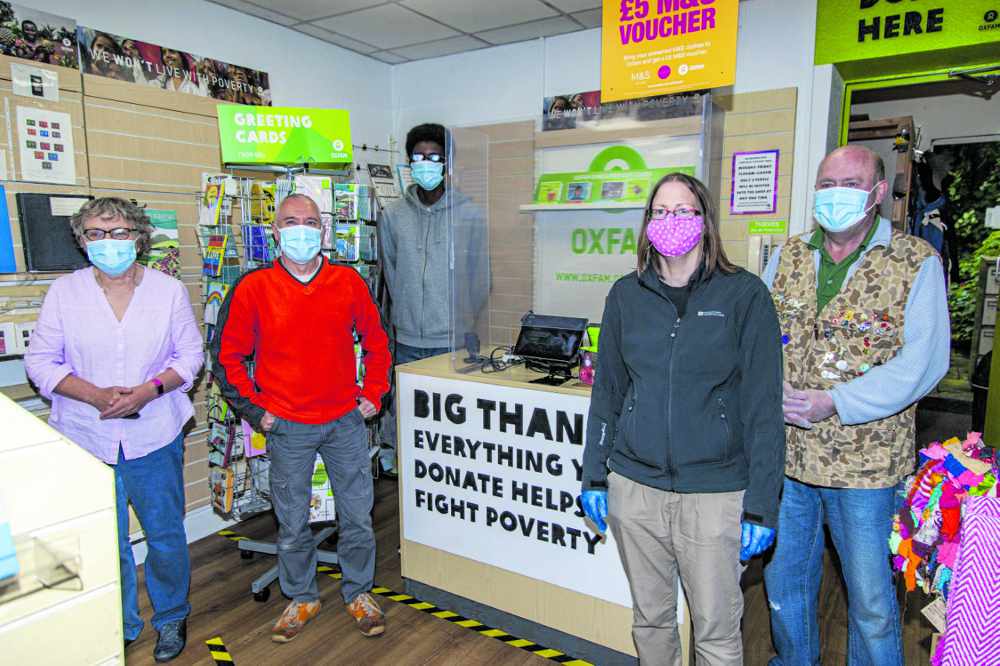 OXFAM: Manager John White (second left) with his team of Anne Blake, Paul Davordzie-Banini, Kathleen Jones and Terry New.
Glossop's longest established charity shop - like all those in Glossop - was setting up hand sanitising stations and making sure social distancing was observed.
At most of the charity shops during lockdowns staff were discovering bags of clothes, books and other donations left outside.
Some of the items had been left unsellable due to the weather.
The rest had to be quarantined for up to 48 hours.
At Glossop Oxfam, the time for donations was limited to 9-11am Monday to Friday, with donors asked to call to book a slot.
High Street West is well-stocked with charity shops, with Sue Ryder, amongst others, restricting the number of customers allowed in any one time.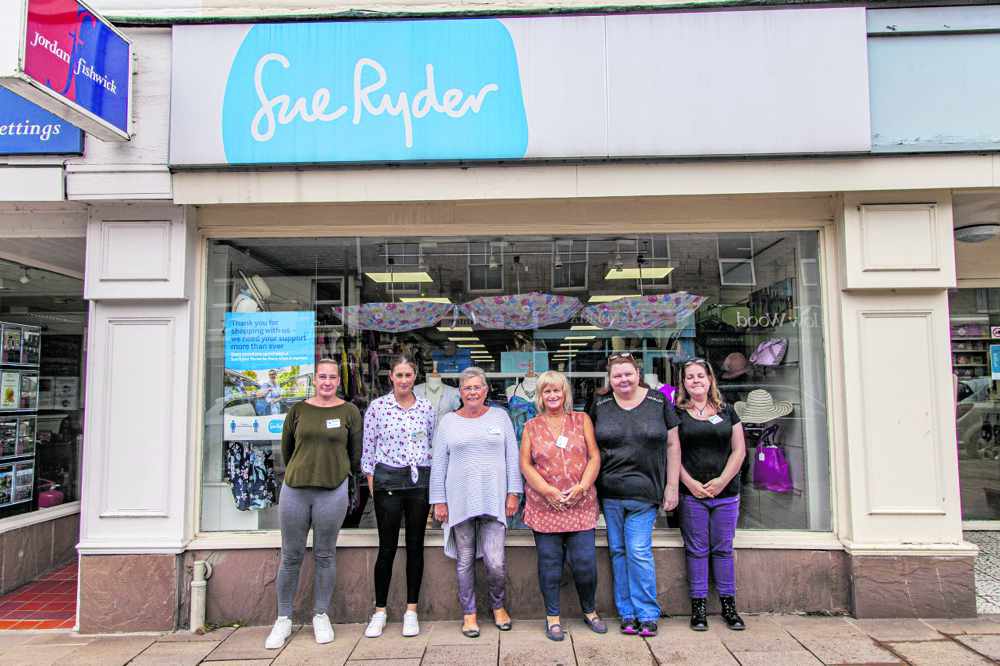 SUE RYDER: Assistant manager Karen (second left) and manager Joanne (second right) and volunteers.
Acrylic screens have gone up at the tills, strict precautions for sorting and selling donations put in place and, at present, the changing rooms remain closed.
Donations are still being accepted but safety measures mean they will be kept in a holding area for 48 hours.
However there could be a time when the holding area is full and the shop may be unable to accept donations.
Glossop's Willow Wood shop, part of the string of charity shops raising money for the Tameside hospice, is not taking donations at the moment although it is always looking for stock.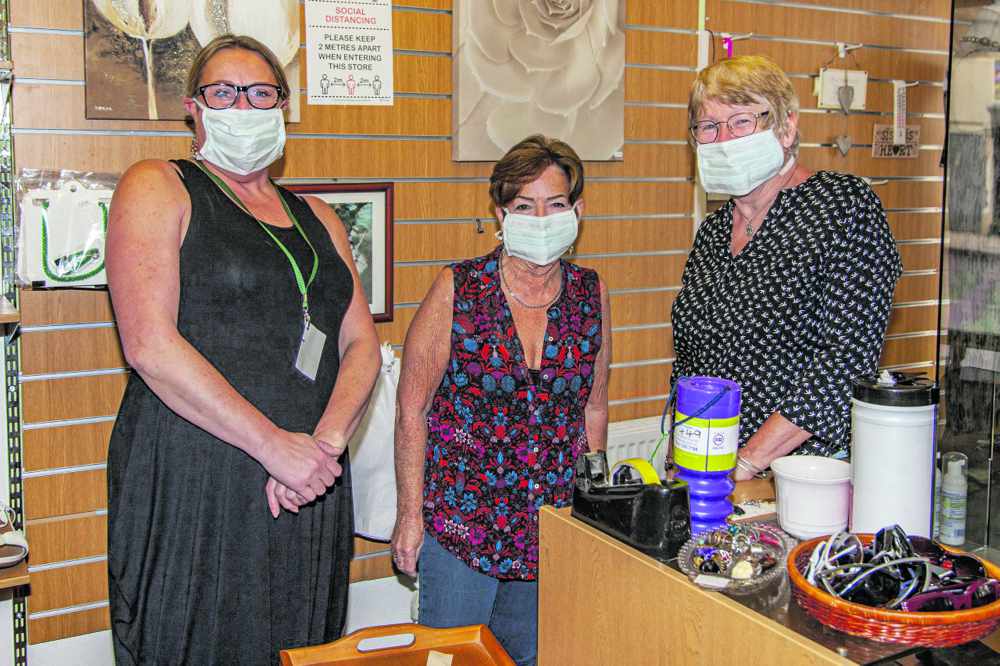 WILLOW WOOD: Manager Tracy and staff Sue and Steff.
Manager Tracey says anyone wanting to donate should contact Willow Wood's centre in Ashton to book a time slot.
Meanwhile the screens, hand sanitisers and safe-distancing signs are in place and behind the face masks there are beaming smiles.
Cancer Research UK are opening slightly shorter hours at the moment due to Covid-19 cleaning hours and staff shortages.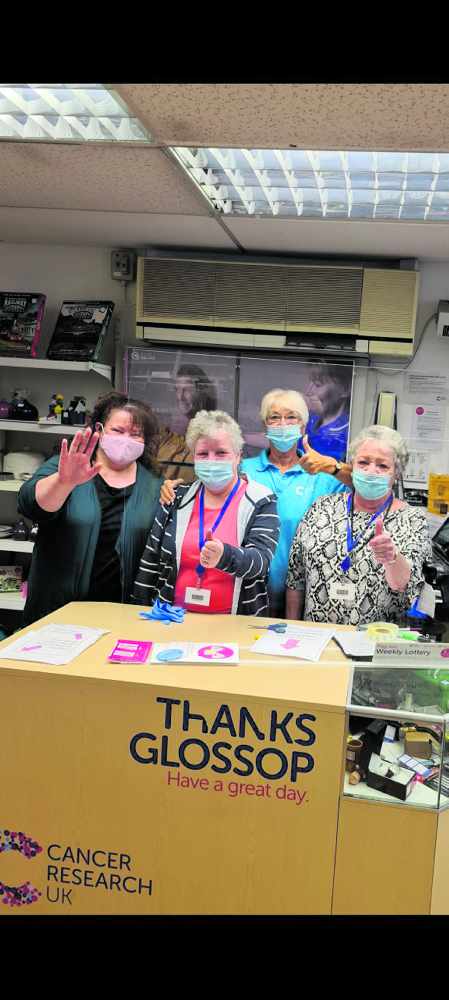 CANCER RESEARCH SHOP: Happy staff are ready to welcome customers
A donating system has allowed staff to be able to deal safely with the stock so desperately needed.
The shop is currently booking time slots to suit donors who are kind enough to donate clothing, shoes and bags, homeware and media.
Glossop has two more charity shops, the RSPCA at Norfolk Square and Lighthouse on High Street West, but neither were open when we called.
Both will be featured in the paper in the coming weeks.
Main image:
GLOSSOP AGE UK: Assistant manager Rosie, manager Deborah, volunteer Tracy and a customer, all adhering to safety restrictions.