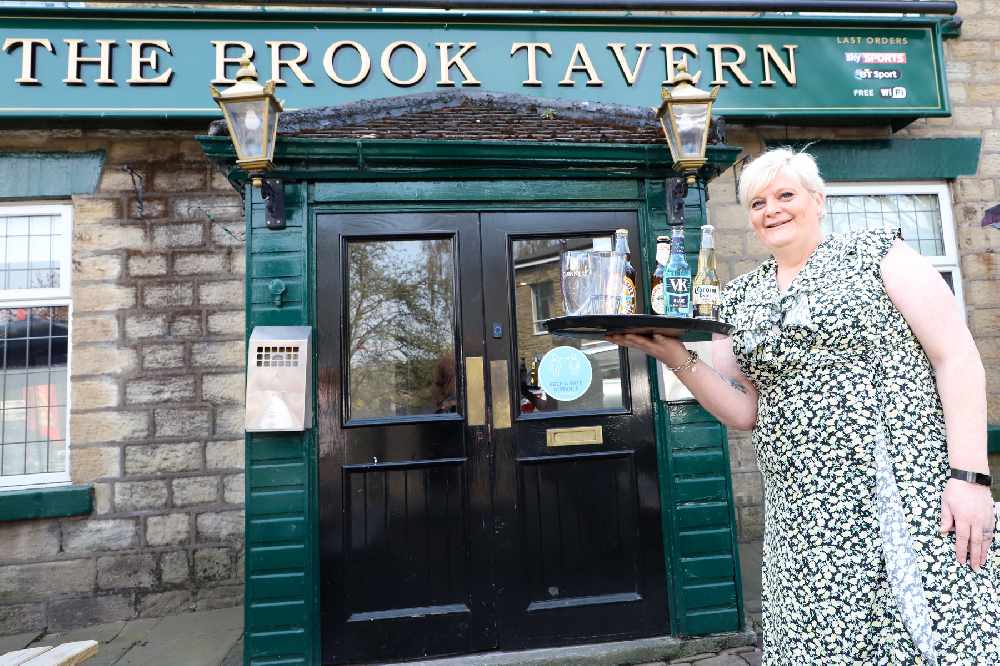 A pub in Glossop which has been transformed into a family-friendly establishment will look a bit different when punters are welcomed back soon.   
The Brook Tavern, on the edge of the town centre, has undergone an extensive refurbishment to make sure it's ready for customers to return – if permitted by the government – from 17 May.
Kay Powles (pictured), originally from Mirfield in West Yorkshire, moved to Glossop when taking over the Victoria Street pub reins in the summer of 2016.
She resides at the venue but had to move out for several weeks to allow extensive work to be carried out, including removing asbestos.
As the finishing touches are being applied, pub manager Kay is excited but a little apprehensive about the grand reopening.
Kay, who celebrated her 50th birthday last month, told the Chronicle: "I took over the pub in August and I was only supposed to be here until the following January but I decided to stay on. It had a refurb last year as it needed a lot of work doing to it and it's being done up again as there was a lot of asbestos that had to be removed.
"When I took it over, it had a bad reputation and was close to losing its licence to be honest. Since I've come in, I've straightened it out and we've got the licence extended now until 3am on Friday and Saturday nights when we get back open.
"We've had all of the asbestos taken out of the building so it's now an asbestos-free zone. It's all being decorated and we're getting new lighting put in as we obviously couldn't do that last year because of all the asbestos.
"It's been a nightmare to be honest but it had to be done. The company which owns the pub, Hawthorn Leisure, are brilliant and they have looked after me. We had to move out for six weeks whilst the asbestos was being removed and stay in a local Airbnb but we're back home now thankfully – you can't beat your home comforts!"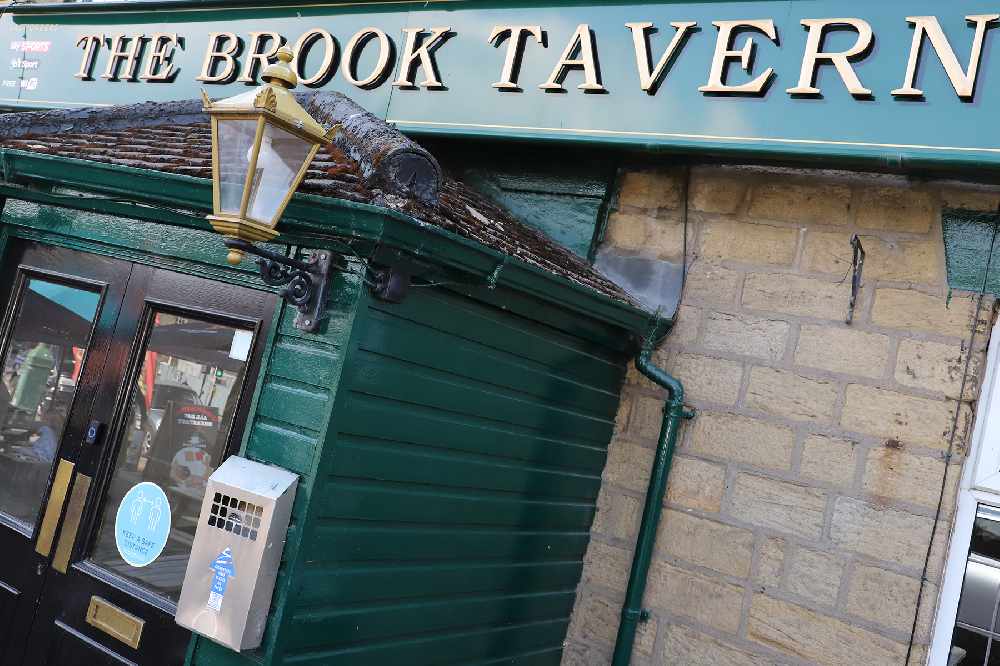 She went on: "We're getting ready for the big day when we can finally reopen. I'm looking forward to it but it's quite daunting too because you don't know what's going to happen and there is still going to be social distancing, wearing face masks when customers are stood up and the other guidelines.
"Hopefully, come 21 June when the restrictions are set to ease, we can get back to normal and start over. It was really nice last weekend when people could drink outdoors again.
"I don't have lots of outdoor seating so it wouldn't have warranted us reopening, although we're still decorating anyway, but it was nice to hear how everyone had enjoyed themselves and been out for a drink.
"I think a lot of people will have to get used to drinks in pubs again after their lockdown measures at home!"
Since 12 April, hospitality venues have been able to reopen for outdoor service, in groups of either up to six people or two households.
But Kay, who has three grown-up daughters and eight grandchildren, cannot fathom the reasoning for the current rules – when non-essential retail has been allowed to resume indoors.
She said: "To be honest, I personally don't understand the mindset in terms of having to serve people outdoors only, when you can get your eyebrows and lips done indoors, you can get a tattoo and go clothes shopping but you can't drink in the pub. It's just bizarre, but we have to do what we have to do."
'The amount of beer I've had to get rid of is ridiculous'
Like all pubs and hospitality venues, the coronavirus pandemic has adversely affected Kay's establishment – including the need to police Covid rules during the few periods they have allowed to open.
"We've not been open for the majority of the pandemic," she said. "We were closed from 9 March before the first lockdown last year and reopened on 11 July. We literally did around 12 or 13 weeks of trade – we were in Tier 2 to start off with and then we went into Tier 3 so we were closed again. It's been a tough time.
"The hospitality industry has taken such a beating in these lockdowns and it has absolutely crucified the trade. The amount of beer I've had to get rid of that's gone out of date is ridiculous.
"I think these venues are safer than some supermarkets. It's been difficult having to tell people to put their masks on when they get up. As pub owners, we're perhaps seen as the bad guys when people are out to enjoy themselves and you have to separate them from their friends and keep people seated as much as possible. But to be fair, I'm very lucky.
"At a weekend, I'm more of a nightclub kind of venue for young people but they have so much respect for me and understand the rules. I don't get any trouble from them and they are very good."
The Brook Tavern is a stone's throw away from the town's Wetherspoons pub – but Kay isn't overly concerned about the competition it brings.
"Wetherspoons have been there for so long – they were there when I took over the pub here," she said.
"We're quite competitive when it comes to prices anyway. At weekends, people may start drinking in Wetherspoons but will end up coming to our pub too with it being so close. We don't serve food too so it's not really a concern to us."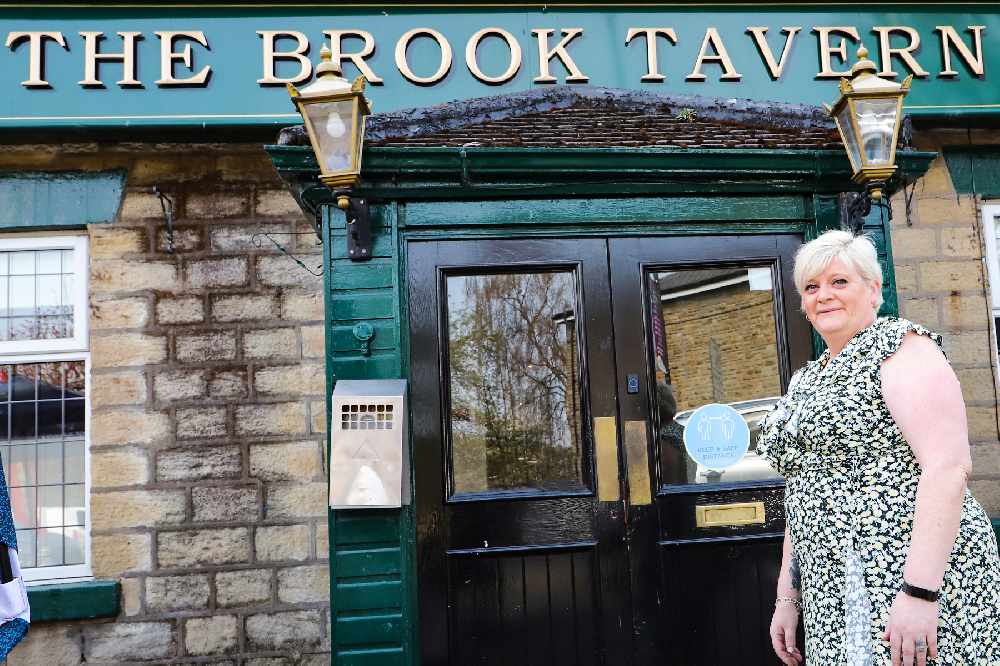 'I absolutely love Glossop'
Having been in the trade for more than two decades, Kay has plenty of experience when it comes to running a pub and loves the area where she works and lives at the moment.
"I've had a few pubs, I've done car sales, I've been a pizza chef – I've done all sorts," she added. "But I absolutely love the pub trade. You either love it or hate it but you've got to love it to do it. It's not a job, it's a lifestyle. Trying to go on holiday is like a military manoeuvre.
"I did my first ever shift behind the bar on New Year's Eve on the millennium. I've had a few pubs – in Preston, two in Wigan, one near Stoke and done relief managing at some pubs where they've needed someone to look after it until new managers came in.
"I absolutely love Glossop – it's a nice area. I don't get any trouble in the pub, I couldn't tell you the last time there was any. People have respect for me. I spend the majority of my time in the pub – it's like my living room. My daughter and granddaughter have lived with me too, so it's a very family-orientated pub."
Images by Nigel Wood
Read more from the Glossop Chronicle
Click here for more of the latest news
Click here to read the latest edition of the paper online
Click here to find out where you can pick up a copy of the paper