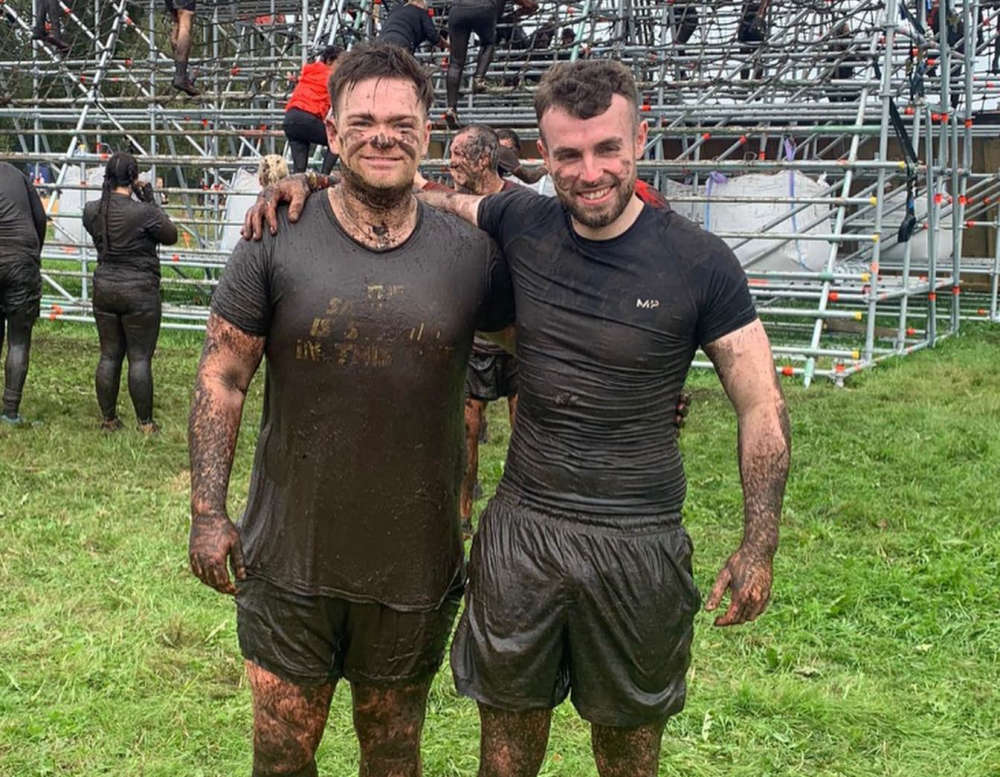 Adam (left) and Conor covered in mud after the Tough Mudder.
Two friends from Glossop have put their fitness to an ultimate test to raise awareness and vital funds for a charity which supports a genetic disorder that primarily affects boys.
Manchester Metropolitan University student Adam Coomber and Kingspan sales executive Conor Ball braved a Tough Mudder in Cheshire last Saturday (4 September).
The two 26-year-olds overcame 25 obstacles over 10 miles at Cholmondeley Castle in aid of national charity Action Duchenne, but also in memory of Thomas Mickleburgh.
Thomas (pictured below), who lived in Simmondley, sadly passed away from Duchenne muscular dystrophy on 23 March at the age of 23.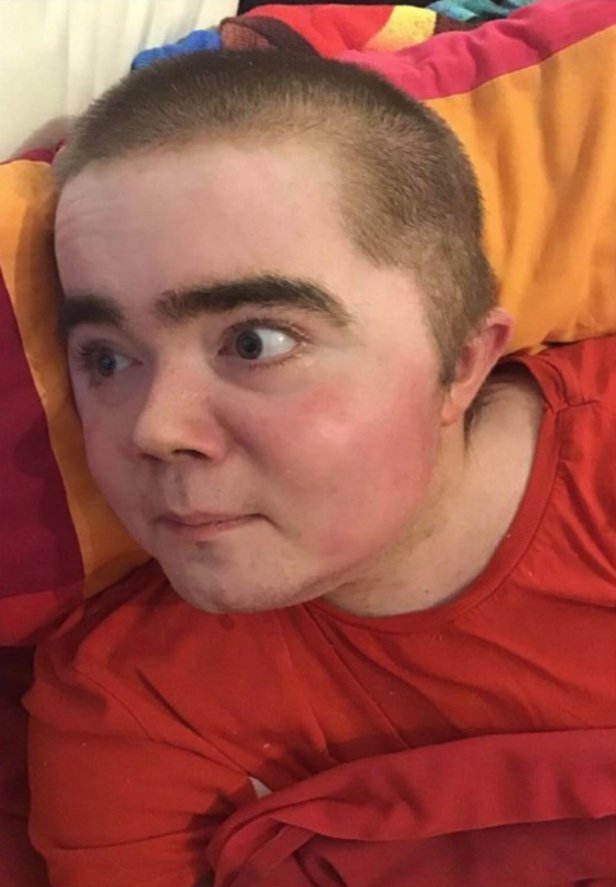 Duchenne is a degenerative muscular disorder, which has an average life expectancy in the UK of 25 years old. Muscle weakness usually begins around the age of four and worsens quickly.
They have managed to raise a fantastic £1,360 so far, which is almost triple their initial £500 target, and there is more money still to be added to the final amount. You can also still donate via their GoFundMe page: https://www.gofundme.com/f/in-honour-or-thomas-mickleburgh.
Adam said it was a brilliant experience, but he had to soldier on through the pain barrier after sustaining an injury.
"I picked up an Achilles tendonitis injury on my left Achilles so, for most of it, I was hobbling and in pain but we got there in the end," he told the Chronicle.
"I was running and then having to walk for a bit. But the day itself was really good. We did the actual course in about three-and-a-half hours but obviously, because it's a 10-mile course plus the obstacles, it is going to take a long time. There were a few beer tents there as well so we had a pint and went for some food afterwards as well. The weather wasn't too bad either. Thankfully it wasn't raining, some of the obstacles would have been a lot worse if it had been!"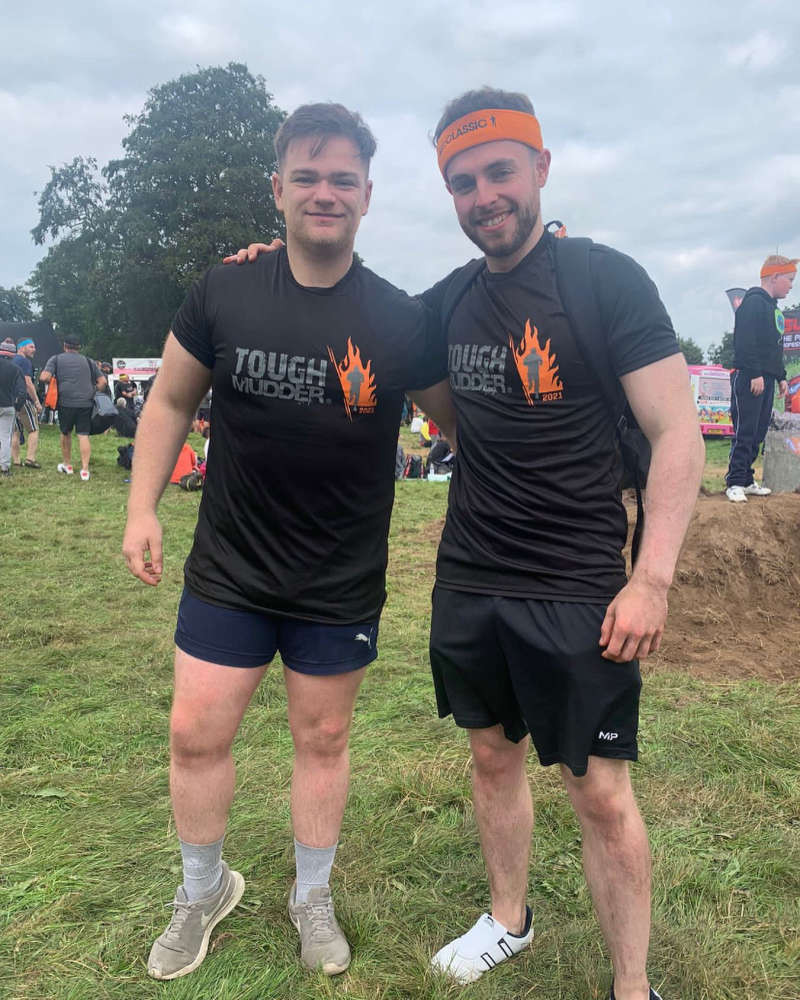 Adam (left) and Conor looking nice and clean in their Tough Mudder t-shirts before they began
Conor also endured a comical moment, as Adam explained: "There were different courses there and one of them was called the Sewer Rat. There were these industrial tubes that you have to go in and at the other end there was a 25m pool but the pool is about 50 per cent water and 50 per cent pure sludge. It was horrible!
"Conor tried to be smart and get himself out of the tube in a way that he wouldn't submerge himself but he slipped off it and got completely submerged. It was the funniest thing in the world! He came up completely covered."
They both enjoyed it so much that they're already thinking about doing it all again next year.
"Conor wants to go again, he enjoyed it so much," Adam said. "He was high on adrenaline. We were thinking of trying to make it an annual thing to raise money for the same charity if we can work it around other commitments."
Of course, Adam was thinking about Thomas when he was doing the course.
"He was a massive part of my life for the past 17 or 18 years so when I'm doing something for him, he was definitely on my mind," he said. "As well with the injury that I had, I thought it was nothing compared to what he went through so I just forgot about the pain and kept going."
Conor also knew Thomas after a chance meeting in another country.
"Conor met Thomas two or three times," Adam said. "Ironically, they met on holiday. Both families went to the same resort in Spain. Obviously I always talked about Thomas so Conor knew who he was."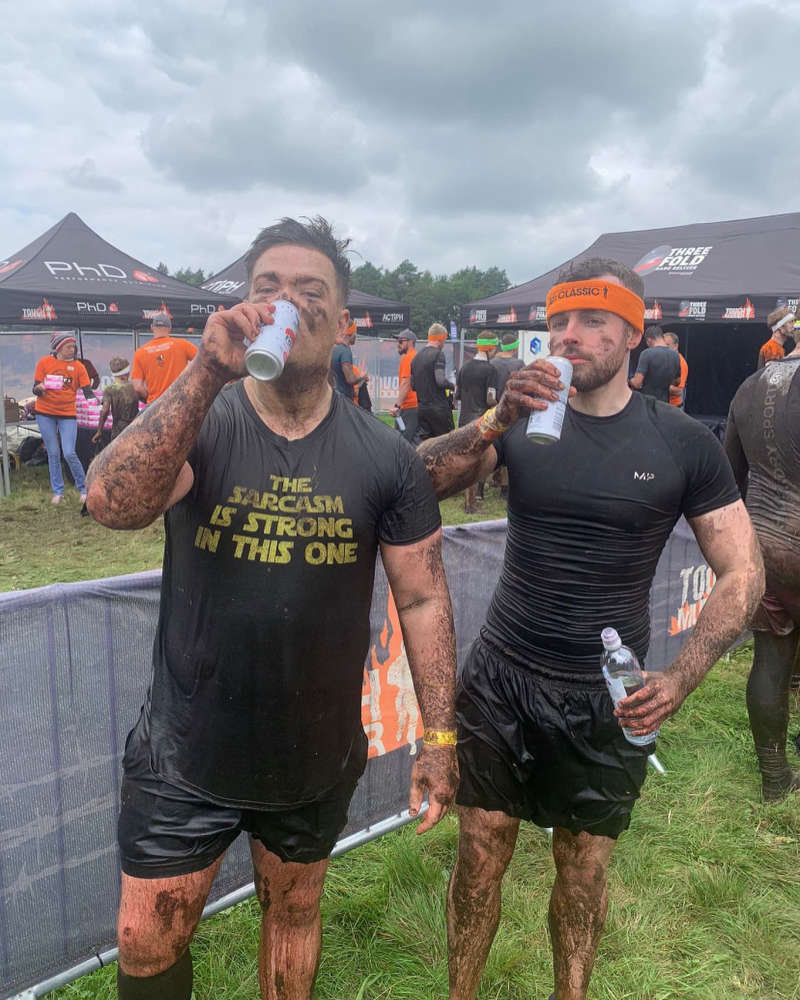 Adam (left) and Conor enjoying a well-earned beer after their Tough Mudder challenge
Adam hopes that their fundraising campaign has helped to raise more awareness of the condition of Duchenne.
"I hope we have because that was the main idea. A lot of people don't know what Duchenne is - every time I ask someone what it is, they have never heard of it before and don't know how it affects people."
They have both received lots of support from family and friends along the way, which they are grateful for.
"There's been quite an unbelievable response to it really," Adam said. "For a lot of people who went to school with Thomas, when they learned of his passing they were obviously quite shocked as you would be. I think a lot of people took a lot more notice when he passed away.
"We want to thank everyone who has donated, supported us and taken the time to read about what Duchenne is and understand the impact it can have."
Read more from the Glossop Chronicle
Click here for more of the latest news
Click here to read the latest edition of the paper online
Click here to find out where you can pick up a copy of the paper