A new charity single has just been released by Julian Homer, better known as Glossop Man Sings.
Julian (pictured) has also been joined on the single called Parachuting Spidermen by his son Oliver and by Tony Audenshaw, better known as Bob Hope in Emmerdale.
Inspired by the Stockport Spidermen and their fundraising efforts throughout the pandemic, Julian wrote the song about their latest plan to raise money – a skydive early next month.
Jason Baird and Andrew Baldock, who run a martial arts academy, started dressing as Spiderman in March last year and going round the town and later further afield in an effort to cheer people up during lockdown.
They were soon joined by others including Batman, Wonder Woman and Captain America and raising funds initially for the NHS with £40,000 donated.
Julian said: "I am from Glossop originally and am known as the Glossop Man Sings and have been doing daft songs throughout pandemic, about businesses shutting down, one about chippy's in general."
He rewrote the lyrics to the Supergran theme tune in line with what they were doing.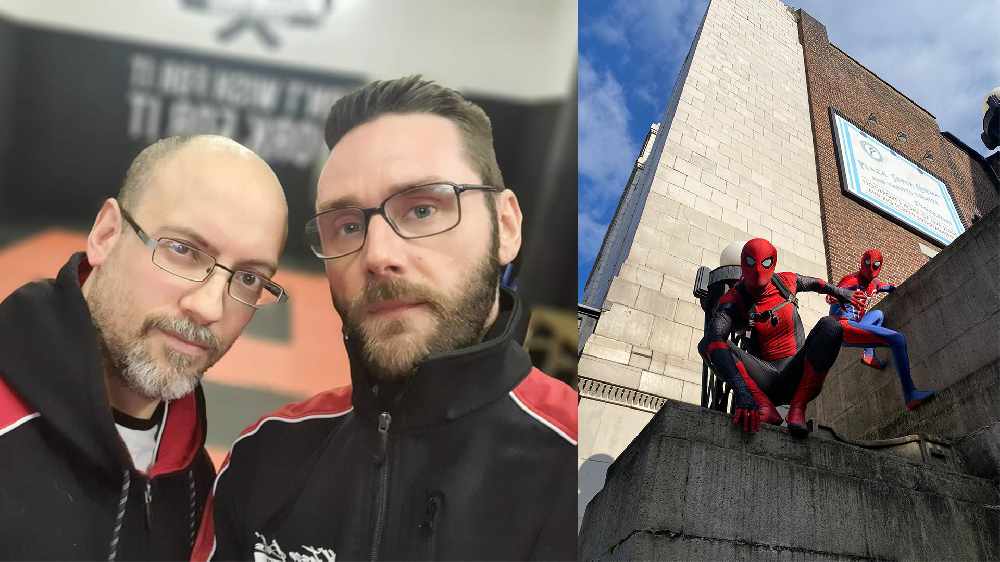 Jason Baird and Andrew Baldock are also the Stockport Spidermen
Now the group of superheroes have turned their attention to a different charity called Papyrus that works prevent suicide in the young and are aiming to raise £100,000.
In May the team are undertaking a parachute jump in Blackpool so Julian's new song features the parachuting spiderman and all the superheroes.
"The song I've written all about what Stockport Spidermen are doing running around raising smiles making money for charity and a message about mental health."
The song has been recorded remotely with Sonny Flint on drums and Matthew Taylor, bass, keyboard and guitar. While Tony Audenshaw provides commentary of the parachute jump.
"I decided to sell it as a charity single with all money going to their current charity Papyrus a mental health charity," said Julian.
"I'm selling it for 59p to make it quite cheap so as many people as possible can afford it."
The single is now available via https://glossopmansings.bandcamp.com/track/parachuting-spidermen
Julian has also created a video that can be viewed at the top of the page.
Read more from the Glossop Chronicle
Click here for more of the latest news
Click here to read the latest edition of the paper online
Click here to find out where you can pick up a copy of the paper