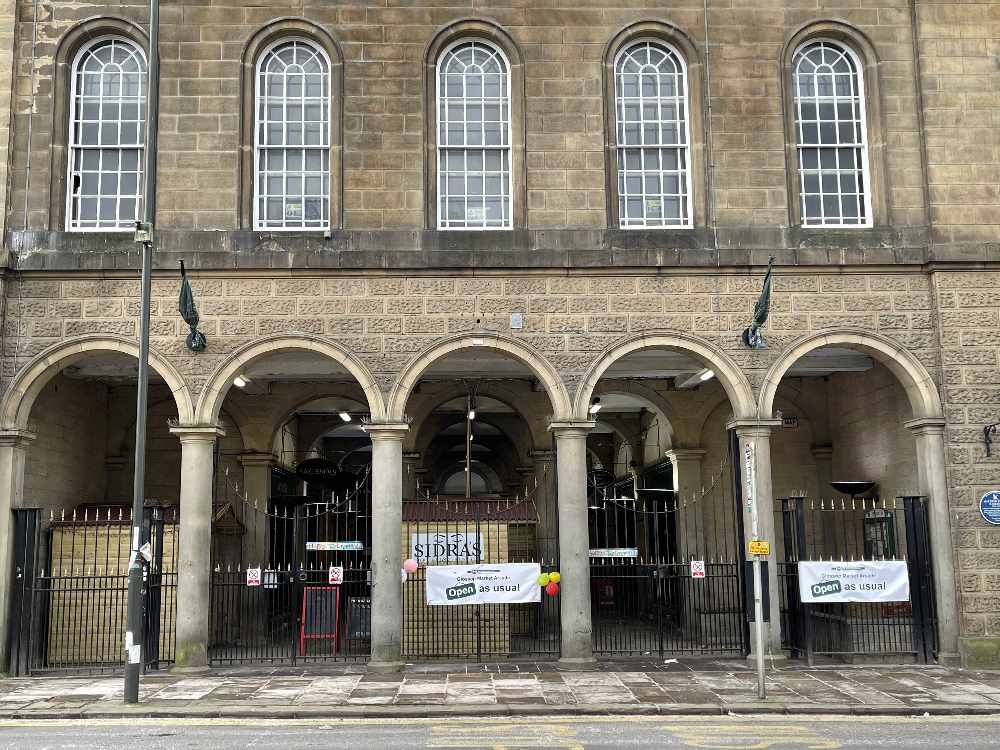 Glossop Market Arcade.
Glossop market traders have voiced their concerns in a meeting with High Peak Borough Council, after they were told they have to move again. 
The indoor market was shut in April for the market hall to be refurbished. Currently, the traders are working out of empty shops and cabins in the arcade. But they've been told they have to move to outside cabins at the beginning of January 2022.
Kim Smith, who runs Deck of Cards, says the traders want to know that their future is secure.
She told the Chronicle: "Initially when the market closed, we were told we could trade from Wren's Nest, which we were happy about as it meant we could all stay together. Then lockdown happened and we didn't get to move.
"But when non-essential retailers were allowed to re-open in June, a new home for us was still not sorted out. It was in October before we could re-open from empty shops and cabins in the Market Arcade."
Now traders have been told they have to vacate the Arcade by 7 January so the market refurbishment works can continue there.
They've been offered outdoor cabins on the market ground from January until the Market hall re-opens. But some fear the space isn't suitable for their business because there is no running water or electricity.
The traders asked the council for a meeting which took place on Wednesday (28 July). They sought assurances from the authority that they would be guaranteed places in the indoor market when it eventually re-opens.
Council leader Anthony Mckeown says they are supporting traders as much as they can. The authority has offered to help them move and have asked them what facilities they need to move to outdoor cabins.
He said: "We can understand that the traders are concerned. But we are doing all we can to help them. We know outside accommodation isn't suitable for all, but if we can adapt the cabins to suit each individual trader, we will do so. We have also offered to help them move their stock into the cabins."
High Peak MP Robert Largan was also invited to the meeting. He's been supporting the traders, many of whom have been asking for his help.
The MP says the council needs to make good on its assurances.
He told the Chronicle: "I'm happy that the meeting's taken place. It's good that they've been offered first refusal on a place in the refurbished Indoor Market. My job now is to make sure the council carries through these promises to keep the traders informed and rebuilds their trust for the future."
He says he will keep working with the traders to find an amicable solution to their problems.
Traders have been reassured that their concerns will be addressed and the council has pledged to help them all they can.
Suzanne Williamson runs Narnia Furniture and Homewares. She says she can't fit her stock into a small outdoor cabin, but she does feel more secure about the future of all the traders.
"I feel a lot better following the meeting as I feel our future is more secure. The cabins are too small for my furniture, so I will still have to find some other way of trading in the meantime. Mr Largan's support has been a godsend and some of our questions about our futures are finally being answered."
The Market Hall will be handed back to High Peak Borough Council in September. It will have nine stalls on a mezzanine and another eight or nine on the ground floor.
Cllr Mckeown has said focus groups will be held with the traders in future so that they can tell then what they need from the space. It also seems likely that the Market will be run by an independent company rather than by the council itself.
Some traders have asked if they can suspend their licences from 7 January when the Arcade closes, until the Market Hall re-opens. Council officials have said they will investigate this possibility.
Read more from the Glossop Chronicle
Click here for more of the latest news
Click here to read the latest edition of the paper online
Click here to find out where you can pick up a copy of the paper