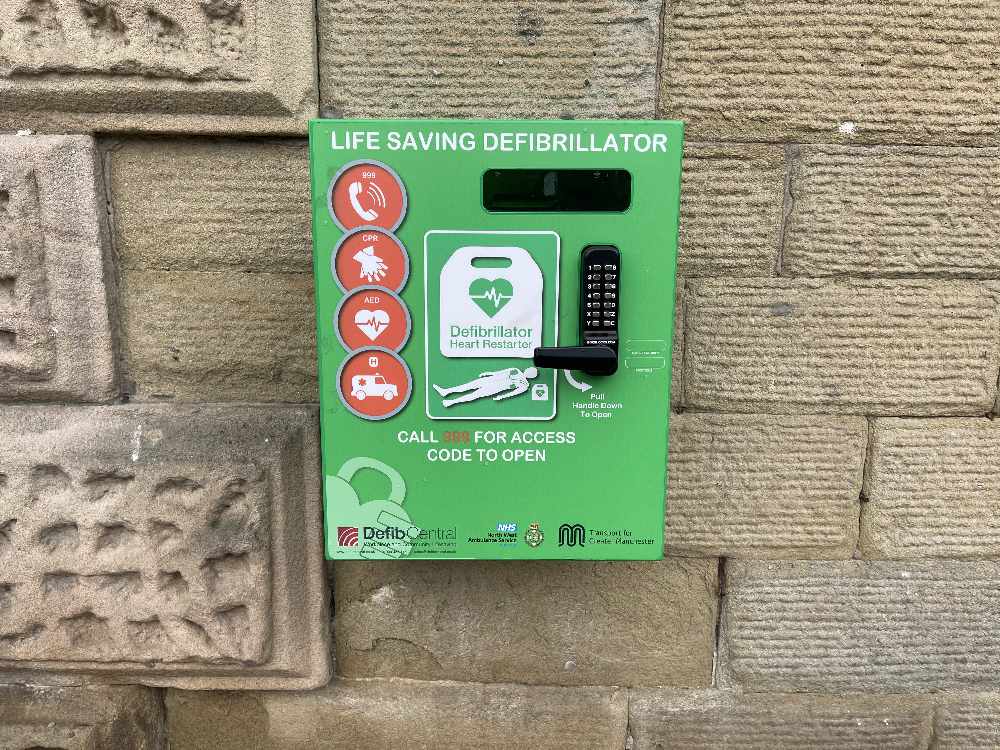 A Glossop man is spearheading a fundraising campaign to provide at least four more defibrillators in the area.
Tech salesman Anthony Doyle, from Shirebrook, says he was talking to a man in his local pub one night and found out one of the devices had saved his life.
Andy Gay had a heart attack on Christmas Eve, 2020. Andy is a keen power-walker, regularly seen exercising around Glossop. He is profoundly grateful to the people who saved his life that day, and he wants to do everything he can to ensure others are saved if they are ever struck down as he was.
Andy reckons he was lucky because an off-duty A&E nurse Rachel Bayley, off-duty Firefighter Kallum Lucid and passers-by Sam Wilson and Adrienne Sheldon all rushed to help him. He was then helped further by Rob Murphy from North West Ambulance Service, Mike Ashton (Senior Paramedic Team Leader), plus another crew member.
Anthony hopes to raise the cash for four new defibrillators, also known as AEDs, by Christmas this year, so they can be used in Whitfield, Gamesley, Glossop's Manor Park and Hadfield.
He says: "In fact we aim to overachieve and fund many more new defibrillator locations where they are needed most in our communities - priorities set by North West Ambulance Service.
"Val Cochrane, the Community Specialist Paramedic, has selected the highest priority locations for AEDs where they can save most lives, starting with Whitfield, Gamesley, Manor Park and Hadfield, and we are working to secure host buildings (mainly public).
"We will be looking for volunteer electrical installers, and volunteer guardians to help maintain and replenish the AEDs to maximise their availability for emergencies.
"And we're delighted that Councillor Damien Greenhalgh has generously agreed to match our fundraising efforts pound for pound up to a maximum of £3,000, meaning when we reach £3,000 Damien will contribute a further £3,000 affording us £6,000 to fund at least the initial FOUR new defibrillators!"
According to the British Heart Foundation, 33,000 people in the UK suffer an out-of-hospital cardiac arrest each year and without CPR only one in 10 people will survive.
Early defibrillation has been identified as the most important intervention, with survival rates increasing on average to at least five in ten. This means with more accessible defibs in our communities, the closer we get to saving 15,000 more lives every year.
Defibrillators are medical devices that help and support a rescue for a patient in cardiac arrest. They achieve this by applying a current of electricity across the heart to stop it, allowing it to reconfigure automatically.
Modern AEDs are simple to operate, whereby clear voice prompts are given to guide the first responder step by step to saving a life. It is impossible to incorrectly operate the AED and cause any further harm to the patient.
Anthony added: "Once we have raised the money for the machines, we will plan an awareness campaign around CPR and AED operation, to ensure nobody is afraid to help a cardiac arrest victim.
"If anyone wants to donate, they can by using the Just Giving link below. The Surrey Arms and the Queen's Arms are also fundraising for us and are taking donations over the bar.
"A couple of local gyms have offered to help by running fundraising events - ASSP Fitness in Hadfield and A2Z Fitness in Whitfield. And if any other local businesses would like to support our cause either through donation or fundraising efforts that would be massively appreciated too."
The JustGiving page can be accessed here: https://www.justgiving.com/crowdfunding/glossop-heart-starters.
Read more from the Glossop Chronicle
Click here for more of the latest news
Click here to read the latest edition of the paper online
Click here to find out where you can pick up a copy of the paper