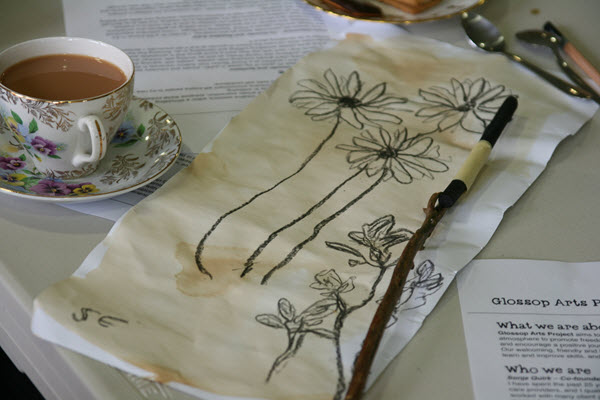 GAP threw a 'thank-you' birthday bash last weekend at their new base in Victoria Hall joined by staff, volunteers, family, friends and participants past and present.
GAP formed in 2014 when 3 friends with art, social work and health backgrounds decided to pool resources, experience and skills to form a charitable organisation.
They created Arts for Wellbeing Groups for people with long term physical and mental health conditions within the local community.
GAP have worked with lots of different materials over the past 5 years including wire and clay sculpture, textiles and felt making, as well as painting, drawing, doodling and photography.
Sonja Quirk, Social worker and project manager said "We love what we do – we had such a great time on Saturday night, we know that the people who come to our sessions benefit from having a caring and friendly social group with the focus of creativity – they tell us how important it is for them to feel safe and supported.
"Friendships are formed and that really showed at the party. One of our participants was DJing, another played Christmas carols on the tuba and others brought food and drinks to share!
"The feedback we receive is amazing and the reward of knowing what we do helps is just fantastic, I can't think of anything else I'd rather be doing. It might sound cliched but I don't care, we are one big family."
GAP is self-funded and run 4 groups a week for people aged 16 upwards with the help of volunteers and 3 part-time members of staff, they have an Art Therapist offering one to one sessions. They have recently secured 3 years funding from Children in Need for a worker to develop services for young people from 14-18.
Sonja added: "We would like to thank the Mayor Ed Kelly and Councillor Ollie Cross for attending and supporting us.
"A lot of our funding comes from sources like the High Peak Borough Councillors Initiative Funds as there are people from all over Glossopdale who attend our sessions, we couldn't do this without this support. We would also like to thank our friends and families for their support over the years – and our amazing volunteers who are priceless, we are so grateful for their hard work and commitment - we couldn't do it without you"
GAP also had a stall at the community craft fair at Victoria Hall last weekend and held a raffle.
Clare Isherwood, art teacher, said: "We would like to thank local businesses and organisations like Capstone Financial Services for a Magnum of Champagne and a signed England Women's Football team shirt for our raffle.
"Also the Craft Centre for a calendar, Wains Services for an art hamper, Carrot Productions for 2 tickets for The Snowman at Buxton Opera House in December, The Partington Theatre for tickets for an upcoming play and Glossop Music Festival for 2 reserved seats for their Christmas concert. We also had so many wonderful raffle and tombola prizes donated by our friends and family – it's just remarkable.
"We also need to thank Christine the Tesco Community Champion who has supported us and thanks to M&S for mince pies."
The vital funds raised from the craft fair and the raffle will help to go towards securing the next 5 years of community work.
For more information about how to get involved or the sessions email info@glossopartsprojject.org or go to Facebook/GlossopArtsProject Twitter @GlossopArts or call or text Sonja Quirk on 07855320179