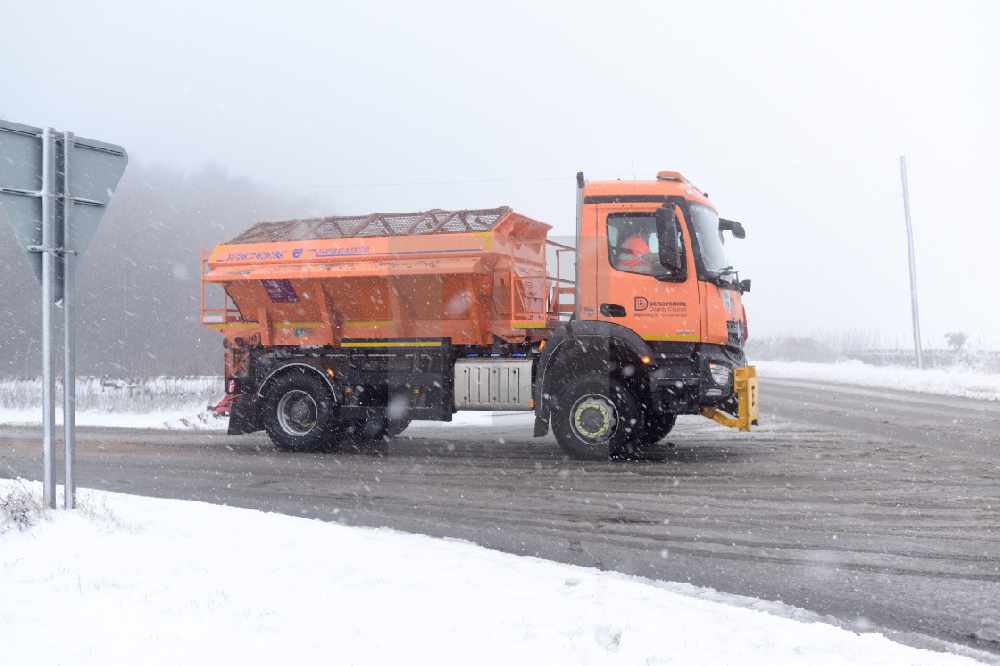 Derbyshire County Council says it's on standby now the official gritting season has started.
The council's 35 gritting lorries – which can all be fitted with ploughs – are stationed at five highways depots ready to take to the roads if bad weather hits, with around 25,000 tonnes of grit also stockpiled.
Parish and town councils have been filling their 1,250 grit bins for local residents to spread salt on pavements and salt in their local communities. The county council also provides 803 grit bins.
Councillor Simon Spencer, Derbyshire County Council's Cabinet Member for Highways, Transport and Infrastructure, said: "When the weather is still reasonable, it's hard to think about preparing for winter but the weather can quickly change. We have to plan well in advance to make sure we're not caught off guard."
The council says it grits major A roads, heavily-used B roads, key bus routes, roads linking towns and larger villages and roads outside bus, train, police, fire and ambulance stations. These 'primary' gritting routes are gritted during the day and night, when necessary, and are pre-gritted before bad weather hits.
Other roads that are gritted include bus routes in residential areas and well-used main roads through housing estates and villages and roads to smaller villages. These roads are 'secondary' gritting routes and are generally only treated in the day because they tend to be residential roads carrying much less traffic. When possible, secondary routes are treated before adverse weather hits, but they are less of a priority than roads on primary routes.
Some other roads, generally in rural areas, may also be cleared by farmers if it snows and other contractors with ploughing equipment.
Volunteers recruited through town and parish councils also clear snow and ice from pavements in their local communities as part of the council's Snow Warden scheme.
When the weather is exceptionally bad, gritters concentrate on keeping just some of the major routes open - known as 'principle' routes.
Councillor Spencer added: "We're now on standby for when bad weather hits with all our equipment, grit stocks, staff and volunteers at the ready so we can quickly step into action if needed."
Motorists are also advised to be prepared for winter driving as the likelihood of colder weather is now around the corner.
The council has issued the following advice to drive safely:
checking the latest weather and travel information
making sure windscreens are properly defrosted, mirrors and lights are clear of snow and ice, wipers are working properly and the radiator has the correct amount of water and anti-freeze
checking the battery is in good condition and fully-charged and there's more than enough fuel for the journey
making sure tyre pressure is correct and consider fitting winter tyres for greater grip
carrying a shovel, ice scraper, torch, wellington boots, warm clothes and for longer journeys packing food and a hot drink.
Motorists are also urged to park responsibly during snow and ice keeping the roads clear for gritting and emergency vehicles to pass, and residents are encouraged to be on the lookout for vulnerable neighbours.
More information about the council's preparation for winter can be found at derbyshire.gov.uk/snow.