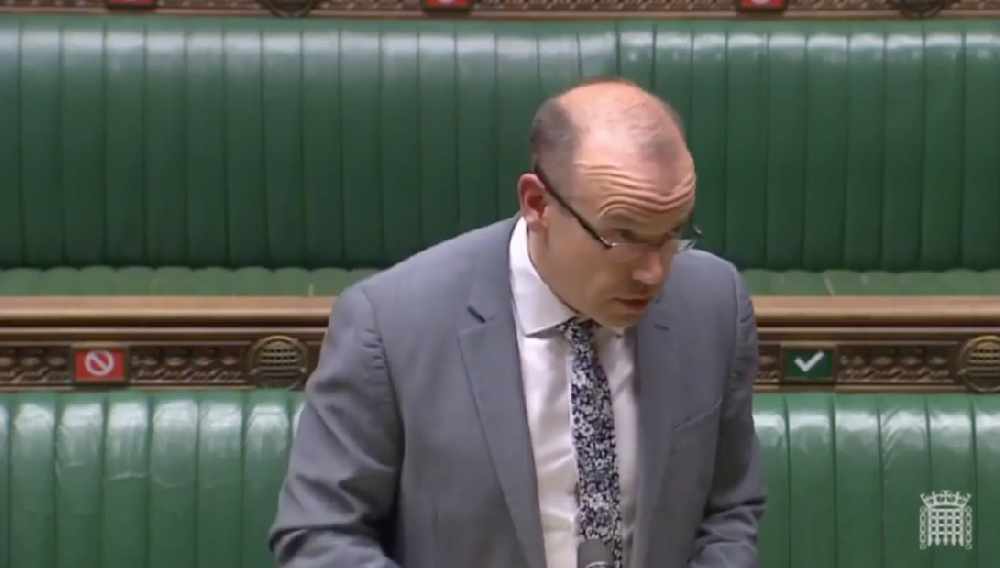 A new train station for Gamesley is "definitely on the levelling up agenda" and "on the right track", a rail minister has said in the House of Commons. 
Chris Heaton-Harris (pictured) told an adjournment debate that the long-awaited plans - which Gamesley residents have been campaigning for since the 1960s - are firmly in motion, and hopes to confirm in the autumn if a funding bid to the government's £20 million New Station Fund has been successful or not but warned the application process was "very much over-subscribed".
During a sparsely-attended debate, which was secured by High Peak MP Robert Largan, the minister said: "Gamesley is definitely on the levelling up agenda - at least for contributions in the chamber and hopefully for development economically as well." He later added: "I really do think we are getting to be on the right track for my honourable friend's plans."
Mr Heaton-Harris also told MPs that he "really hopes" Gamesley people will benefit from the New Station Fund initiative and that Mr Largan had made an "extremely powerful case".
He even said that he has visited Gamesley himself, when representing the East Midlands as a Member of the European Parliament between 1999 and 2009.
Mr Largan also told MPs that Transport for Greater Manchester (TfGM) and Derbyshire County Council (DCC) are currently jointly working on a Strategic Outline Business Case - a document which enables the scope of any investment project to be assessed - and they have already reported that Gamesley station has "a good strategic case and excellent local support".
While Mr Heaton-Harris also said that the now government-run Northern Trains Ltd - which as things stand would run services from Gamesley station on the Glossop to Manchester Piccadilly line - has written to Transport Secretary Grant Shapps to reassure that it will "provide full support to all further work commissioned by TfGM and DCC and the development of the business case".
The minister went on to say that the government's £500 million Restoring your Railway fund "fits very nicely" with the campaign to build a Gamesley station, whilst reiterating the commitment to "invest billions of pounds to improve rail services for passengers and freight customers whilst maintaining current high levels of safety and reliability".
'Gamesley station would bring huge benefits'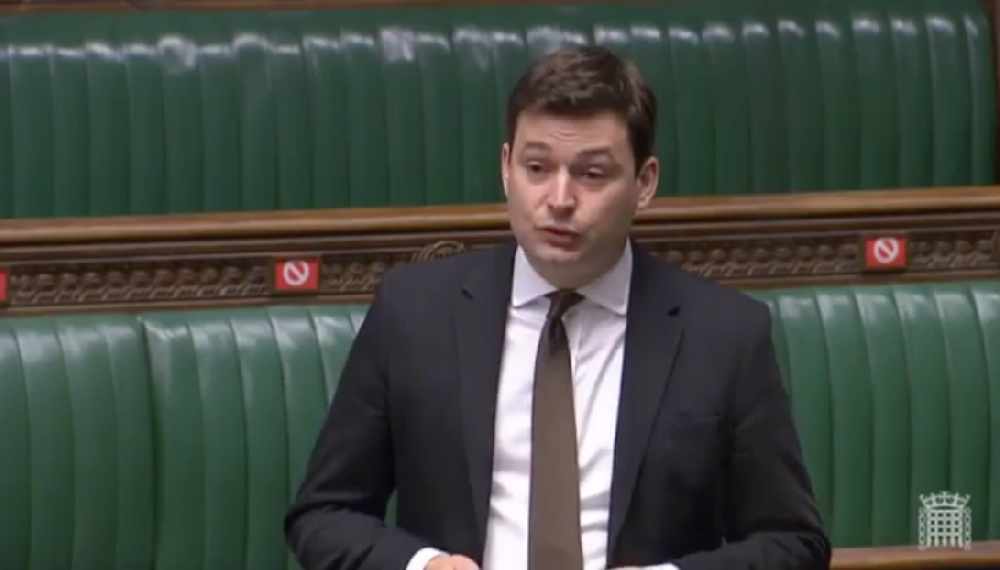 In his introductory speech, Mr Largan (pictured above) emphasised the need for the station in Gamesley which he said is "a great place to live" but "one of the most deprived communities in the whole country".
He referenced research by the Local Trust into "left-behind communities" which found 46 per cent of households in Gamesley don't have a car - compared to the national average of 26 per cent - while it takes an estimated 53 minutes for people living in Gamesley to travel to the nearest hospital by public transport, 36 per cent longer than the national average.
The MP said a lack of infrastructure and public transport connections to places like Glossop and Manchester has had "a significant and negative impact" on people's quality of life, including fewer job opportunities.
He said the strategic case for building the station is "very strong" - pointing out the cost is "relatively low", the Gamesley Sidings that already exists, and the fact trains already pause before going over Dinting Viaduct thus arguing a new station would have "minimal impact" on timetables - with an additional stop just "a small price to pay for the huge benefits the station would bring to the people of Gamesley".
Mr Largan also said the new station would help reduce parking pressures at Gamesley's nearest station Dinting, shorten commuting times for many people who currently drive to Dinting, and get more cars off the road which "would address the notoriously bad traffic problems in the Glossop area" as well as play a "key part" in reducing carbon emissions and getting the local economy to carbon net zero.
He added that it would also remove the need for rat running through Gamesley and Charlesworth to get to Broadbottom station, and there is also an opportunity to connect the new station to the TransPennine Trail as well as link it to Simmondley via a footpath.
'Any efforts to get Gamesley station top of the list have to be welcomed'
The updates which emerged from the debate have been welcomed by Labour, whilst also acknowledging the efforts from many people over many years to get to this point.
Gamesley councillor and High Peak Borough Council leader Anthony Mckeown commented: "Both High Peak Borough Council and Derbyshire County Council, under whichever political leadership, have long supported the ambition of getting a station at Gamesley in actions and principle. Along with TfGM, they have paid for the current study that is due to report back at the end of the month.
"As Mr Largan noted in his speech, central government over the years have failed to invest in essential transport schemes outside London and the South East such as Gamesley station. So it's great to hear that after over ten years in power they now plan to 'build, build, build'.
"As the minister responding said 'there is some way to go down this route before winners are selected' and any efforts to build on the hard work of local residents, councillors, former MPs, and many others, over many years in keeping Gamesley station on the plans and finally getting it to the top of the list have to be welcomed."