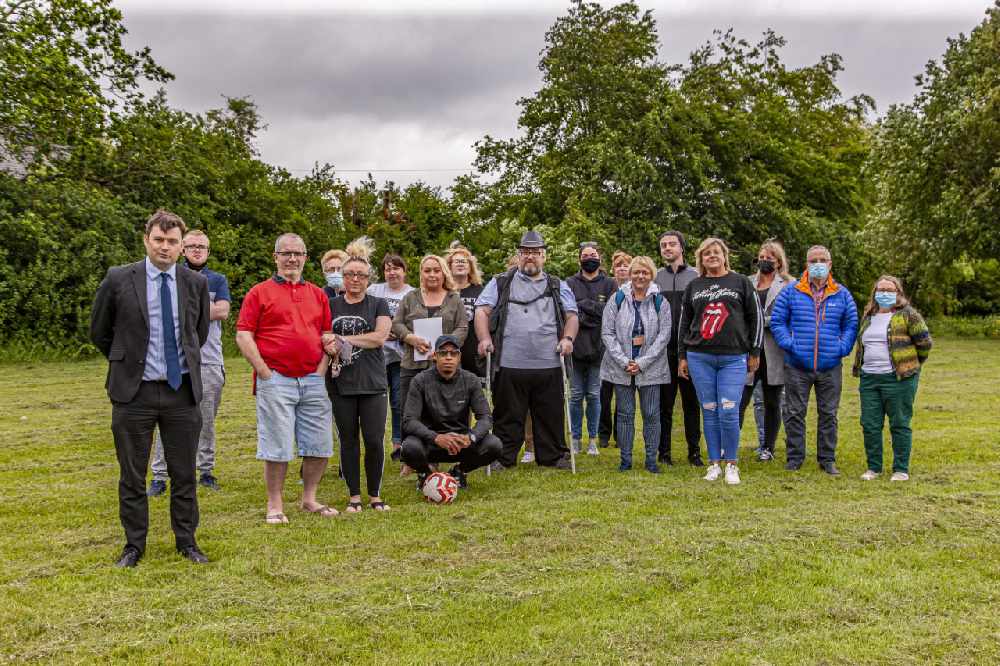 Residents, High Peak MP Robert Largan, HPBC leader Anthony Mckeown and local councillor Becki Woods at a meeting this week. Image: John Parkins.
Residents are calling for a green area in Gamesley to be protected amid fears it could be sold for housing. 
The land on Melandra Castle Road is owned by High Peak Borough Council and, in order to meet housing targets, is one of the sites earmarked in the local plan as a potential housing development site.
On Monday, residents met with High Peak MP Robert Largan, HPBC leader and local councillor Anthony McKeown and County Cllr Becki Woods to air their concerns.
The residents were united in their opposition to any form of development taking place on the only parcel of green space their children can play on.
A Facebook group has been formed @savegamesleyfield for those interested in getting involved.
Ball games are banned from the grassed areas within the estate so the field is the only area where children can play football. The site has also been used five times in less than two years for the air ambulance to land. Now residents are looking at ways to save the site.
Residents said Glossop has had enough new housing developments. Tina Flanagan, who set up the meeting, said housing needs to be built in the right place.
"As well as new houses being affordable, they need improved infrastructure, roads, public transport, schools, NHS and dentist services," she said.
"We have just not got the infrastructure. I've seen kids in my son's year, Year 7, going to Chapel and New Mills as they couldn't get a place at Glossopdale School."
Robert Largan MP said: "Gamesley residents are understandably furious about the prospect of this green space, which is currently owned by the people of High Peak, being sold off to developers.
"This is a well used community green space and its loss would have a big impact on people in Gamesley.
"I am not against building new homes, but they need to be in the right places, with the infrastructure and public services in place. Not imposed against the wishes of local people. That's why I have a long-standing petition opposing any new major developments in Glossopdale, at least until the Mottram Bypass has been built, which has been signed by over 3,000 local people."
Cllr McKeown said a further 3,500 homes need to be built across the High Peak between now and 2031, of which it was expected 1,000 would be built in Glossopdale.
"No-one wants any more houses built, but the council has to comply with the local plan," he said.
Ground investigation works have been carried out to see if the site is suitable for development and the results are expected soon.
Cllr McKeown said the council will be reviewing the Local Plan.
"It may well be by the time we review it. Housing numbers have changed and we don't have to build as many, some sites may be removed from the Local Plan," he said.
Read more from the Glossop Chronicle
Click here for more of the latest news
Click here to read the latest edition of the paper online
Click here to find out where you can pick up a copy of the paper