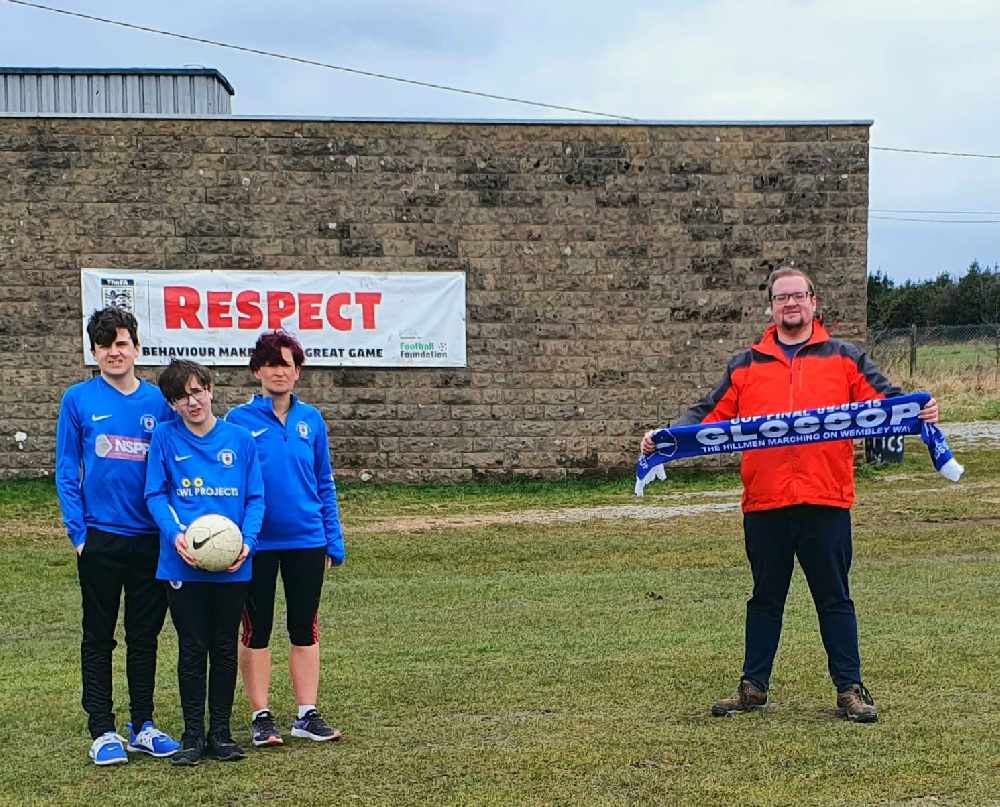 Recreational facilities in three parts of Glossopdale are set to be enhanced with the help of a £140,000 funding boost. 
High Peak Borough Council has announced the financial package which will benefit Bankswood Park in Hadfield, the play area in Simmondley and Cemetery Road in Glossop.
£95,000 has been earmarked for Bankswood Park on Park Road to improve the play equipment - including the installation of a new pump track.
The refurbishment of Simmondley play area on Pennine Road will get a further £15,000 for new play equipment - taking the total investment there to almost £27,500.
With funding of £10,000 already allocated to Glossop North End Community Club for the proposed football and community hub project at Cemetery Road, the borough council say it has now agreed a further £30,000 with the potential of 'substantially more' to come.
The community club's £1.7 million scheme includes a state of the art, full size, all weather 3G playing pitch with floodlighting which will be open for community use; two refurbished natural grass pitches; a new accessible community building with changing facilities, a kitchen and bar and social space; and additional and improved car parking.
Councillor Damien Greenhalgh, Deputy Leader and Executive Councillor for Regeneration, Tourism and Leisure at the Council, said: "This is a really ambitious project which will transform the facilities here not just for the use of the football club but for the wider community as well. Facilities of this quality don't come cheap and there's still some way to go to secure all the funding to ensure it happens.
"That's why I'm delighted that the Council has already committed £40,000 to the scheme and, I'm pleased to say, we're looking at a further significant contribution of up to £250,000 which is subject to approval in the coming weeks.
"Being active and taking care of our physical and mental health has become more important than ever so having access to amenities like the ones planned at Cemetery Road is transformative and we'll continue to work with the Club to see this project brought to completion."
Dave Rowlinson, chairman of Glossop North End Community Club, said: "We are very grateful for the support we have received from High Peak Borough Council over recent years with this project.
"Whilst there is still work to do to finalise the project and securing the additional funding, we are getting closer. Glossop Community Sports Hub will not only provide a home for Glossop North End Community Club, but somewhere which will be used by multiple sports clubs and community groups.
"This is something the town can be really proud of and will be a legacy for a generation of people to get active, socialise and be used by all of the community".
Councillor Greenhalgh added: "Moving more and spending time outdoors have been shown to have real benefits for our wellbeing.
"The Council is committed to investing in a diverse range of facilities and amenities offering people of all ages and interests the chance to increase their activity in all parts of the High Peak.
"So I'm pleased that we've taken the opportunity to look again at some of the funding we have available for projects in the Glossop area so we can be sure we're using it to best effect and for widest community benefit.
"Investing in new equipment in Simmondley and at Bankswood means we're doing just that and I look forward to sharing more details about these exciting projects in due course."
Stewart Gardner, a Labour councillor for Simmondley on HPBC, has welcomed the additional funding for the Pennine Road playground.
He said: "It's a very well used facility and any improvement to it is good news for Simmondley. It's part of a wider scheme to improve recreational facilities in Glossopdale which is most welcome at a time when council budgets are under severe strain. This shows that the Labour run Council has taken decisive action to invest in our parks and public spaces after years of inactivity by previous administrations."
But Simmondley's Conservative councillor on the borough council, John Haken, feels the investment doesn't go far enough.
He commented: "The children of Simmondley have been waiting for more than fifteen years for a substantial play park to service the new homes to the right of Simmondley Lane. The previous conservative council had set aside a sum of money from S106 monies, £80,000 of which was earmarked for Simmondley.
"The meagre amount of money that has been left in the scheme for Simmondley's play areas is little more than would ordinarily has been spent on maintenance."
Main image:
Councillor Damien Greenhalgh, Deputy Leader and Executive Councillor for Regeneration, Tourism and Leisure; Helen Thornhill, Glossop North End Community Club Fundraising Officer, and Ben and James, Glossop North End junior club players.
Read more from the Glossop Chronicle
Click here for more of the latest news
Click here to read the latest edition of the paper online
Click here to find out where you can pick up a copy of the paper