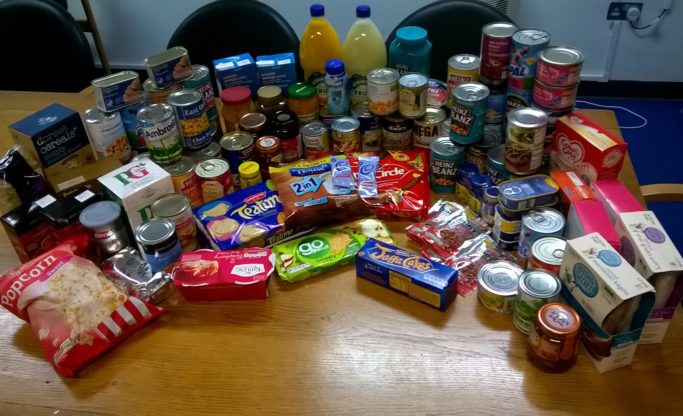 Glossopdale Foodbank figures released this week show that the number of referrals for both September and October have soared to their highest level ever, according to longest-serving trustee Dave Wilcox.
"The number of people referred rose from 53 in October 2018 to 135 this October," he said.
"That is on top of a record 132 referrals in September. Our initial aspiration that the foodbank could be abolish itself is seemingly now a distant dream."
The foodbank asks for reasons for claiming food parcels and over a long period factors such as low income, unemployment, benefits cuts, universal credit and paying off debt have been recurring themes.
But in October this year, there were also examples which reflect the day-to-day crises that people in Glossopdale experience.
One person had to pay emergency vets fees for their cat and had no money left for food.
Another faced problems having just started work and having to wait for universal credit and wages to be paid.
One Glossopdale resident had received no statutory sick pay from their employer.
Yet another faced delays on benefits whilst having to pay her son's travel and expenses into college until the extra money to cover the cost came through.
"Ironically, the number of referrals hides the number of people that the foodbank helps," says foodbank chair Godfrey Claff.
Said Dave: "While some of the local people we help are single, many more live in families. A referral can be for one person or a family of anything between two and seven. Our statistics show that the 135 referrals for October covered meals for 189 adults and 96 children. That's a total of 285 residents."
This month the total number of meals dispatched rose beyond 2,500.
"Fortunately we are helped by a string of generous donors and we have a dedicated group of 30-plus volunteers who make the system work," Dave added.
"But we learned this week that one Derbyshire foodbank in Riddings, Alfreton, had completely run out of food and was having to refuse any requests for help until it managed to somehow re-stock its shelves."
Regular monthly donations to the foodbank can be made by accessing Glossopdale Foodbank website. Food in the donation baskets at several local stores and outlets also help. If you'd like to volunteer and help, contact the coordinator Charlotte Mendes Kelly on 07811 684282.