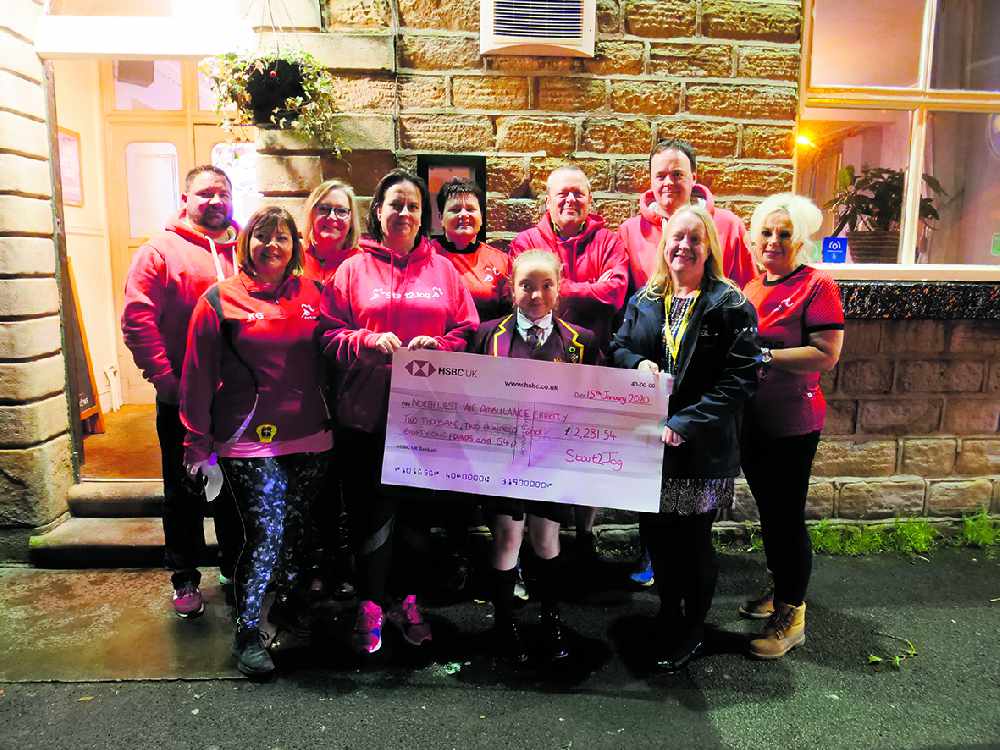 Hadfield's Start2Jog running club is celebrating, after drumming up more than £2,000 for the North West Ambulance Service. 
The club, which boasts over a hundred members aged between 18 and 72 years old, have been busy organising park-runs, 10Ks, half marathons, marathons, ultra marathons and endurance events. It also chooses a local charity each year to help.
Having worked with Glossop Mountain Rescue previously, the group selected The North West Ambulance Service to be their benefactor.
The Air Ambulance takes advanced healthcare to scenes, reaching, treating and transferring patients to definitive care as quickly as possible, ensuring the best chance of survival.
But it relies on much-needed donations to keep the service flying.
Victoria Jones, the regional fundraiser for Manchester and Stockport, said: "Not many people know that the North West Air Ambulance receives no funding from the government or NHS, so relies entirely on funds raised by our generous supporters and assistance from our volunteers.
"Our helicopters and ground crew take advanced healthcare to the scene; reaching, treating and transferring patients to definitive care as quickly as possible.
"We're not just a taxi service – we have specialist doctors on board who can treat patients at the scene, giving the gift of time.
"Start2Jog smashed their original target of £1,500 which is amazing, it was way more than I was expecting.
"It's been lovely working with them and supporting them through their fundraising efforts."
Start2Jog held a quiz night, a 5K run, two raffles with prizes generously supplied by local businesses, three teddy tombolas at local Christmas fairs, with a group of them volunteering at the Manchester Half Marathon and two of their members bravely completing a 100 mile endurance event to raise the whopping final total.
The team's social secretary Jeanette Mitchell said: "It's been a great honour to be able to raise money for this wonderful charity throughout 2019 and it is a pleasure to hand over this cheque for £2,281.54 on behalf of all the members of Start2Jog Running Club."
Next year, the group is planning to fundraise for local charity Reuben's Retreat.
Main image:
HELPING HAND: Start2Jog with the charity cash for the North West Ambulance Service.