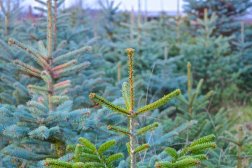 Christmas is coming and Charlesworth Parish Council wants to cut down on what it pays for its Christmas trees.
Supplying the two 16ft festive firs for Simmondley Green and the centre of Charlesworth costs the council close on £550.
That doesn't include the lights and the electricity to power them.
The council still wants to provide the trees but is looking for cheaper quotes.