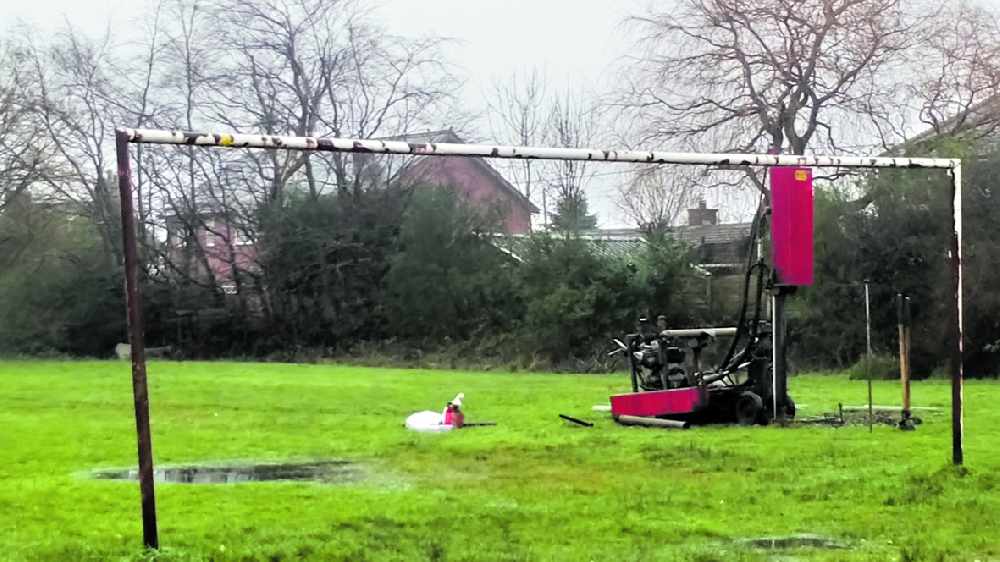 Opposition is mounting in Gamesley after residents spotted a team drilling trial bore holes on a children's football pitch that they believe could lead to more homes being built.
The opposition is likely to spread as news came through of more holes being sunk on High Peak Borough Council land in nearby Dinting, Padfield and Hadfield.
Chris Boyle saw the digging taking place on recreation land at Melandra Castle Road on Monday, but could get no direct information from the workmen doing it.
He told the Chronicle: "The obvious answer is that more housing is to be built and the over-crowded local road network is not a consideration and neither is the loss of amenities to Gamesley residents."
Chris later returned to find a 'scanned document' had been pushed through his door claiming that the drilling could be the start of houses being built and that the land was earmarked for homes in the council's 2016 Local Plan.
There was no indication of the sender, but it is believed others had been posted through letter boxes in various parts of the estate.
Written on the document were claims that development would lead to a loss of a play park, a loss of boundary land to houses on Glossop Road and would reduce a 'green area' between the two villages.
The sender pointed out that homes had already been given the go-ahead across Glossop Road on the Samas Roneo site, and urged residents to complain to High Peak Borough Council.
Chris said: "It seems there is local opposition to more homes in Gamesley."
Opposition could follow in Hadfield and Padfield where a local group has been formed and is looking into proposals for Roughfields.
We put the residents' concerns to the borough council, who issued the following statement: "High Peak Borough Council's Accelerated Housing Delivery Programme identifies four council-owned sites that are allocated for residential development in the 2016 Local Plan.
"These sites are: Adderley Place, Glossop; Roughfields, Padfield Main Road; Paradise Street, Hadfield; Melandra Castle Road, Gamesley.
"The council has commissioned specialist surveys to understand the topography, ground conditions and other site constraints that might impact housing delivery."
Council leader Cllr Anthony Mckeown told the Chronicle: "For us to meet our local plan requirements there is a demand for homes in the High Peak. To help meet that demand the council has several sites where the use for housing has been agreed in principle through the Local Plan adopted in 2016.
"The council is now looking at how we can bring these sites to market.
"These surveys will help us understand our options and how best to do that based on each location's ground conditions.
"At this time there are no outline or confirmed proposals for any of these sites, and any future proposals for these sites would need to meet and satisfy the requirements of the planning process including full public consultation."
Main image:
TESTING THE GROUND: Bore hole drilling on the children's play park on Melandra Castle Road.