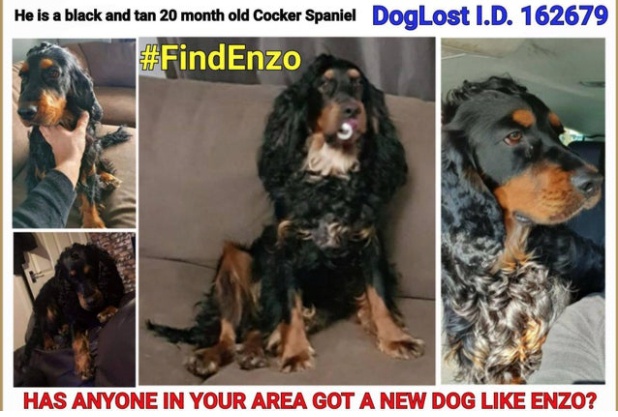 The owner of a pet is waiting by the phone for the call that could end a month of heartache.
Now she has posted a reward of £10,000 for anyone who can bring her 20-month-old Cocker Spaniel Enzo back home.
The black and tan coloured pet went missing on December 5 when owner Angela Casale, who lives in Newton, took him for a walk around Vale House Reservoir in Tintwistle.
The loveable pet ran off and apart from a sighting of a similar looking dog in nearby Mottram - which appeared online around the time he went missing - there have been no further news.
Angela said: "The piece has been deleted and there have been no further sightings."
The reservoir is close to the A628 road at Woodhead and is flanked by open countryside and moorland where a dog could easily stray onto and become lost.
Angela is now worried that Enzo could have been stolen, possibly by gangs looking for a high value dog to steal and sell on and, with evidence of Cocker Spaniels illegally being sold for £2,500, she fears that could have happened.
"I have reported him missing to the police and members of a mountain rescue team have searched for him," added Angela.
Angela has also posted an appeal online with pictures of Enzo, which has resulted in messages of support and promises from people saying they will carry on searching.
Enzo is micro-chipped and has his own Facebook group called Find Enzo which includes details of a white car close to the reservoir when he went missing, whose owner could hold clues of where he may be.
If you have any information call 07940 872776.