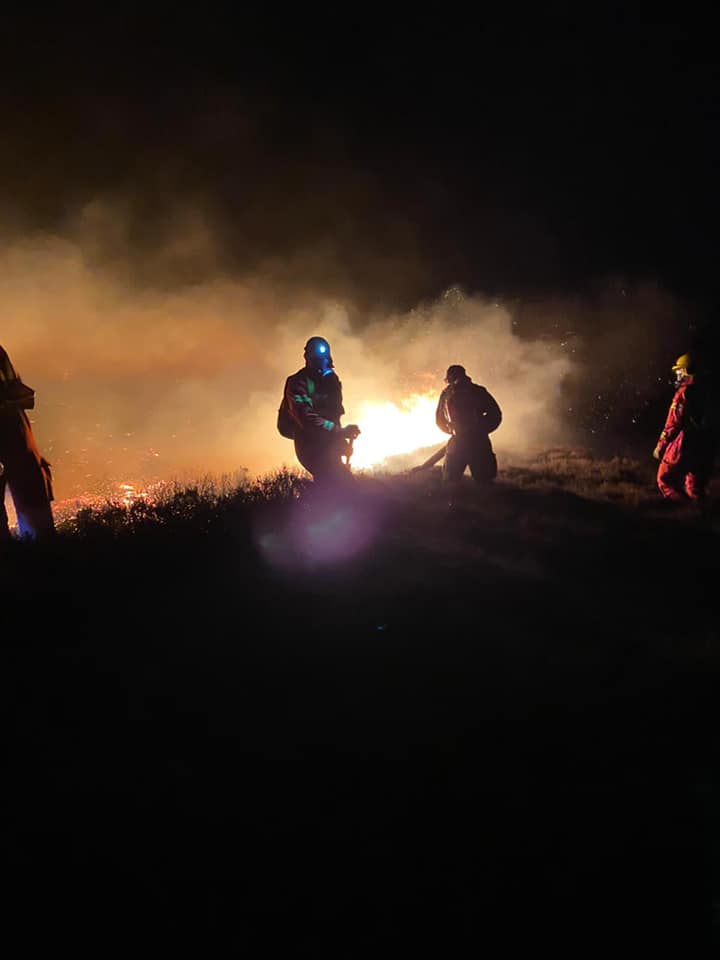 Fire crews have again had to plead with the public not to have fires or BBQs in the Peak District, after tackling further moorland fires over the Easter weekend. 
On Easter Sunday night (4 April), on-call firefighters from Glossop Fire Station were called to Tintwistle Low Moor for the second consecutive night, as they had to extinguish a fire which caused approximately 500m x 200m of damage.
They said: "Please don't have fires or BBQs on moorland, make sure cigarettes are disposed of correctly and leave no trace. Take all rubbish away with you and dispose of it correctly."
It came after another moorland fire on Saturday afternoon (3 April), which covered approximately three hectares of farmland at Rushup Edge.
A disposable BBQ was found by mountain rescue crew members at the scene, which Derbyshire Fire and Rescue Service said was "clear evidence people are not listening to our pleas to leave the BBQ at home".
They added: "Come on everyone - this is your countryside, let's protect it together! Leave the bbq at home - grab a sandwich, pack a picnic but don't be irresponsible and take a bbq!"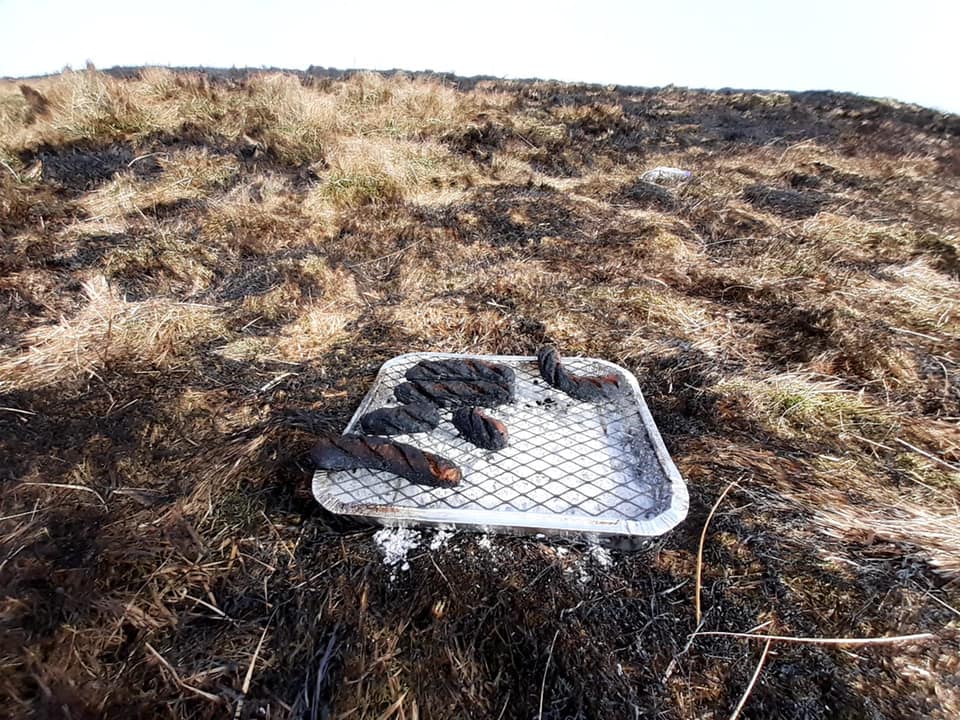 Just before 2pm, six fire crews responded to the fire and worked alongside peak rangers and mountain rescue to prevent the spread of fire and protect an area of farmland where ewes were lambing.
Crews from Chapel-en-le-frith, Buxton, Bakewell, New Mills and Glossop, supported by Marple, used an Argo cat all terrain vehicle, fan blowers, beaters and water packs to extinguish the fire, before leaving the scene at 5pm.
"Moorland fires not only destroy our beautiful countryside, they destroy vital habitat for our wildlife," a Derbyshire FRS spokesperson said.
"They are labour intensive and take vital emergency services away from being available to respond to other emergencies.
"Help us spread the message that taking BBQs into the Peak District is irresponsible no matter how careful you think you are being!"
Buxton Mountain Rescue Team's drone was deployed to give an overview of the extent of the fire area, once the fire had been extinguished.
A spokesperson said: "As the drones are now routinely carried on our response vehicles, the drone was available to deploy immediately from the earlier incident to the fire area. Thankfully just as the drone team arrived, the fire had been successfully extinguished by firefighters.
"The fire commander requested the drone fly over the area to confirm no parts of the moor were still alight and to document the damage caused.
"The team are sharing the footage our drone took to show how much damage can be caused by moorland fires and to emphasise the importance of not introducing naked flames such as cigarettes and BBQs into moorland environments.
"We would like to thank the Derbyshire Fire and Rescue Service for bringing the fire under control so quickly, and also thank the local paraglider community who kindly stayed clear of the area whilst our drone was airborne."
The Peak District National Park is also reminding people that the open countryside is "not a place to have your BBQ or open fire this weekend, or any weekend".
A spokesperson added: "Please do not put wildlife, landscapes, livelihoods and the lives of those fighting fires at risk."
After Sunday's fire on Tintwistle Low Moor, High Peak MP Robert Largan expressed his gratitude to the fire crews and frustration over repeated incidents.
He said: "Thanks again to our amazing fire and rescue service. But it's very frustrating that this keeps happening.
"I've previously got several local shops to stop selling disposable BBQs but clearly more work is needed to enforce the rules around BBQs in the National Park and to educate people coming into the area, who seem to lack both common sense and respect for our beautiful countryside."
Derbyshire Fire and Rescue Service had issued a plea for people to act responsibly if out in the Peak District last week, after six fire crews tackled a moorland fire at Birchen Edge in Baslow on Tuesday 30 March at around 6pm. The fire involved approximately one hector of bracken and grassland.
Peak District Moorland Group had also called on authorities to 'act decisively now' after helping firefighters to tackle a blaze at Woodhead Tunnel on Wednesday 31 March.
Main image:
Glossop firefighters tackling the Easter Sunday blaze on Tintwistle Low Moor. Photo: Glossop Fire Station.
Read more from the Glossop Chronicle
Click here for more of the latest news
Click here to read the latest edition of the paper online
Click here to find out where you can pick up a copy of the paper