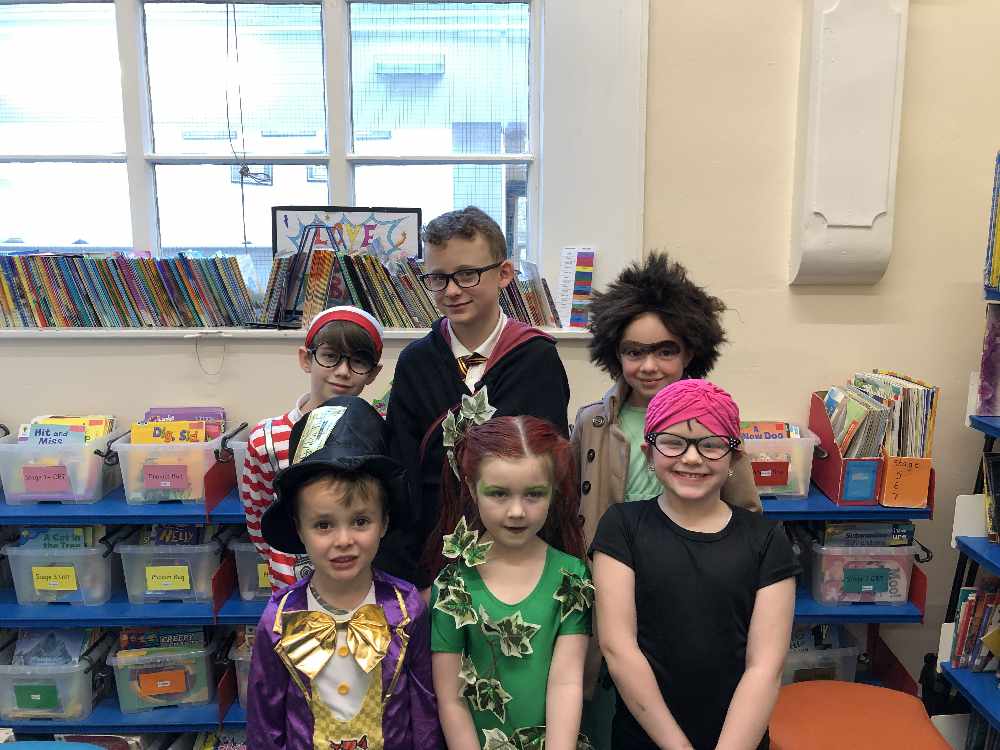 Taking the time to read is very important at Dinting Church of England Primary School - not just on World Book Day.
But there were lots of colourful, creative and recognisable costumes on show at the Dinting Vale school on Thursday to mark the global annual celebration of authors, illustrators and - most significant - reading.
With everything from Harry Potter to Willy Wonka, pupils dressed up in their favourite book characters and were encouraged to bring a copy of the book the character is from too.
Explaining what the school also had planned, head teacher Lynn Elliott told the Chronicle: "We are also producing a school story, so online each class throughout the day receives the story at different points of the day. One class will start it off and another class will write the next part - so they don't know what's coming.
"At the end of the day, we will share the whole story so every child will have an input into the story and then we will print it out and make it into a book.
"We have also invited parents and grandparents in at the end of the day to share their favourite story with small groups of children and read to them, so it's a busy day."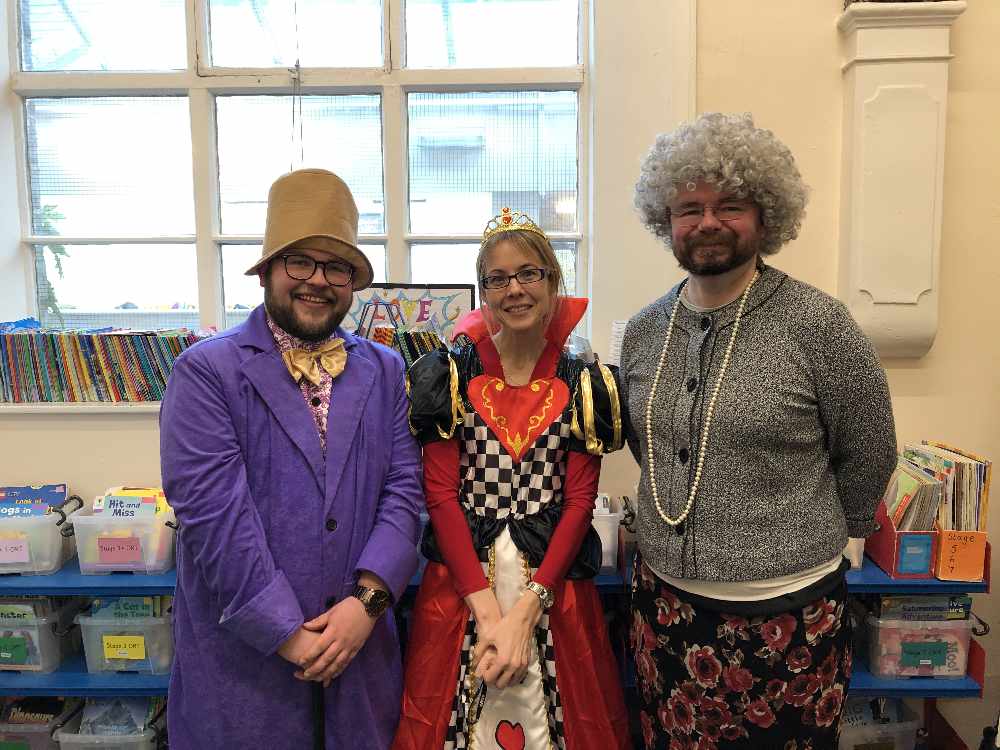 PAGE TURNERS: (left to right) Year 3 teacher Mr Josh Bailey as Willy Wonka, teaching assistant Mrs Tracey Harper as the Queen of Hearts, and Year 6 teacher Mr Michael Wilson as Mrs May from the Oxford Reading Tree.
However, she also stressed what the true essence of the 23rd annual World Book Day is really all about.
Mrs Elliott added: "The focus is very much on reading for pleasure and for the children to enjoy books. World Book Day is hugely important but it is very important to focus on the fact that it's about books and not getting carried away about costumes, which is lovely but it's about bringing it back to books.
"That's why we have been writing our own story in school and inviting people to come in and read stories to the children - just to make sure the focus is on stories and books and that they can be fun."
As an illustration of how important reading is at Dinting, the school will soon be unveiling a special Reading Shed in the playground. We will bring you more on that exciting news next week!
Along with the day of dressing in costumes, World Book Day - together with National Book Tokens - encourages children to get involved with reading. This year, more than 15 million £1 World Book Day book tokens will be given out to children and young people.
You can swap the book token for one of 15 exclusive, new and completely free World Book Day books or you can use your book token to get £1 off any full price book or audiobook instead. This year's £1 books include Bing's Splashy Story, Amelia Fang and the Bookworm Gang, and The Day We Met the Queen.
Meanwhile, unsurprisingly, #WorldBookDay is trending on social media, with everyone getting involved in the dressing-up spirit - including celebrities.
Comedian and children's author David Walliams posted a picture on Instagram of him dressed up as the BFG from the Roald Dahl book. Meanwhile, fellow Britain's Got Talent judge Amanda Holden hosted her breakfast show on radio station Heart dressed as Tinkerbell.