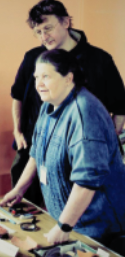 A former High Peak archaeologist has died at the age of 83.
Patricia Ellison-Reed, known as Patsy to her family and friends, of Glossop Road in Gamesley, died on June 25. She leaves behind her husband John and four children - Eric, Stephen, Patricia and John.
Pat was very interested in local history and was in the process of writing her autobiography when she died.
She was keen on preserving the environment and was against moves to develop any more land in the area, saying green space needed to be protected. She also opposed the plans to build the Mottram Bypass.
Pat had been part of 'digs' at Melandra Castle in Gamesley as well as many other areas.
Her family owned land in Hollingworth and donated some to the Conservatives and Liberals to build social clubs.
A sculpture called 'The Little Mannie with his Daddy's Horns' was found under the earth floor in the cellar of the Conservative Club in the 1960s.
It was originally from Sierra Leone and was donated to Manchester Museum after its discovery.
Nobody really knew its origin or how it got to Hollingworth, but there were so many superstitions of bad luck surrounding the figurine, that people were reluctant to handle it.
Pat was knowledgeable about 'The Little Mannie', which was around 7.5cm tall and made of felsite.
Remains of a circle of candles, animal bones and ivory counters were also found by Pat herself.
It was said that after Little Mannie was discovered, unexplained things began to happen to those that came into contact with it – from car and bicycle accidents to trousers falling down without reason.
Pat wrapped some strands of her own hair around the sculpture to supposedly stop it bringing bad luck. It has since appeared in books about cursed artefacts.
Pat herself obtained an Honours Degree in archaeology and was an active member of Derbyshire Archaeological Society.
She also wrote a book of ghost stories called 'The Dark Wood.'
Pat will be fondly remembered as somewhat of an adventurer by those who knew and loved her.
Read more from the Glossop Chronicle
Click here for more of the latest news
Click here to read the latest edition of the paper online
Click here to find out where you can pick up a copy of the paper