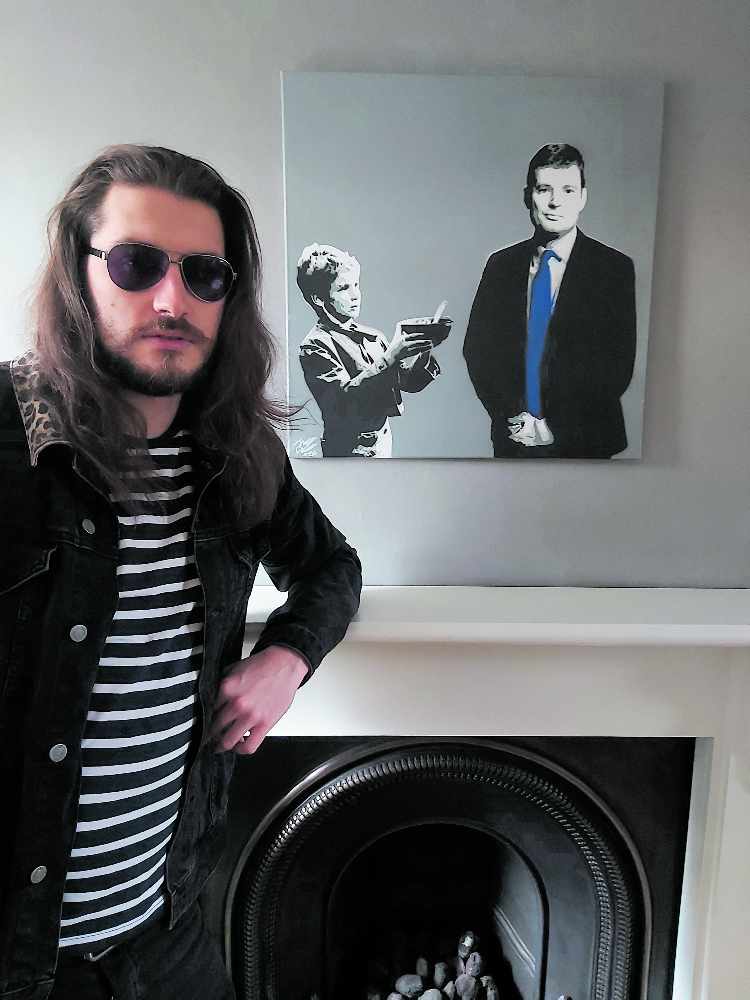 Rock musician and artist James Degnen is raising hundreds of pounds for Glossopdale Foodbank with a unique picture of 'Oliver Twist' with a begging bowl and High Peak MP Robert Largan.  
Known in the music world as 'Deggy,' the bass player with top Manchester band Gorilla Riot, has called his stencil painting 'The Privileged and the Poor.' The 27-year-old from Hadfield said the work is in response to the MP's vote in the House of Commons last month, and Mr Largan's design a Christmas card competition for local children.
Deggy said: "There has been a great reaction to the painting since I put it on Facebook, after only a few days it has raised more than £950.
"I wanted to raise the issue of food poverty which is a huge problem all over the country as well as the local community. I wanted the painting to have an impact, so it shows the MP looking straight past the child."
Mr Largan says he has made a donation of £250 through raffle ticket purchases to the cause.
He commented: "I would like to thank Deggy for raising money for Glossopdale Foodbank, who I am in touch with. I have bought 50 raffle tickets myself. Deggy raises an important issue - much as we disagree on how it should be tackled. I believe that a more targeted, local approach is a more effective way of getting support to the most vulnerable than a temporary voucher scheme that governments of all parties have repeatedly rejected.
"By July the Government had awarded over £636,837 in our region to help people struggling to buy food as a result of the coronavirus crisis. Over 418,000 meals have been provided for people in need.
"In total, 13 charities in the region have benefited from the Government's Food Charities Grant Fund, with grants ranging from £30,000 to £100,000 for small charities.
"Since the fund was launched in May, 65 charities across England have been awarded more than £3.5 million. I have also personally volunteered at local food banks.
"Other significant support for families has also been rolled out this winter. Councils have been provided with billions of pounds worth of funding to support their ongoing work to support communities during the pandemic, including £63 million of hardship funding for councils to help families over half-term.
"A further £170 million of funding will be allocated to councils via the Covid Winter Grant Scheme to support children, families and the most vulnerable, including £2.1 million for Derbyshire. I know that Conservative-led Derbyshire Council have been leading the way with innovation programmes to help vulnerable families locally.
"None of us know how long this pandemic is going to last, but as long as it does, I will be lobbying for - and voting for - real financial help for local families."
Deggy is asking people to subscribe at least £5, with whoever is drawn first when the offer closes on December 4, winning the painting.