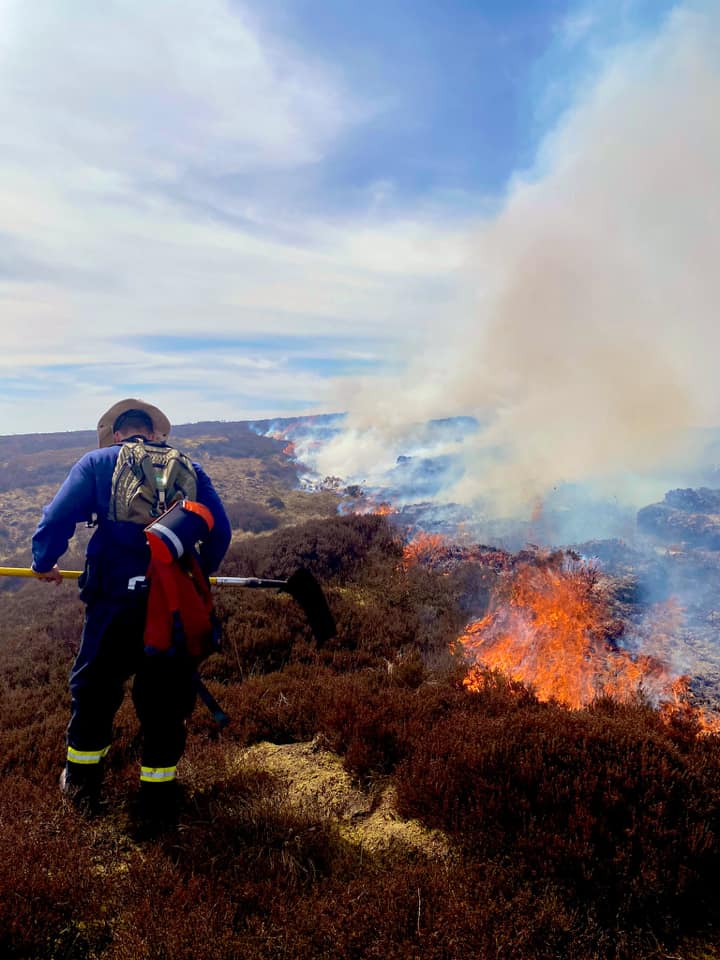 Firefighters are still tackling a moorland blaze near Glossop this afternoon (Friday).
Crews from Derbyshire Fire and Rescue Service and Greater Manchester Fire and Rescue Service, in conjunction with landowners United Utilities and local gamekeepers, are working to extinguish a moorland fire at Rakes Moss, off the A628 Crowden to Glossop.
Firefighters were first called to Rakes Moss at 10.06am on Thursday (April 23) and worked throughout the day until late at night, before making an early morning return today (Friday).
A tactical plan for dealing with the fire has been established and firefighting will continue late into the evening until darkness.
Firefighters will then withdraw from the moor, with their return planned for 6am on Saturday 25 April.
Two helicopters will continue to support firefighting operations.
Derbyshire Fire & Rescue Service wildfire tactical advisor, Group Manager Steve Wells, said: "Crews will continue to work on the moorland until the fire has been extinguished. Over the last 24 hours we have used a combination of beaters, specialist Argo cat vehicles which have a high pressure hose and two helicopters to fight the fire and contain its spread.
"Whilst the smoke form the fire has reduced considerably, residents in Stalybridge are still advised to keep their windows and doors closed as a precaution.
"With the weekend looming, I would also like to remind people to avoid the area and adhere to current government Covid-19 advice to stay at home, except for essential journeys."
Throughout yesterday, crews used beaters, specialist Argo cat vehicles with high pressure pumps to penetrate deep into the fire, and a helicopter to drop water onto the moorland.
Speaking this morning (Friday), Area Manager Rob Taylor said: "Firefighters returned to the moors at 6am following a long and hot day firefighting yesterday.
"We have crews from Derbyshire and Greater Manchester and together we are agreeing the best tactical plan to limit the spread of the fire and to bring the incident the quickest and safest conclusion, to protect that local ecosystem and wildlife.
"I would ask people in the Stalybridge area to keep their windows and doors closed due to the smoke that is coming from the fire. I would also like to remind people to stay away from the area and adhere to current government covid-19 advice to stay at home with the exception of essential travel."
Story last updated at 5pm on Friday (April 24)
Image from Glossop Fire Station