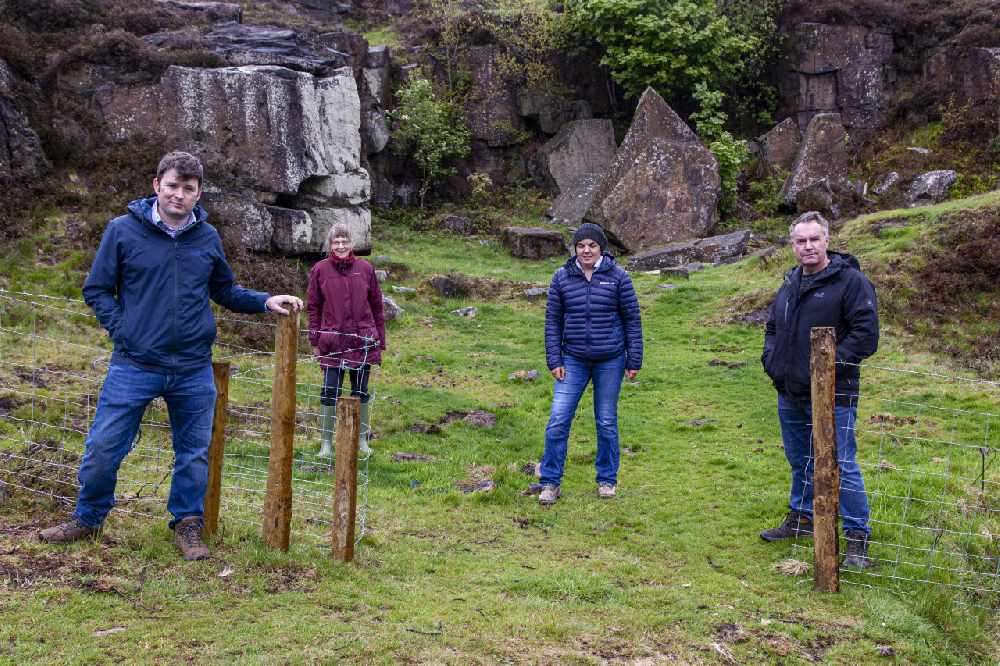 Standing with MP Robert Largan near a damaged fence in Old Glossop are Fiona Naden, Nicola Naylor and Philip O'Hagan whose properties have all suffered from vandalism.
Rural crime in Old Glossop is forcing a landowner to take desperate measures to track down those who are vandalising his property.
Lawyer Philip O'Hagan, from Charles Lane, is offering a reward for information leading to the prosecution of who is responsible.
He said: "I have owned land in Old Glossop for many years and over the last 18 months have seen increasing numbers of people wandering over private land lighting barbecues, drinking, leaving rubbish, damaging walls and it goes on.
"There is a growing number of local people who could well be people who have moved into the area recently who feel they can do anything which includes committing criminal offences.
"In order to deal with the situation I fenced land whilst maintaining a considerable area of footpath, only to find that someone has cut a fence, costing £3,000, in four areas."
Mr O'Hagan added: "These are not youngsters but local people who feel they are entitled to do what they want in the countryside and feel that cutting a fence is acceptable.
"It is not acceptable, it is a criminal offence and is happening all over Glossop.
"I will ensure anyone identified is prosecuted and will be held responsible in the civil courts for significant damages once identified."
Mr O'Hagan, who has reported the incidents to the police, points out that part of the land the fence protects is steep and rocky and as well as being private, is not safe for people to go on.
Trespass, vandalism and fly-tipping, are also affecting Laneside and Blackshaw Farms on nearby Woodhead Road, whose land borders Swineshaw Reservoir which is attracting an increasing number of 'wild water' swimmers.
There are reports that people in wet suits have been swimming in the United Utilities owned compensation reservoir, which feeds nearby rivers, but is not part of the drinking water chain.
Others are thought to go just to cause damage and there have been online claims of stones being thrown at geese on the water, barbecues and fires.
Fiona Naden, of Laneside Farm, which has a herd of 60 milking cows, says that four sections of the farm's boundary walls have been knocked down, or stones removed, to gain access to the Swineshaw land and there is a danger of cattle stumbling into a channel that runs alongside the reservoir.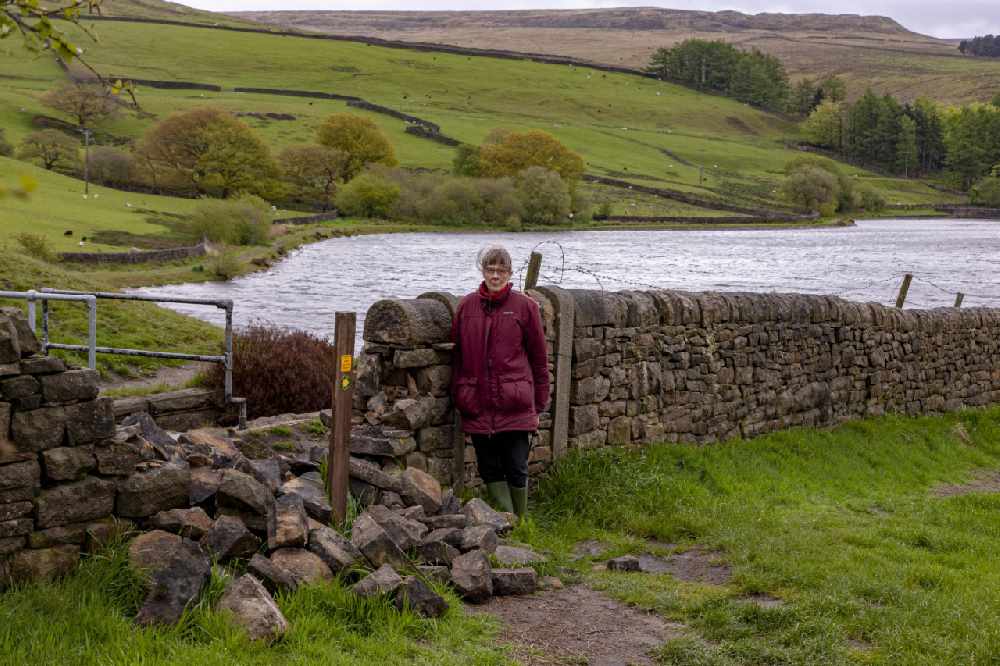 DEMOLISHED: Fiona Naden near a demolished wall with Swineshaw Reservoir in the background.
Trespass is also a problem and there have been instances of branches being broken off trees in Cat Wood and used to start fires.
Nicola Naylor from Blackshaw Farm speaks of similar problems, plus the dangers of sheep straying into the reservoir.
There are frequent incidents of trespass, people with dogs near the sheep, damage to property, plus quad bikes illegally racing around fields.
A constant problem is fly-tipping, with 48 tyres, vehicle washer bottles and parts of wrecked cars tipped close to the farm's entrance.
Mr O'Hagan asks anyone who witnessed the 'criminal damage' to contact him on 07850 439282, or the police on 0345 123333, quoting the crime reference number 21000 268891.
He added: "There is a description of an individual who was seen inside the fencing by a witness on Thursday, May 13, at approx 7pm. The fence had not been cut at this point, but the individual had climbed into the private area.
"We now know the fence was cut between this time and Friday, May 14 at 5pm as another witness noticed the fence was cut.
"The witness account is of a pale white male, possibly 5ft 9-11ins, skinny, with dark brown hair under a pale cap, navy blue short jacket with low collar, with distinctive white stripes down the sleeves. Possibly wearing jeans or trainers."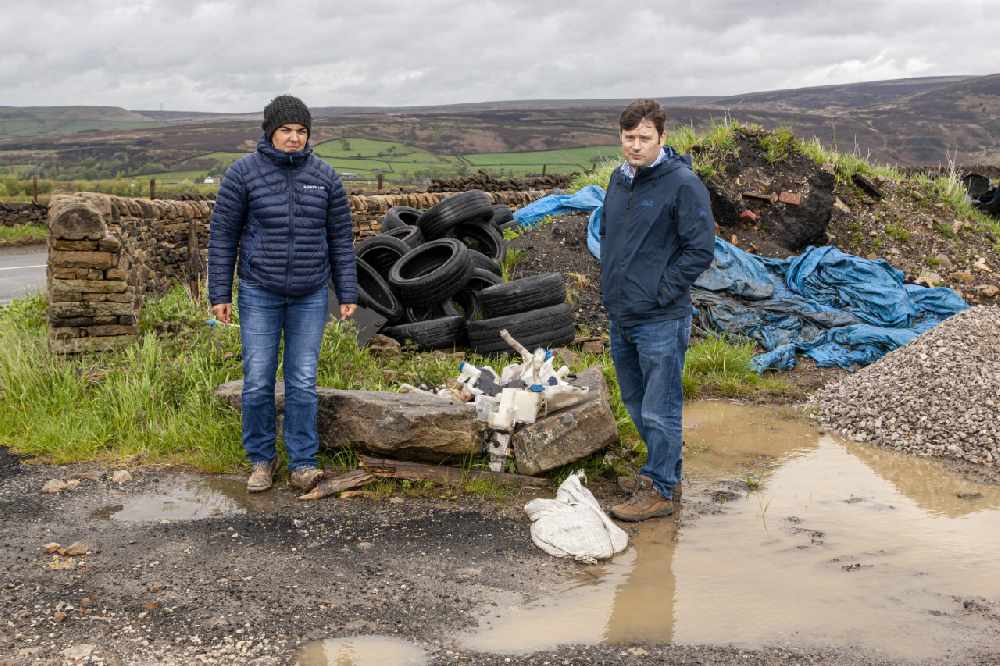 DUMPING GROUND: Nicola Naylor and High Peak MP Robert Largan with the pile of dumped tyres and bottles near the entrance to Blackshaw Farm.
A Derbyshire Police spokesman said: "We are investigating reports of criminal damage to fencing at farmland at Old Glossop, which is thought to have happened between May 11 and May 16 and we would urge anyone with information to come forward.
"We did receive complaints of walkers trespassing on land in this area earlier in the year but, overall, we have not seen a rise in crime in Old Glossop. We would urge people to contact us if they are experiencing any issues.
"We recently launched our rural safety and crime prevention guide, which can be found on our website and which covers areas such as fly-tipping, livestock worrying and illegal off-road vehicles."
A spokesperson for United Utilities said: "As a landowner, anti-social behaviour in the local countryside has a real impact on us as a business and our employees.
"We are more than happy to work with all local partners to explore what measures can be taken and look forward to being involved in any future discussions."
High Peak MP Robert Largan, who talked with Mr O'Hagan and the two farms' representatives, said: "These incidents are really concerning. As a keen walker myself, I want the countryside to be as open and accessible as possible but some of these incidents have involved criminal damage that has put livestock and wildlife at risk.
"This is why I've spoken up in Parliament calling for the Government to do more to educate people and promote awareness of the Countryside Code so people know how to properly protect and respect our countryside."
Read more from the Glossop Chronicle
Click here for more of the latest news
Click here to read the latest edition of the paper online
Click here to find out where you can pick up a copy of the paper