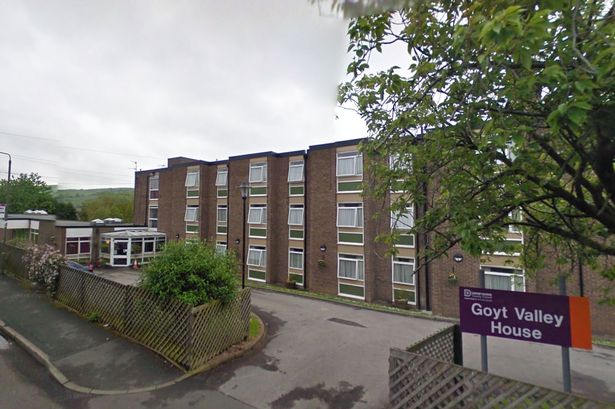 The future of 10 care homes across Derbyshire - including Goyt Valley House in New Mills - will be considered at a county council Cabinet meeting tomorrow (Thursday).
In a first official statement by the county council on the matter, it says Cabinet members - at a virtual meeting at 2pm on Thursday - will discuss a proposal that the council will not close any of its care homes until another local care home or alternative provision is in place and to carry out refurbishments to a number of homes.
It follows an announcement by the Derbyshire Conservatives Group last Friday, in which they pledged there will be new alternative provision to replace any care home which will close following the start of 2022 and the creation of a new five-year investment plan and care home strategy will be developed and consulted upon by the end of this year (2020).
The council has also said it has received 1,189 responses in total during the consultation, which took place from 31 January to 24 April this year. This was due to a perceived declining demand for residential care over the next couple of decades, that the homes were not fit for modern standards and were in need of extensive repairs.
It was proposed that four homes could close as soon as this September and three more - including Goyt Valley House - by September 2021. Refurbishments of three separate care homes - at a cost of £11.5 million - was also on the cards and could begin as early as next January. Overall, the closures and refurbishments would affect 300 residents and 458 staff.
The announcement prompted an outcry from members of the public and residents who rely on those services, who have said the planned closures could have "devastating" consequences. Concerns and fears have only grown amid the coronavirus pandemic - with elderly and vulnerable people in care homes among those worst affected by the Covid-19 outbreak, and care home staff working under immense pressure on the frontline of the crisis.
A campaign was launched in a bid to save the homes - which was backed by local politicians and councillors, as well as one of the country's biggest trade unions - GMB Midlands and East Coast Region.
The decision to reverse the proposals had been described as "an incredible U-turn" and "victory for care and common sense" by those who have been campaigning to save New Mills' care home - including local Labour councillors.
Glossopdale councillor Jean Wharmby - who is the county council's Cabinet Member for Adult Care - says she regrets the "anxiety" that the consultation has caused for care home residents and their families, and the council will work with them as it looks to create homes "fit for the 21st century".
She said: "We have listened carefully to the views given during the consultation and have considered the huge change in the requirements of and for care homes that Covid 19 has brought about. The consultation began before the pandemic which has had, and will continue to have, an enormous impact on the future of care for older people in Derbyshire.
"As a result we are now proposing to develop local alternatives to the homes requiring major work or to invest in significant repairs to bring homes up to the best possible standards. Where we can create en-suite facilities - which make such a difference to infection control within homes - we will do so, and we are keen to work to encourage developers to come and build new homes in line with our accommodation strategy which will also help to boost Derbyshire's post-Covid economy.
"We know that the consultation brought about concern for residents and families and I regret the anxiety it caused. It was, however, vital that we carried out the consultation given the condition of the buildings, their urgent need for major repairs, the potential cost and the disruption to residents that refurbishments could bring about. Those homes are simply not fit for purpose and we will not accept that for Derbyshire's older and vulnerable people.
"We will now work to create homes fit for the 21st century that support our commitment to the wellbeing of those in our care whilst ensuring the minimum possible disruption to our residents. Further plans for investment will be brought to the Cabinet for consideration and we will work with residents and families as we move forward."
Whaley Bridge county councillor and Labour's former High Peak MP, Ruth George, has expressed her disappointment that Cllr Wharmby didn't acknowledge the staff at Goyt Valley House in her statement.
She said: "It is something that Cllr Wharmby finally 'regrets' the anxiety that her ill-judged consultation on care homes caused.
"But she only mentions the anxiety to residents and their families - not a word for the incredible staff at Goyt Valley House who have been through unimaginably tough times and given their all - nursing patients with Covid and putting themselves in danger, whilst Cllr Wharmby persisted in threatening their jobs and close-knit team.
"Even now there's no acknowledgement of the unnecessary additional trauma it caused. Our incredible care staff have given so much and still have tough times ahead as we face the possibility of a second wave of infection. They deserve councillors who will listen to and support them."